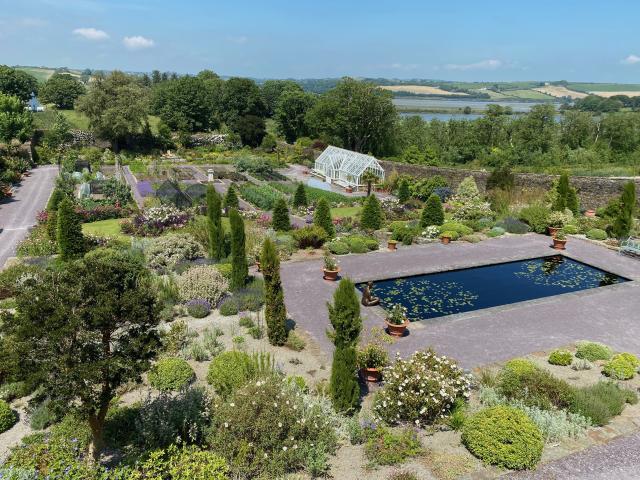 You are an experienced skilled gardener looking for a rewarding and challenging career opportunity. You will work as part of a team in the recently developed gardens of a historic property on Inchydoney Island in West Cork, Ireland. The property is situated in a secluded location benefitting from the gulf stream and is a couple of minutes' walk to the beautiful Inchydoney beach.
The property consists of 33 acres of natural landscape, formal and informal planting. Thanks to the mild coastal climate and free-draining soil, an incredibly large variety of plants are being grown including some unusual and rare specimens. Its most important feature is a recently restored 2-acre walled garden with its dry stone terracing, glasshouses, cold frames, potting sheds and ponds. The layout includes a flower/vegetable/fruit production garden, an Italian garden, a rose garden, exotic borders and an informal wildlife pond. Other features of the property include lawns, mixed borders, several ponds, a saltwater lagoon, woodlands, a courtyard garden, wildflower meadows and beehives.
The owners continue to invest in the development of new areas of the garden and enhance existing areas. Current projects include the development of a Japanese-style garden and the expansion of woodland planting.
You will perform the duties required for the maintenance and development of the gardens. This includes propagation, vegetable and flower production and greenhouse management. The work is very varied and balanced and provides an unparalleled opportunity to develop your competencies.
You should have a relevant qualification, with good horticultural and plant knowledge. A commitment to wildlife-friendly and sustainable garden practices is essential. You must possess good interpersonal and communication skills, be hard working and show attention to detail, manage your time efficiently and have a working knowledge of health and safety standards. This is a full-time position with attractive remuneration based on experience. Ideally, you will hold a clean driving licence and have a spraying and chainsaw operation qualification.
LOCATION:  Inchydoney Island, Clonakilty, Co. Cork
Recent Employee Testimonial: 
"Working at Inchydoney House has been a great professional experience. Few gardens in Ireland can boast the variety of work involved in the day to day management of this garden. There is a great ethos which encourages employees to learn and progress their careers and to challenge industry norms that can be taken for granted. The owners impart their shared knowledge, decades worth of practical gardening experience, to maximise and expedite your's and the garden's achievements. The scale of the workload also helps develop  organistion and prioritisation skills that are keenly focused at all times. The sheer diversity of the plants and styles within the property ensures that anyone who is enthusiastic about their role will garner a new appreciation for horticulture."
Job Benefits
Salary, is dependent on experience.
More here.