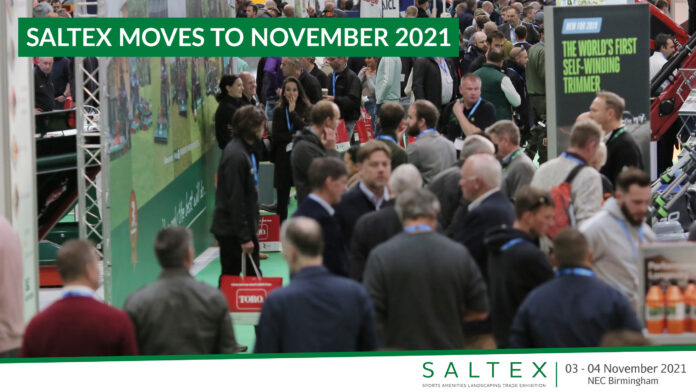 Due to mounting pressure from the global Coronavirus pandemic, the Grounds Management Association (GMA) regrettably announces that it has taken the decision to move SALTEX to 3-4 November 2021, from its planned Spring dates (3-4 March 2021).
The GMA has been strategically planning for every eventuality to ensure the exhibition is a bio-secure event, in partnership with the National Exhibition Centre (NEC) and internationally recognised professional events bodies, however ongoing Government restrictions and local and national lockdowns, as well as rising cases of Coronavirus have highlighted the immediate challenges to stage a successful event in March.
This decision has factored in a recent analysis from both exhibitor and visitor surveys, as well as discussions with relevant parties. Organisers have been closely re-negotiating with the National Exhibition Centre (NEC), returning the exhibition to its original Autumn dateline.
When visitors were asked on date preferences to attend a trade event, November was the
first option – followed by October and September. Exhibitors also echoed this, with 64%
stating a preference to attend SALTEX in November 2021 due to latest news and
restrictions.
In addition, latest visitor research showed that an overwhelming majority (80%) stated that attending an indoor trade show was their number one preference.
In more usual circumstances, SALTEX brings over 9,000 visitors across two days with circa
400 brands exhibiting, and visitor attendance at the NEC has significantly grown year-on-
year. The next show will be its 75th anniversary marking the longstanding contribution to the grounds sector.
Geoff Webb, CEO at the GMA commented: As hard as this decision was to make, we knew it was important to act quickly and responsibly so we can begin looking to the future and stage a successful event once restrictions ease again. We have recently seen confidence eroding despite early optimism.

Our recent surveys have given us excellent insight from both exhibitors and visitors, giving us evidence that reflects current circumstances so we can continue planning an event that best reflects the turf care sector's requirements.

The majority of our respondents expressed high confidence levels in attending indoor trade shows and we can see that there is still a huge appetite going forward – we are already looking ahead to what is required for what will be a milestone edition of SALTEX in November 2021.
Exhibitors have the option to carry over their March 2021 booking to the November show at a preferential rate and retaining their stand location. There is also the added option to secure a 2-year SALTEX loyalty deal for those transferring their booking (for November 2021 and 2022), with improved benefits for GMA Corporate Plus members.
Alternatively, exhibitors due to showcase in March 2021 can apply for a full refund in writing. The GMA's events team has contacted all exhibitors personally to discuss preferences, as well as payment terms and plans.
Geoff continues: "Despite the circumstances, and a future where Covid will always be present, we are really touched by the number of exhibitors that have expressed that they are on this journey with us and wish to be part of SALTEX at the next possible opportunity. We are determined to help contribute to the growth – and celebrate the sector – albeit at a later date in 2021."
Luke Perry, Director of SALTEX and Events for the GMA added: "We have worked hard to reflect changing situations. We intend to maintain this regular, frequent communication going forward whilst continuing to analyse how our sector feels about events in general."
All exhibitors with a confirmed stand have been informed directly and are being urged to
contact the sales team at SALTEX@thegma.org.uk for any further queries.
For more information visit www.gmasaltex.co.uk
Follow SALTEX on Twitter @GMA_SALTEX and Facebook – www.facebook.com/GMASALTEX
About SALTEX
SALTEX is one of the fastest growing trade shows in the UK. It is the annual one-stop-shop
for thousands of individuals working to install, manage and maintain the UK's outdoor leisure spaces – from sports grounds personnel to park & leisure amenity officers, from landscapers to greenkeepers, and foresters to estate managers.
In 1938, SALTEX was launched to unite the industry and offer educational and networking opportunities for those that managed green spaces. Since that time, the show has continued to grow and has now established itself as Europe's largest annual turf management event. With its home at the NEC, in Birmingham, SALTEX remains true to those within the industry offering a world of limitless opportunities in which they can discover the latest trends and innovations, connect with colleagues and learn from top industry professionals.
The show is organised by the Grounds Management Association – the leading not-for-profit membership organisation representing grounds managers, grounds personnel, grounds maintenance managers, greenkeepers and all others involved in the management of sports pitches, landscape and amenity facilities in the UK.
SALTEX 2021 will be the show's 75th anniversary.
About the visitor and exhibitor surveys
The GMA conducted research via Survey Monkey in October 2020, receiving responses from 644 visitors and 76 businesses.