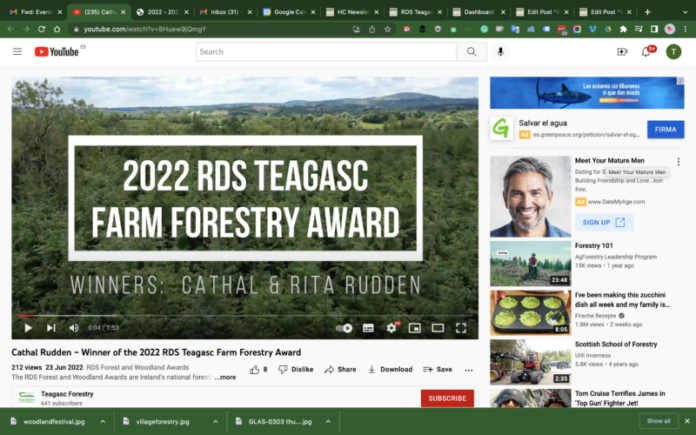 Now Open for Entries!
The RDS Forest and Woodland Awards are Ireland's national forestry awards. They recognise and reward farmers and woodland owners who are employing the principles of climate-smart agriculture on their properties including sound commercial management, environmental protection and encouragement of biodiversity.
Closing date for entries is Sunday 31 July 2022.
Teagasc Farm Forestry Award Category
The Teagasc Farm Forestry Award recognises working farmers who are integrating forestry and farming for environmental, social and economic benefits.
The category aims to promote the positive sustainable contribution of forestry as an integral enterprise within the wider farming profile. It acknowledges the farmer's role in future-proofing the family farm through the sustainable integration of forestry and farming enterprises, managing the forest and promoting the wider benefits of tree planting.
Working farmers who believe they are doing a good job in managing their forest as an integral part of the farm are strongly encouraged to enter.
Application form: RDS 2022 Teagasc Farm Forestry Award Application (Word)
Other forestry award categories
Production Forestry
This award category is open to Farmers and landowners using sound silvicultural management on their farms. This award aims to recognise excellence in the management of production forestry.
Application form: RDS 2022 Production Forestry Award Application (Word)
Community Woodlands
This award category is designed to encourage and reward projects involving the communal ownership and/or management of forests and woodlands which have been established and managed in a sustainable way that is beneficial to the local economy and/or environment.
Application form: RDS 2022 Community Woodlands Forestry Award Application (Word)
Prizes
The winner in each of the above categories will receive €2,000, an RDS Silver Medal and a perpetual trophy.
The runner-up in each category will receive €1,000 and a special Certificate of Merit.
If you believe that your forest has what it takes to win an RDS Forest and Woodland Award submit your entry straightway – and good luck!
Application forms are also available from the RDS via email forestry@rds.ie.
Further information
For further information, please contact:
RDS: phone 01-2407215, email forestry@rds.ie
Your local Teagasc Forestry Staff