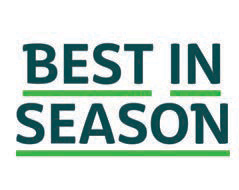 Building on the success of the 2020 Best in Season Campaign, Bord Bia's fresh produce
promotions are leveraging the growing demand for fruit and vegetables by driving consumer preference of Irish fresh produce in order to deliver growth for the domestic horticultural sector. The campaign aims to inform and inspire shoppers to consume fresh produce by demonstrating its seasonality, freshness, quality, and health benefits; along with clearly signposting when local fresh produce is in season.
The first stage of the campaign is focused on early salad vegetables (tomatoes, cucumbers, lettuces) which are grown under glass house protection which requires highly-skilled care and attention. The months of April and May marked the beginning of the Irish harvesting season, and Bord Bia has been urging consumers to look for locally-grown fresh produce for freshness and high-quality throughout the summer season.
The second stage of the campaign highlights seasonal Irish fruit and vegetables, while celebrating the UN International Year of Fruit and Vegetables. It encourages consumers to simply 'add one more' vegetable or fruit to meals throughout the day and supports local communities and the horticultural industry.
Through a mix of media relations, and digital communications activity, Bord Bia is promoting the benefits of seasonal produce and a number of local growers and campaign spokespersons across national, regional and online media outlets to raise awareness of the availability of locally grown fruit and vegetables.