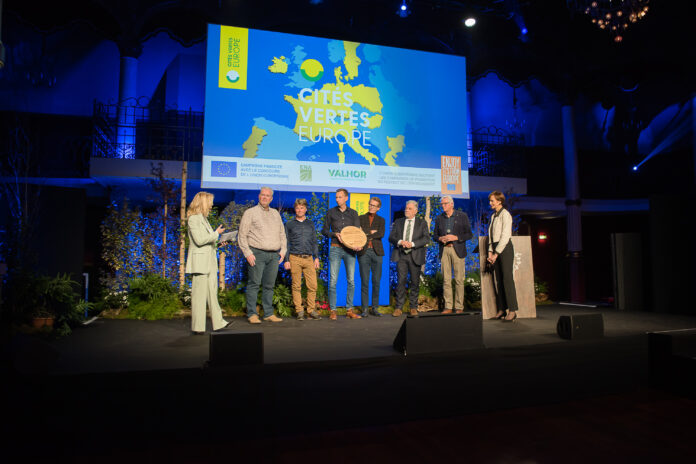 After Beringen in Belgium in 2020, Nantes in France in 2021, Alkmaar in the Netherlands wins the 2022 Green Cities Europe Award with its inspiring "Greening & Biodiversity"
program. The happy winners were awarded at the Victoires du paysage in Paris.
Mini parks for biodiversity, in Alkmaar, Netherlands
A Quick-Win method to transform local urban spaces from grey into green.
Surrounded by polders and crossed by canals, Alkmaar is a charming Dutch city, famous for its cheese market. It is also a dynamic city, which chose a local pragmatic approach to address our current environmental challenges. Knowing that plant solutions are effective to fight urban warming, flooding risks and loss of biodiversity, Alkmaar is developing its "Greening & Biodiversity" program. In just a few months various neglected sealed spaces were transformed into local green oases.
Alkmaar objective is to create 50,000 m² green spaces in seven years. An opportunity that Stadswerk072, the organization responsible for the management and maintenance of Alkmaar, has grabbed with both hands. First step was to identify all sealed spaces that can benefit from a quick transformation: small squares, banks, car parks and roundabouts. These watertight and lifeless areas are then de-sealed to restore soil permeability. Important is also that all projects actively involve local residents in the planning. Last but not least, the plant selection needs to focus on biodiversity, with a
a large variety of trees, berry-bearing shrubs, wildflowers, flowering bulbs, and perennials.
In two years, 50% of the objective has already been achieved with several mini-parks, urban flower meadows, newly planted banks and biodiversity-friendly roundabouts. These targeted and easy-to-implement interventions have had a decisive impact for the city and its inhabitants, not only improving the quality of life and local biodiversity but also restoring the natural water cycle.
Alkmaar & "Greening & Biodiversity" project thrilled the European jury because it shows how plant-based solutions can easily provide local mitigation to our current environmental challenges. This "Quick Win" approach transforms the city from gray to green, based on four pillars of local action: de-sealing, involving residents, planting, and welcoming biodiversity. Alkmaar's approach is one that can be followed by really any European city to green the living environment without excuses, restrictive rules, or delays.
https://award.thegreencities.eu/award-2022/the-netherlands/
https://www.youtube.com/watch?v=99kjZUL-ZrE&t=68s
A very tight 2022 Award competition!
2022 European nominees were most inspiring projects, more impactful than ever. A promising trend for more green cities in Europe.
But the 2022 competition was not only of high standards, it also revealed to be amazingly tight! Among all great projects, three of them appeared to be racing for first place! Only a very tiny difference settled the score in the end. We are therefore very happy to give some extra light to 2 more 2022 outstanding projects!
Poland receives 2 nd best score, with Czyżyny Park in Krakow
Sweden receives 3 rd best score, with Växtrum in Lerum
Best score #2: Czyżyny Park in Krakow, Poland
Ambitious requalification program transforms a lost bus depot into a 3 ha playful,
ecological and intergenerational urban park
New Czyżyny Park in Krakow was made possible thanks to an enormous commitment from the neighbourhood's residents, encouraged by the Civic Budget. As a former bus depot, the entire area used to be almost 100% sealed, covered with asphalt and concrete. Today, images of buses and planes under the feet of walkers remind of the history of the place, but over 250 trees, 14 000 perennials and shrubs now create various ambiances, from the English style, with avenues of trees and lawns, to wild ruderal vegetation, reminiscent of former paved surfaces. The park hosts all kinds of playgrounds, a climbing wall, slide, basketball court, game of bowls, adopted by all generations. This ambitious requalification and renaturation program in a dense and popular district of Krakow transformed a hostile abandoned bus depot into an exceptional 3 ha urban park, playful and ecological.
https://award.thegreencities.eu/award-2022/poland/
Best score #3: Växtrum in Lerum, Sweden
A community park project breaks new ground for community development, municipal activities, and co-creation. 10 small oasis across the city boost social life, local economic activity, and environmental education.
Växtrum in Lerum is a unique program of inspirational mini-parks, which the first function is to encourage social life. Växtrum is an all-year-around arrangement, created and developed by the municipality of Lerum, with the help of well-known Swedish garden designers. Other main function is to inspire and inform about biodiversity and sustainability. At today 10 of these green oases across the city host concerts, school classes and student activities or free lectures about soil and transition. Open 24/7, they gained huge success during the pandemic, helping fight loneliness. The program engages active business collaborations with local companies and benefits from 20-30 voluntary local residents, who help plant and maintaining the parks. Over the years, Växtrum have grown from a local item to a national and now international attraction.
https://award.thegreencities.eu/award-2022/sweden/
Inspiration for greener cities
Every year, the Green Cities Europe Award spotlights compelling urban greening
projects across Europe. Objective is to reward inspiring projects that make
outstanding use of plants and green solutions to help mitigate climate change, fight biodiversity loss, and improve social cohesion and local urban life.
13 countries entered the competition, and each of them presented their national champion.
You can see them HERE.
2022 Green Cities Europe Award hosted at Victoires du Paysage in Paris
The award ceremony was hosted 8 December 2022 in Paris, at the 2022 Victoires du Paysage.
The entire Victoires du Paysage ceremony can be viewed on-line:
In English: https://www.youtube.com/watch?v=9xFeffqWF-0
In French: https://www.youtube.com/watch?v=9xFeffqWF-0
The Green Cities Europe special moment starts at time to be confirmed
"Green areas are not a cost but a profit. They bring more biodiversity, reduce heat-stress, lower the impact of climate change, bring better prices for real-estate, but most important, more social cohesion, a better health and a higher well-being."
Mr. Henk Raaijmakers, President of ENA
About Green Cities Europe
The Award was initiated by the European Nurserystock Association (ENA) and 13 European nursery organisations acting together in the international program Green Cities Europe. This program aims at stimulating the use of green infrastructures in the urban environment as multiple benefits solutions to mitigate climate change, fight biodiversity loss, improve social cohesion and make our cities better places to live.
Participating countries: Belgium, Bulgaria, Denmark, France, Germany, Greece, Hungary, Ireland, Italy, Poland, Portugal, The Netherlands and Sweden.
To know more about trees and plants for greener cities in Europe:
www.thegreencities.eu and https://award.thegreencities.eu/