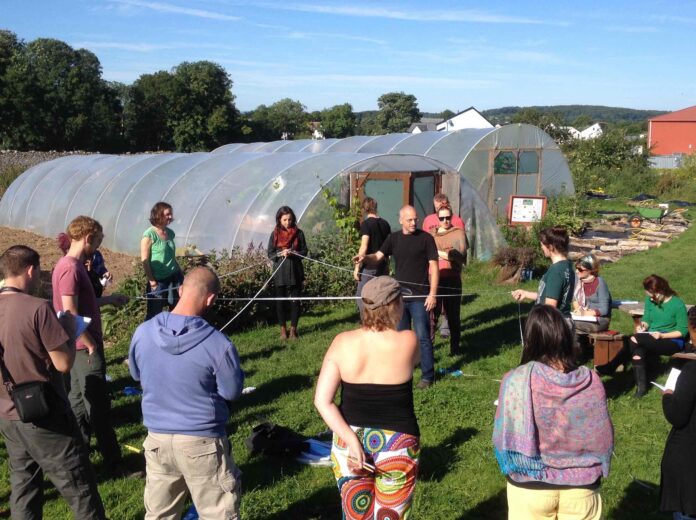 This training offers a unique hands-on opportunity to gain permaculture skills in Cloughjordan Ecovillage, a model of how communities can respond to the many challenges facing us.
The Ecovillage was designed through permaculture, allowing students to see the design principles in action within a lively and diverse community. 
Featuing over 50 eco-homes, a renewable energy heating system, wood-fired bakery, a community farm & our course centre – WeCreate Workspace and FabLab.
Course participants will have online lectures with international tutors while also engaging with local tutors through outdoor classes, hands on experience and project-based explorations of permaculture design. Topics include: regenerative agriculture, green and natural building, local economics, forest gardening, renewable energy, work and livelihoods, ecovillage design along with tools and technologies including digital fabrication and open source distribution and production.
Fees Include:
-9 days of immersive tuition – classroom and practical plus evening sessions.
-Dinner on arrival, and a hot hearty lunch for each day of the course.
-Permaculture Course Handbook.
-Permaculture Design Certificate (PDC) Certificate.
Places are limited. Jobseekers contact your local DSP case officer or Intreo office to apply for training support. Participants receive a full PDC certificate accredited through the UK Permaculture Association.
This course is full-time (and "full-on") from Friday evening (starting with dinner around 6pm) until the following Sunday afternoon (around 4pm)
Organised by Cultivate in association with Sustainable Projects Ireland.
UK Permaculture Association Accredited
Course Fee €600. €550 Early bird. Early bird available and deposit refundable until 31st May 2022.
Some concessionary places are available for low or no wage participants | €100 deposit secures your place I please pay in full before 31st May to avail of the Early Bird rate | We accept Bitcoin
Please apply to PDC@cultivate.ie
Testimonials:
"f you're looking for a pragmatic and inspiring insight into an incredible and life-changing way of living, I can't recommend this course enough. If you look at society, the future the climate crisis and modern living and worry its all fucked, this may well change your mind. If you look at a 9-5 doing something you're indifferent about and a 40 year mortgage just to have somewhere to live and think there must be another way, this might give you an insight to an alternative way to design community."  – 2020 student
"This course is a unique opportunity for a full immersion in topics fundamental to the transition to a more sustainable society; a great experience supported by passionate and highly skilled people." – 2020 student
Find out more here.