Dr. Brian Murphy

explores the challenges facing soil conservation and the role compost can play in soil improvement
---
Soil is a valuable natural resource that performs vital ecosystem functions. It cleans our air and water; it provides us with food and materials for shelter and clothing. Without soil, life as we know it would not exist. Just like air and water, it is part of our planet's life support system. Our soil is a huge sink for carbon, holding two to three times more carbon than the atmosphere and more carbon than all the world's forests combined. Soil carbon sequestration offers a tangible way of mitigating climate change. The soils of our gardens, roadsides and green spaces are vital havens for biodiversity. So why do we seem to take soil for granted?
CHALLENGES FACING SOIL
Soil is vulnerable to erosion, compaction, pollution, desertification, urban development, intensive agriculture and climate change. The equivalent of 30 football pitches of fertile soil is estimated to be lost globally every minute. Soil organic matter, which is vital to soil health, is decreasing in soils across Europe (Bellamy et al. 2005) [1]. A 2017 report from Panagos et al. [2] estimated that European countries are losing up to €1.25 billion annually in agricultural productivity due to soil erosion and loss.
Loss of biodiversity is also a serious challenge, which is directly related to how we manage soils. In the EU, we have a water framework directive and an air quality directive, both positive directives to protect our water and our air. A soil framework directive was proposed in 2006 but was scrapped in 2014 due mainly to a blocking minority of the UK, France, Germany, Austria and the Netherlands. The soil framework directive must be revisited, given the importance of food security and the climate crisis.
It is also disappointing that there is no mention of the soil's potential to actively sequester carbon in the Irish Government's Climate Action Plan. Currently, Irish legislation and environmental enforcement are such that soil stripped from a greenfield site before development is classified as waste material or at best, a by-product, imposing strict limitations on its reuse. The reality is that vast amounts of fertile soils are ending up in landfill or filling a hole in a soil recovery facility. This situation does not follow the principles of a circular economy.
NATURALLY DRIVEN SOLUTIONS
On a positive note, these problems have solutions. Many farmers, growers and soil scientists are already instigating changes to conserve and improve soil health. Conservation agriculture, regenerative agriculture and biological farming practices all focus on protecting soil health. One such inspiring group is the Danú Farming group. A group of Irish farmers who have undertaken a project to assess how practices such as minimum tillage (min till), cover cropping, multi-species grass swards and reduced chemical fertiliser use improve the soil's microbiome and its overall function.
Humus-rich, healthy topsoil is a product of plant photosynthesis and microbial resynthesise. Plants and microbes make topsoil. While plants live and grow, they form a symbiotic relationship with soil microbes (bacteria and fungi). Plants capture carbon dioxide (CO2) and exude carbon through their roots as simple sugars, carbohydrates and other organic compounds. These compounds stimulate and feed the microbiology in the rhizosphere (root zone) (Figure 1) and turn, the microbes make nutrients available to the plant.

Most soils have vast stores of nutrients, but the problem is they are not in a form that is readily available to plants. Soil microbes mineralise vital nutrients such as nitrogen and solubilise phosphorous while also making essential micronutrients such as copper, zinc and iron available. Intensive agriculture and landscaping practices often involve adding large volumes of chemical nitrogen and phosphorus to soils. This disrupts natural microbial systems. In this case, plants are being artificially provided with excess nitrate and phosphate; therefore, they will decrease or stop exuding microbial stimulants. This results in a loss of microbial diversity and a reduction in micronutrient uptake and long-term soil function. In these conventional systems, plants become dependent on artificial fertilisers.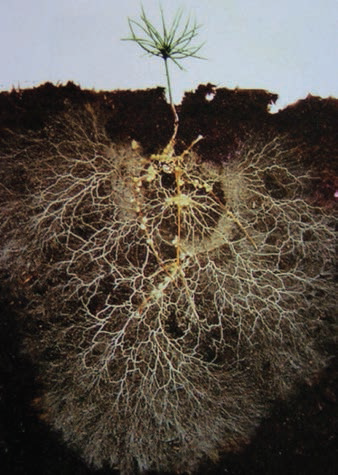 As beneficial microbes go, mycorrhizae fungi are crucial (Figure 2). They attach to plant roots and form complex networks, extending the surface area of the roots and making more nutrients available. The less this network is disturbed, the better. Therefore, min-till or 'no-dig' approaches are proving popular. A bonus of these plant-driven processes is that carbon dioxide is removed from the atmosphere and locked into the soil as organic matter. A diverse and healthy soil microbiome increases humus content, nutrient availability, improves soil structure and aggregation, controls disease and pests and sequesters carbon.
SOILS IN LANDSCAPING AND GARDENING
There is an old saying in gardening: "A penny for the plant and a pound for the hole". Spending a small fortune on plants and not considering the soil's health is a recipe for failure. For long-term, plant health and growth, soils must provide aeration, drainage, support, water storage, nutrient supply and healthy soil microbiome. Poor handling and management of soils lead to a breakdown in these functions. Often, when a landscaper arrives at a new site, they are presented with a stockpile of overhandled, compacted and poorly stripped soil. The good news is that through an understanding of the characteristics of soil, steps can be taken to regenerate and improve it.
IMPROVING FUNCTION AND REGENERATING SOIL
Compost has been used to replenish soil health for thousands of years. The simplicity of compost means it is often overlooked in favour of 'off-the-shelf' products promising miraculous results. Another issue which has not done compost any favours is the fact that in garden and DIY stores products which are predominantly peat based are labelled as compost. Peat is a finite resource; peat holds no nutrients and is virtually sterile. To be correctly defined as compost, the organic material must go through the naturally-driven, thermophilic composting process. This aerobic, microbial process involves a natural heating phase (mesophilic), a hot phase (thermophilic) and a cooling phase (maturation) resulting in a stable, long-lasting organic matter which is full of beneficial microbiology. Compost works best when mixed thoroughly into topsoil at the outset of a project. Application rates can be from 5% up to 50% (by volume) depending on the intended use for the soil, and the condition of the soil requiring improvement. Compost can also be used as a topdressing or even as a mulch.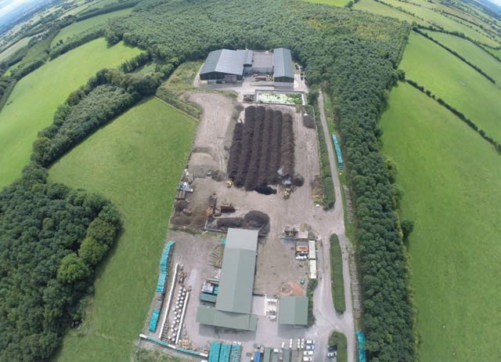 MANAGING BIODEGRADABLE WASTES
Commercial composting (Figure 3) is an excellent example of the circular economy in action. A landscaper can bring cuttings, trees, bushes and grass from a site clearance to a composting facility and in 12-16 weeks can collect finished compost made from this material and use it to improve the soil in landscaping projects. All the macro and micronutrients contained in the plant material are recycled and concentrated back into a balanced, microbially rich soil improver.
Direct comparisons of specialist mycorrhizae inoculant products and green compost (Figure 4) have shown that compost supports similar mycorrhizae levels in soils, while also providing a multitude of other benefits.
SUSTAINABLE APPROACHES TO SOILS FOR LANDSCAPING AND GARDENING PROJECTS
In many landscaping projects, a soil specification is often detailed by the designer/architect. A progressive and sustainable approach, where on-site soil exists, is to assess the soil already present in a soil resource survey. A soil scientist can assess the soil on-site and advise on a management plan for reuse and improvement of that soil to meet specification. Ideally, this should take place before a project goes to tender, so the amendments required can be priced by the contractor. Assessing soil in situ before it has been stripped is also the best indication of how that soil is likely to function in the future.
In smaller gardening projects, an assess and improve approach can also be taken by doing some basic soil assessments before planting. Assess the texture by hand, does the soil form long ribbons? It may be clay heavy. Check the soil pH using a basic soil kit. Judge drainage by doing a simple percolation test pit. Worm counting is an excellent way to assess soil health and organic matter content.
Improving and reusing soils not only conserves a valuable natural resource, a carbon sink and a diverse ecosystem but also provides significant savings as fewer inputs are required, and less waste is generated. In some cases, aggregate amendments such as grit or fine sands may also be required to meet specification. However, for most situations, compost alone is enough. Compost is a cost-effective way of producing healthy and self-sustaining soil.
References
[1] Bellamy, P.H., Loveland, P.J., Bradley, R.I., Lark, R.M. and Kirk, G.J.D. 2005. Carbon losses from all soils across England and Wales 1978−2003. Nature, 437pp.245-248.
[2] Panagos, P. et al. (2017). Cost of agricultural productivity loss due to soil erosion in the European Union: From direct cost evaluation approaches to the use of macroeconomic models. Land Degrad Dev., 471–484. https://doi.org/10.1002/ldr.2879 ✽
Conserving and improving soils is not just an agricultural issue. Gardeners, landscapers and councils can all help protect the soil ecosystem and reap the rewards of healthier soils. Urban gardens and green spaces are hugely important for biodiversity and our wellbeing.
THE BENEFITS OF COMPOST
● INCREASES ORGANIC MATTER AND HUMUS CONTENT
● IMPROVES SOIL AGGREGATION AND STRUCTURE
● IMPROVED DRAINAGE
● INCREASES PLANT AVAILABLE WATER HOLDING CAPACITY AND DROUGHT RESISTANCE
● INCREASES SOIL NUTRIENT STORAGE
● PROVIDES LONG-TERM SLOW-RELEASE MACRO AND MICRONUTRIENTS
● IMPROVES ROOT DEVELOPMENT
● INOCULATES AND STIMULATES THE SOIL MICROBIOME WITH BENEFICIAL MICROBES
● IMPROVES DISEASE RESISTANCE
● SEQUESTERS CARBON (COMPOST SINKS UP TO 400kg OF CO2 PER TONNE)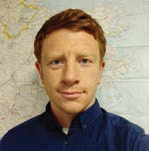 DR. BRIAN MURPHY is a senior scientist with Enrich Environmental Ltd. Brian is an author and co-author of numerous peer-reviewed publications related to soil carbon sequestration, biodegradation of pollutants, composting systems and organic geochemistry.
For more details www.enrich.ie.