Bring on the Blend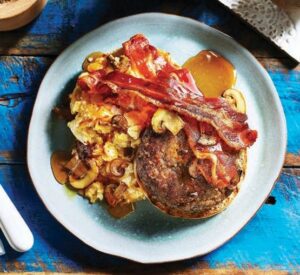 The three year EU co-financed 'Mushrooms Complement Everything' promotion campaign in the UK and Ireland comes to a close in January 2021. With an annual budget of €670,000, the campaign has focused on the benefits of combining meat with chopped up mushrooms to 'Bring on the Blend'.
The highlight of this period will be burst six of the advertising campaign running from the end of September. This will be supported by 'always on' PR, Social Media, and influencer activity. The core of our Bring on the Blend campaign is to raise awareness of the benefits of mushrooms and increase buyers amongst 25-45 years households.
PR
The aim is to promote the potential of mushrooms by inspiring audiences through healthy, versatile, and convenient recipes, using date hooks, popular recipes, and beautiful imagery. Ten new autumn/winter recipes have been developed based on food trends, search data, and calendar hooks to launch in PR, Social Media, advertising, and on the website.
SOCIAL MEDIA
Social media – the campaign has already had a reach of 5.7 million to date this year, and 800,000 video views on the platform.
INFLUENCER
To keep the continuing momentum of engagement and retention in the closing months of 2020 (Nov-Jan), the campaign will be running a partnership with MOB Kitchen to promote zero-waste mushroom-based recipes.
Waste-free cooking is a huge trend this year, with popularity increasing over lockdown. MOB Kitchen is a recipe hub for healthy, budget-friendly, and sustainable recipes.
ADVERTISING
The final burst of this three-year campaign will be live from 28th September – 15th November in digital media. The digital display campaign will run on websites targeting women aged 25-45, on mobile through Ogury. Video advertising will be live on YouTube and through Unruly.
The digital display creative heroes two mushroom blend dishes – a meatball pasta, and a breakfast muffin. ✽
Bord Bia's Best in Season Campaign
A research study by The Bord Bia Thinking House in conjunction with Behaviour and Attitudes in April and May this year reported that Irish people have increased their daily intake of fruit and vegetables. Compared to a similar study carried out in 2017, daily consumption of fresh vegetables
increased by 7% to 58%, with fresh fruit consumption up 6% to 51%. This growth is being driven by the 18 – 34 age group, for whom the health benefits of fresh produce is increasingly important.
However, the study also revealed that people are consuming on average 3.9 portions of fruit and vegetables a day, less than the Healthy Eating Guidelines of up to seven servings. Additionally, while 87% of consumers are eating fresh fruit and vegetables three to four times each week, just over five in ten people eat fresh produce daily.
To promote the benefits of eating locally grown, in season fresh produce, Bord Bia launched a 'Best in Season' Campaign that highlights the taste, texture, and vibrancy of colour of seasonal fresh fruit and vegetables.
To further encourage cooking with fresh produce, consumers can find recipe inspiration and a new interactive 'Best in Season' calendar on bordbia.ie outlining what produce is in season each month. Our aim is to increase awareness of the benefits of eating seasonal fruit and vegetables among consumers, along with motivating them to cook with fresh produce.
We teamed up with six influencers with a combined audience of over 310,000 people to provide recipe inspiration on Instagram, driving significant traffic to our website. A supporting communications campaign garnered extensive media coverage and a takeover of the IrishTimes.com food section resulted in over half a million impressions.' ✽
Category Management – Driving Success and Growth with your Category
Bord Bia has created a category management process that draws on the international best practice in the development of category management strategy and plans. This approach builds a collaborative business practice between customers and suppliers and will enable mutually beneficial business growth for both parties.
The programme involves a combination of learning module delivery and expert consultation. Participants will attend two, three hour workshop modules built upon a dedicated category management framework bespoke to our industry. The framework will guide companies to develop a robust category management strategy for their business and enable them to develop a customer approach for negotiations resulting in business growth.
We will provide guidance and expert support on the development of a bespoke category strategy proposal for your business in between these sessions.
The programme commences in early November and places are limited. Applications may be made at www.bordbia.ie/industry/grow-your-business/category-management/
It's available to any company looking to grow its sales by building better customer proposals.
An introductory webinar on the Bord Bia website shows how category management is an essential business practice to enable the delivery of business growth for Irish food, drink and horticulture companies, regardless of sector and customer. ✽
BREXIT Action Plan
As December 31, approaches, it is important that Irish food and drink businesses are turning their Brexit plans into action. Bord Bia has published the fourth edition of its Brexit Action Plan, which provides practical information that Irish food and drink businesses can use to prepare for increased complexity in future trade with the UK. There are six chapters in total covering Customer Relationships, Supply Chain, Customs & Controls, Financial Resilience, Business Continuity & Emerging Risks, and Market Diversification. See: www.bordbia.ie/industry/ brexit/brexit-action-plan ✽