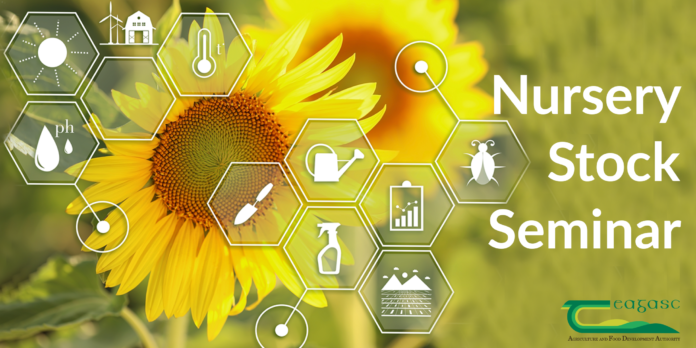 Date: 19 October 2023
Event Time 9.30am – 1pm
Venue Teagasc Ashtown Food Research Centre
Don't miss out on this exciting opportunity to gain new insights, network with industry experts, and discover innovative solutions for nursery stock challenges
9:30am – 11.00 am Session 1: Latest Innovations in plant production
• Heinrich Loesing Tree Nursery Consultant, VUB, Hamburg, Germany
• Explore the cutting-edge innovation and research from Germany on nursery challenges and "climate trees"
10:35 am – 10:50 am
• Dónall Flanagan Nursery Stock and Ornamentals Specialised Advisor, Teagasc
• Get the latest updates from Teagasc, including information on apprenticeships, growing media research, and the Teagasc plant protection web portal.
10:50 am – 11:00 am Q&A Session
• Engage with our speakers and ask your burning questions.
11:00 am – 11:30 am Networking Break
• Enjoy refreshments and connect with fellow attendees.
11:30 am – 1:00 pm Session 2 Panel Discussion: Challenges, Barriers, and Opportunities in Nursery Stock
• Engage in a dynamic discussion about the challenges, barriers, and opportunities in the nursery stock industry with our esteemed panel.
• Host: Dermot Callaghan Head of Horticulture Development Department, Teagasc
Panelists:
• Deirdre Fay Senior Inspector, Plant Health & Horticulture, Department of Agriculture
• Heinrich Loesing Tree Nursery Consultant, VUB, Hamburg, Germany
• Martin Delaharpe Sustainability Consultant
• Kieran Dunne Owner and Director, L&K Dunne Nursery
1:00 pm Closing Remarks
The event will attract IASIS points for continuous professional development. Anyone wishing to receive points should register through the online link on the day or in person.