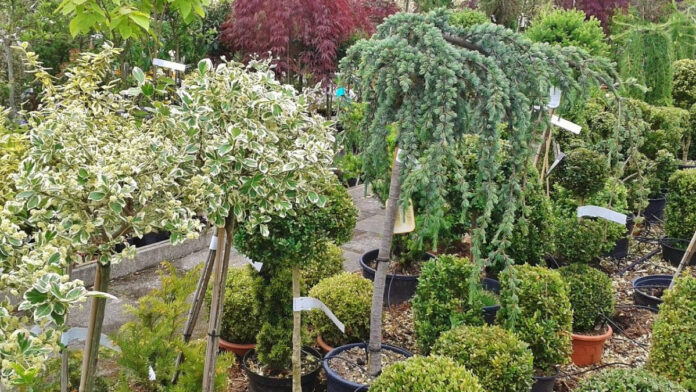 Teagasc Advisory – Nursery Stock & Ornamentals Newsletter 9, 2021

HORTICULTURAL INPUT COST INCREASES PUTS PRESSURE ON MARGINS
Horticulture production input costs have risen significantly in 2021, mostly due to external macroeconomic factors. Based on information collated and referenced by Teagasc Horticulture Development Department, input cost increases will in many cases exceed grower margins. They will be unable to absorb increased costs, without an increase in what they are paid for their produce.
The Teagasc Horticulture Development Department recently assessed the key input costs that have seen the biggest increases, gathered and validated data, sourced from a range of businesses and trade suppliers.  The key objective of this report is to surface facts about specific inputs cost increases, to apportion the relative importance of input costs to the different sectors of horticulture production arriving at average increases in costs of production in each sector for 2021.  Finally, the report speaks to the current and potential impacts of very high input costs for primary producers now and for the 2022 season.
Read the full report (pdf) here including impacts on the ornamental sector of young plant material, labour, energy, transport and growing media.

Central Statistic Office figures for ornamental horticulture 
It will be interesting to many to see recent data from Central Statistic Office (CSO) revealing the import and export figures for 2020 and the first 9 months of this year. The key export lines were: potted and root balled evergreens and conifers €1.8million, plugs and liner €1.8 million, potted perennials and €914,000, trees registered only small exports in this time. Imports reflected  strong trade as can be appreciated for the year that was the beginning of the Covid pandemic. Key import figures; potted perennials etc €15.7 million, liners and plugs €2.1million, potted and root balled trees and shrubs €1.9 million, potted and root balled evergreens and conifers €1 million and  bare root trees €796,000. Figures for January to September show similar figures to all of 2020 reflecting increasing costs of imported plants.
Import and export data of non-edible plants from CSO can be downloaded here.

TEAGASC HORTICULTURE DEVELOPMENT DEPARTMENT ARE EXPANDING
Opportunities for two Research Officers
The working environment for the horticulture industry in Ireland has changed significantly in recent years. Teagasc Horticulture Development Department are expanding to meet these challenges and take advantage of potential development opportunities.
Growing media research officer
We seek a researcher to join our research team to focus on developing agronomically and environmentally sound alternatives to peat growth / casing materials, which meet the requirements of the professional horticulture sector. The use of peat in horticultural growing media and mushroom casing has garnered much attention in recent times, particularly the challenge in finding alternatives. The biggest challenge in reducing peat usage will be in the professional horticultural sector where the existing economic model does not allow for any reduction in yield or quality. The replacement of casing material in mushroom production will be a particular focus, as despite considerable research, no viable alternatives have been identified to date. The successful candidate will join a team of permanent and contract staff carrying out horticulture research, where they will be required to collaborate internally with other relevant departments in Teagasc and externally with researchers and stakeholders.
Apple sector research officer.
Recruitment is underway for a permanent research officer to lead research projects to support the development of the apple growing sector in Ireland. The work will initially focus on finding apple varieties with suitable market and agronomic characteristics and developing production protocols to meet yield, quality and consistency requirements. The post holder may also be required to support other fruit development work in line with the business plan of the department. The successful candidate will be expected to carry out and publish research in both the scientific literature and popular press as well as being actively involved in dissemination to industry. As well as core funded work the post holder will be expected to secure external funding from national and international funding bodies for post-graduate students, post-doctoral researchers and contract staff to build their team.
Detailed job specifications can be found at Current Vacancies – Teagasc | Agriculture and Food Development Authority Closing Date: Monday, 29 Nov 2021 @ 12:00
REMINDER – DECEMBER 17 IS APPLICATION DEADLINE FOR 2022 SCHEME OF INVESTMENT AID FOR THE DEVELOPMENT OF THE COMMERCIAL HORTICULTURE SECTOR
There are just a few weeks to got to the deadline. If you are considering applying for the grant and require an advisors input please contact them as soon as possible. I would caution that Covid could interfere with the best made plans so please make every effort to get applications in early. Remember also that any structures requiring planning permission must have all permissions approved before the application is submitted.
The closing date for the 2022 scheme is the 17th of December 2021. 
Please contact me or your local advisor if you are considering applying for the scheme.
Full details can be found on the Department of Agriculture website 
TEAGASC NURSERY STOCK SEMINAR HELD NOVEMBER 4
The Teagasc Nursery Stock Seminar took place on Thursday, 4 November at 9:30am in Teagasc Ashtown Research Centre, Dublin and online via Zoom. The event consisted of two sessions. Session one, which was chaired by Dermot Callaghan, Head of Teagasc Horticulture Development Department covered the area of growing media. Session two, which was chaired by Dónall Flanagan, Nursery Stock/ Ornamentals Specialised Advisor, Teagasc, consisted of technical updates. The event featured an opening address from Pippa Hackett, Minister of State for Agriculture with responsibility for Land Use and Biodiversity, as well as contributions from Dr. Bart Vandercasteele, ILVO Belgium; Kevin Mahon, Klassman Dielmann; Dr. Michael Gaffney, Teagasc; Andy Burke & Conor McGee, Department of Agriculture, Food & the Marine (DAFM); and Dr. Andreas Wrede, Head of Horticulture testing, Chamber of Agriculture Schleswig Holstein.
All presentations (pdf) can be found on the Teagasc publications page
PLANT, PEST AND DISEASE UPDATES
DAFM trader notice 11 importing high risk plants
The Department recently announced that while seeking declarations of importation of key high risk plant species, growers should now use an official document to inform them. This follows from trader notice 10 distributed during the summer which was aimed at improving traceability of imported stock which could be hosts more serious pests.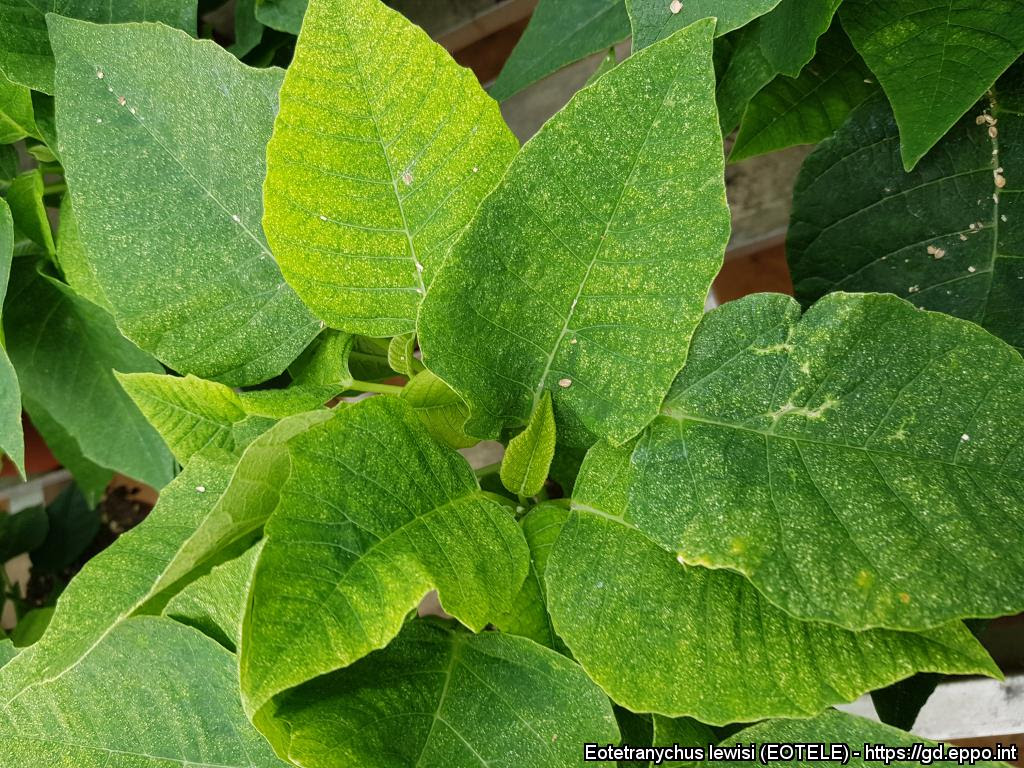 DUTCH FINDING OF QUARANTINE SPIDER-MITE ON POINSETTIA
Some crops of Poinsettia grown in the Netherlands have recently been found to be infested with a quarantine organism Eotetranychus lewisi reports the NVWA. The pest causes distortion and speckling of leaves of poinsettia, pears, rubus, roses hydrangea and others. Photo above of damage on poinsettia courtesy of EPPO and Andreas Bardenhorst, Landwirtschaftskammer Schleswig-Holstein, Germany. It was reported that the plants were either disposed of or in less severe infestations they were treated to eradicate the pest.
There are no reports of the pest ever having being found in Ireland. Ireland has a protected zone for Tobacco white fly, another common pest of Poinsettia in Europe.
See details on the NVWA web site and the EPPO database.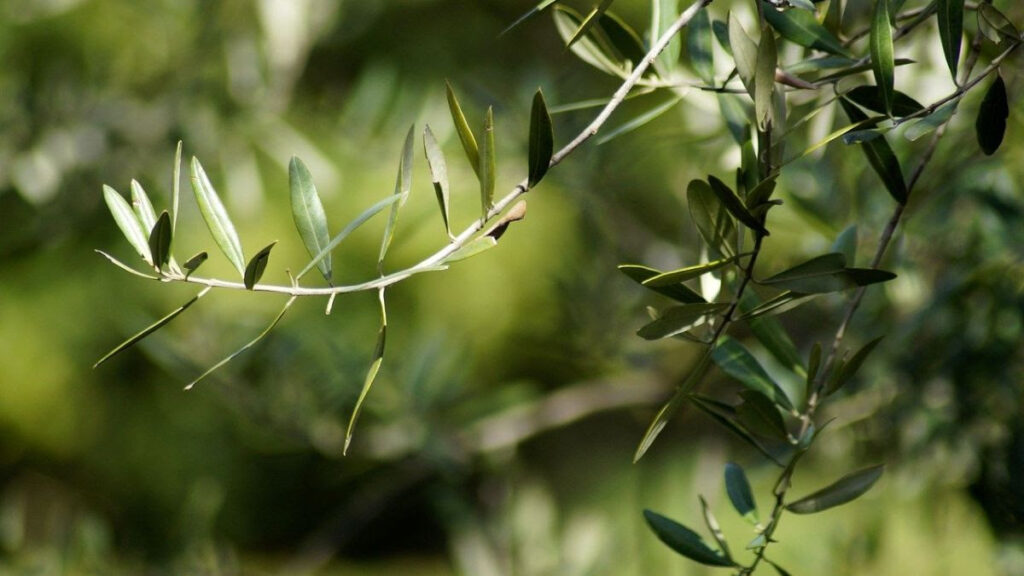 FIRST IRISH REPORTS OF OLIVE PYRALID MOTH EUZOPHERA PINGUIS 
This exotic pest has been reported here for the first time this summer. The larvae only feeds on Oleacea host plants – this included Olea and Fraxinus. The closest prior report was in UK in 2015. The larvae of the moth causes damage to branches and trunks of olives and ash while feeding. On the continent growers use pheromone lures to traps adult and help limit their impact.
Plant protection products
Reminders – Revocations during November and December
Myclobutanil – Systhane 20 EW (PCS No. 04944) registration has been  revoked. Existing stocks may be sold until 30th November 2021.
Two products will lose their registration in December
Oblix 05286 31/12/2021
Valdor Flex 05612 31/12/2021
Updated off label extension of use list of plant protection products 2021
NEW: TEAGASC GUIDE FOR LAUREL GROWERS
A grower guide outlining the main pest and disease issues on Prunus laurocerasus is now available.
The guide has been written by Andy Whelton, Brian McGuinness and Helen Grogan, all from Teagasc, Horticulture Development Department and Jan-Robert Baars, School of Biology and Environmental Sciences, University College Dublin. The guide comes after the culmination of a program of research under a DAFM stimulus funded project 'New Leaves'. It aimed to address some of the plant health issues of the cut foliage sector. And while the focus was on laurel for cut foliage, the results have relevance for anyone involved in container and hedge production of the species.
The guide illustrates and details the following:
Bacteria; Pseudomonas syringae syringae, Xanthmonas arbicola pruni and Micrococcus aloeverae
Fungi; Downey mildew, powdery mildew, Neofabraea actinidae, Eupropolella britannica and Stigmina carpophila
Pests; Tortrix, Thrips, Leaf Miner, Common Green Capsid, Citrus Red Mite
Growers will also find very useful information on the growth stage of laurel and timing of pests "attacks" and damage.
Copies are available from Teagasc Horticultural Development Department at Teagasc Ashtown or can be downloaded from here or from the publications section of our website.
FIELD NUTRITION: MANURE AND COVER CROPS
Autumn and early winter is an ideal time for soil testing. Fields should be sampled regularly to identify nutrient requirement. Addressing pH corrections is essential to maximise nutrient uptake by the plants. Low and high pH prevent efficient uptake of major and micronutrients
For any crops that are beginning to be harvested there may be opportunities for increasing nutrition and soil organic matter. With the extraordinary increase in fertiliser prices already well established, growers can use the list of NPK content and guide value of organic fertilisers (pdf) and set out below, to calculate cost savings. With growers limited to the max application of up to 175Kg of N per ha, allowances need to be made for these sources. The use of winter green manure crops could also possible. The optimum time for sowing winter beans is from now until mid December. These will fix nitrogen and can be incorporated into the soil. Combined with with oats and mustard, good cover could be achieved.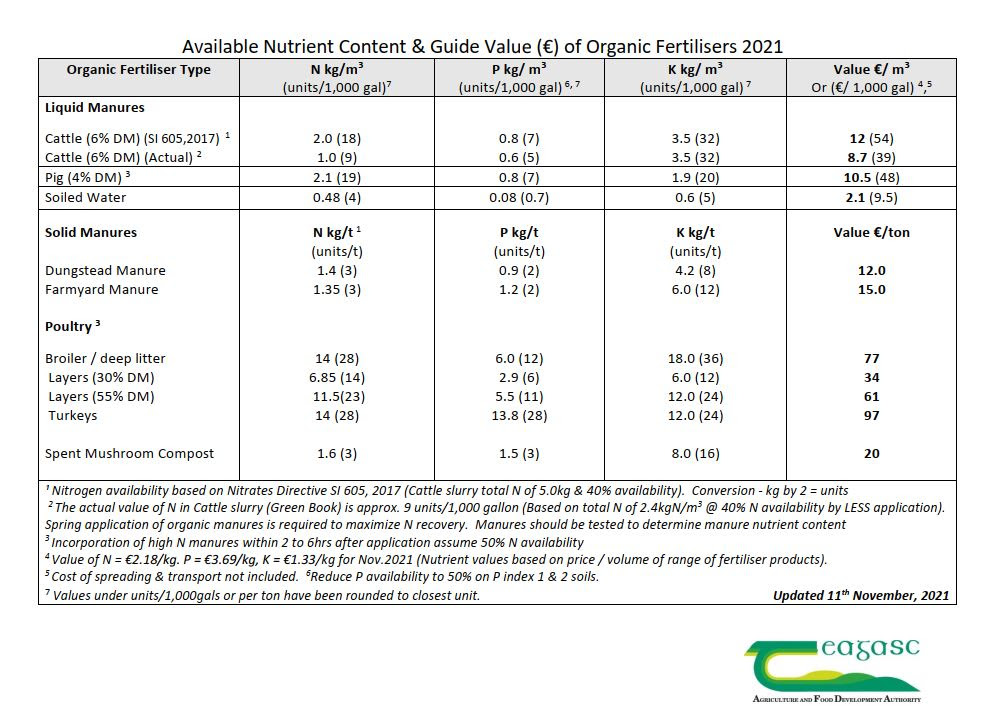 BE WINTER READY
The Government recently launched its "Be winter ready" campaign. Having watched the flooding in British Columbia over the last few days there can be no doubt the serious impacts major weather events can have. Thankfully with advance warnings and support services damage and loss of life can be prevented or limited. Some key reminders for action prior to and during serious weather are listed below see more on Teagasc – Be Winter ready or Visit the Be Winter-Ready website.
Be prepared
Prevent freezing damage to irrigation and machines by draining them down
Test heaters required to protected tunnels, glasshouses and structures
Check back up power or fuel for the heaters
Fleece (and weights) may be required to protect plants
Reduce plant spacing
High winds can create flying debris, empty high side vehicles can be at risk of overturning
Have sand and bags ready if required to divert surface water way from buildings, loading bays etc.
Stay safe
Carry a charged mobile phone and a torch – head torches can allow for greater flexibility
Have grit and salt available to ensure safe access to buildings if require
Wear suitable layers of clothing
Avoid working alone in challenging weather or inspecting damage.
Before going out on your nursery or land always tell someone where you are going, and how long you will be gone for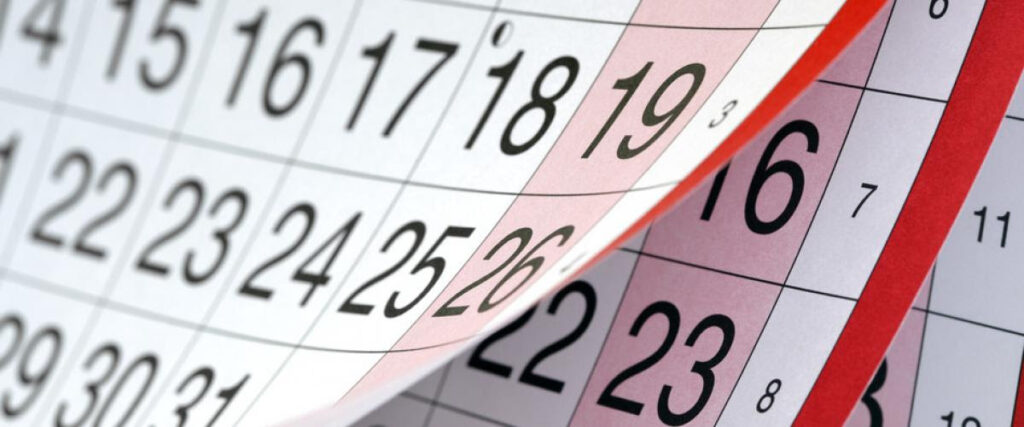 DATES FOR YOUR DIARY
December 17th Close for applications to DAFM horticulture grant aid programme.
January 25th-28th  IPM Essen
June 2nd – 6th 2022 Bloom