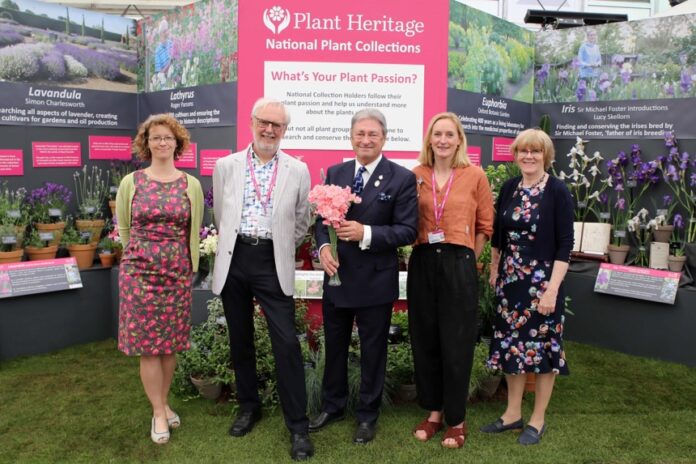 Celebrating the passion of their National Plant Collection Holders, the charity wins both a Gold Medal and Best Discovery Exhibit at the world-famous flower show.
Plant Heritage has triumphed at RHS Chelsea Flower Show 2022, winning both a coveted RHS Gold Medal and being awarded the Best Discovery Exhibit in the Floral Marquee.
Celebrating the plant passion of four National Plant Collection® (NPC) Holders, the charity's vibrant display showcased four very different plant groups, as well as the different aspects of holding a National Plant Collection. This ranged from historical research (Lucy Skellorn's Iris (Sir Michael Foster introductions) NPC), plant breeding (Dr Simon Charlesworth's Lavandula NPC), making a vast library of sweet peas available to the public (Roger Parsons' Lathyrus NPC) and medicinal research and conservation of wild species (the University of Oxford's unusual Euphorbia NPC).
The prestigious Gold Medal was awarded by RHS President Keith Weed for the overall design and aesthetics of Plant Heritage's stand and the top-quality plants on display, but also in recognition of the huge team effort required to bring together four such varied National Plant Collections.
The Best Discovery Exhibit was awarded for the clear message conveyed by Plant Heritage, which celebrated the ongoing research by Collection Holders. The display also highlighted that not all plants have a dedicated National Plant Collection and encouraged visitors to consider starting one.
Gill Groombridge, Business Manager at Plant Heritage said: "We are absolutely delighted to receive such a prestigious award. It's always a joy to showcase the amazing work of our National Collection Holders, but to win a Gold Medal and the award for the Best Discovery Exhibit at the world-famous Chelsea Flower Show is a real tribute to the dedication of our Collection Holders, and to the wider Plant Heritage team whose hard work has helped to make this happen."
Gill continues: "We are very proud to showcase excellence in plant conservation, and hope our display has inspired anyone who visited us at Chelsea to consider starting their own National Plant Collection and help us save even more garden plants."
Plant Heritage also launched their annual Missing Genera campaign at RHS Chelsea Flower Show 2022. The Missing Genera identifies different plant groups that aren't currently part of a National Plant Collection, and therefore could be at risk of being lost from cultivation.
This year, the Missing Genera is sponsored by Griffin Glasshouses, and highlights 12 different plant groups* in need of a National Plant Collection. And although it was launched at Chelsea, the campaign runs throughout this year, giving anyone who is interested in saving one of the plant groups listed plenty of time to start their collection.
For more information about the Missing Genera, visit https://www.plantheritage.org.uk/national-plant-collections/missing-genera/ and to find out more about Plant Heritage, visit www.plantheritage.org.uk