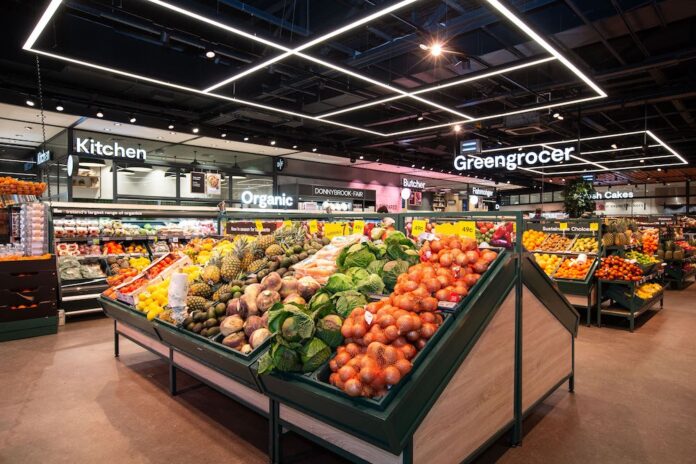 Musgrave has today announced a €25 million investment in SuperValu and Centra stores across the island of Ireland as part of a new sustainability fund aimed at empowering retailers to achieve net zero carbon by 2040.
The fund, which is part of Musgrave's all-island sustainability strategy, will result in an estimated 12% carbon reduction by the company over a two-year period.
The 12% carbon reduction is equivalent to removing over 10,000 tonnes of carbon, planting 380,000 trees across the island of Ireland or powering over 5,000 homes.
Musgrave's new sustainability strategy aims to reduce its carbon emissions to reach net zero carbon by 2040, provide consumers with more sustainable shopping choices in-store and work with retailers to make every community in Ireland a sustainable one.
In the Republic of Ireland, Musgrave is committing €50,000 per SuperValu store and €28,000 per Centra store. Retailers can select suitable initiatives based on each store's needs and set-up, including upgrading freezers and refrigeration units, LED lighting retrofit, solar panels, and electronic shelf edge labels (eSEL).
Noel Keeley, CEO, Musgrave Group said: "There has never been a time in human history when our collective effort will matter more than in dealing with the climate crisis. As a business with a presence in every community across the island of Ireland, we have a responsibility to act, while putting in place genuine and meaningful sustainability policies. Building on our work in this area over many years, the Musgrave Sustainability Fund is an important catalyst for real change and will accelerate our ambitious drive to net zero.
SuperValu and Centra have an exceptional network of retail partners, made up of 1,000 SMEs and local entrepreneurs who are passionate about their communities. They are committed to sustainability and making a real difference in people's lives every day. Leveraging the passion and focus of this network of local business leaders gives us the unique ability to help make every community in Ireland a sustainable one. We look forward to working with all our retail partners and customers as we build towards a more sustainable Ireland for all."
As part of its strategy, Musgrave has committed to:
100% of its own brand packaging will be eliminated, and where necessary will be recyclable, reusable or compostable by 2025.

Currently over 90% of its own brand packaging is recyclable, reusable or compostable.

100% of fruit and veg packaging to be recyclable, reusable or compostable by 2025
100% of instore packaging to be recyclable, reusable or compostable by 2025
By 2025 all stores will have LED lighting
By 2025 over 75% of stores will have doors on their refrigeration
By 2025 100 stores will be fitted with solar panels
Gerry Doherty, SuperValu and Centra Store owner in Donegal said: "SuperValu and Centra retailers across Ireland are committed to building sustainable communities and achieving the important target of reducing carbon emissions to net zero by 2040. The Musgrave Sustainability Fund will make a real difference to stores like ours nationwide and will help us in making significant steps towards achieving our environmental targets. In my own stores, we have already reduced our environmental impact through investment in energy efficiencies. This new fund will ensure we can build on these efforts and achieve lasting, sustainable changes that will also help our business grow and thrive for years to come."
In 2016, Musgrave became the first food retail and wholesale group in Ireland to become a verified member of the Origin Green sustainability programme (Ireland's national sustainability programme for the food and drink industry). Since 2019, Musgrave has been the Irish Government's Sustainable Development Goals Champion, which recognises ongoing commitment to operating as a sustainable business and the achievements made as part of its sustainability strategy.
Further details on Musgrave's sustainability strategy can be found at: https://www.musgravegroup.com/sustainability/.