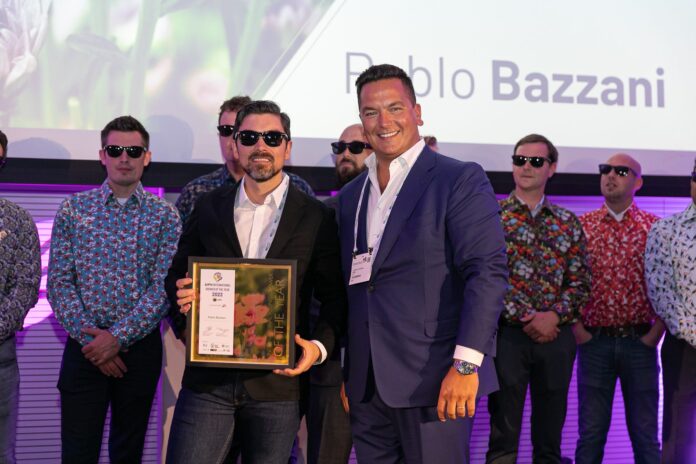 Horticultural professional Pablo Bazzani won the inaugural Young International Grower of the Year Award at a ceremony held on Tuesday 14 June 2022 at GreenTech Amsterdam.
This award is new to the long-running International Grower of the Year (IGOTY) Awards, hosted by the International Association of Horticultural Producers (AIPH). Looking after the future of the ornamental horticulture industry is vital, which is why AIPH partnered with Jungle Talks to introduce the new award category to recognise the ambition of young entrepreneurial professionals.
Winner Pablo Bazzani is General Manager of Plazoleta Flowers, Colombia, where he is responsible for leading and supervising financial, production, sales, and logistics procedures and results. Prior to this role, he gained experience as a Marketing Assistant and Marketing Manager for Perfection® Group, Colombia.
Alongside the other finalists, Pablo presented his business ideas to the jury of three expert horticultural entrepreneurs. The judges were: Leonardo Capitanio, AIPH Vice-President and CEO of Vivai Capitanio (Italy); Wouter Duijvestejn, Owner of Beyond Chrysant (The Netherlands); and Stephanie Berkhout, Lead Grower at Qualitree (Canada).
Jury member Leonardo Capitanio, who presented Pablo with the award, commented: "Pablo is a young leader in our industry who shows focus and vision to achieve great things. He works hard to develop the potential in others in his company and the wider industry. He is exceptionally knowledgeable and an outstanding ambassador for our industry."
The IGOTY 2022 Awards are supported by headline sponsor Royal FloraHolland, founding partner FloraCulture International, sapphire sponsor Expo 2021 Hatay, ruby sponsors GreenTech and GLOBALG.A.P. and GGN Label, pearl sponsor Freddie's Flowers, flower sponsor Dutch Flower Group, and awards partners CIOPORA and World Horti Center.