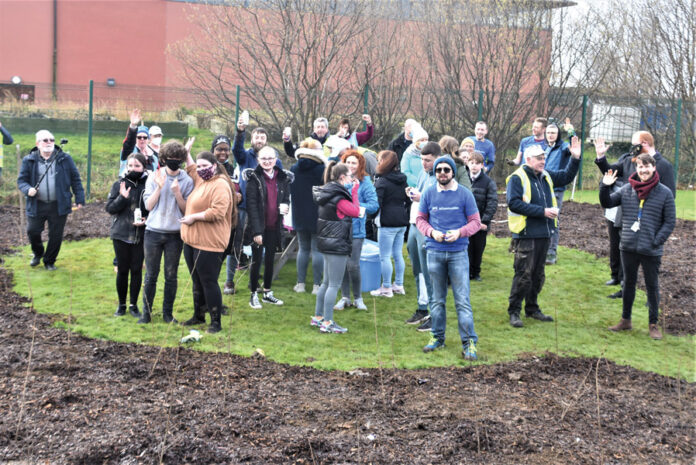 Stepping Stones Forests (SFF) is a grassroots movement which is endeavouring to make significant changes to the tree canopy cover of Dublin, step by step.
It began in 2019 in Tallaght, South Dublin, an area with one of the lowest rates of tree canopy cover in the greater Dublin region. The planting of trees by the local authority is improving the situation, but there is only so much it can do. Contributions and collaborations with volunteer groups ensure trees, as important urban ecosystem stalwarts, grow in numbers and in stature. In 2019, the Government acknowledged the need for collaborative approaches to reforestation to combat climate change, setting a target of 440 million trees planted by 2040; if this is to be achieved, it needs all our support to make it happen.
SSF founder John Kiberd knows this well. At heart John is an environmentalist, he credits his gradual environmental awakening to the dual existential crises that are climate change and biodiversity loss. Having lived in Tallaght for many years, this obvious lack of canopy cover and his personal environmental awakening led him to create the SSF project. In his earliest SSF discussions with family, friends, neighbours and local networks, he found kindred environmental spirits, corporate funding sources, volunteers and support. His research led him to discover the planting methods of the world-renowned botanist Akira Miyawaki.
SSF uses the Miyawaki method to develop small, urban, densely planted woodlands with 1-5 plants/sqm comprising native (Irish) species of trees and shrubs, mainly bare-rooted specimens. Typically, the forests are 100 to 200 square metres in size and are usually planted on existing areas of lawn/grassland/waste ground. There is minimal ground preparation; a layer of newspaper is covered with cardboard (removing any plastics) and then heavily mulched (min 10 cm deep) to help suppress weeds, retain moisture and to maintain a more even ground temperature.
SSF are planted in two stages: the planting area is prepared in the autumn and is planted in the spring. Thus far, it has an almost 100% survival rate across all forests.
The method produces rapid growth with a single tree growing up to 90 cm in one year; a Miyawaki forest can grow into a mature ecosystem in 20 years. These methods are being applied right across the world, with examples in India, the Netherlands and the UK. The only maintenance required is to ensure a sufficient cover of woodchip, and apply a rabbit guard where necessary. After three years, the SSF is self-sustaining, requiring no further human intervention. Forests are funded through corporate funding and cost approximately €2750 each to create.
SO, WHY HIGHLIGHT THIS METHOD?
Around the world, forests cover around 30% of the global land mass and provide multiple, unique benefits to the ecosystem, primarily their ability to absorb and lock in carbon dioxide and greenhouse gases that are caused by human activities (Nunez, 2015-2022). Trees have always been important environmentally, particularly to urban landscapes, and never more so than in this climate crisis. Ireland is lagging on its climate targets. It has barely 11% forest cover – much of it coniferous, all of it fragmented – particularly in urban and peri urban settings. Trees play a fundamental role in reducing the pace of climate change. The ecosystem services trees provide to society – reducing wind speed – trapping particulate matter, providing shelter, offering an aesthetic quality in the urban built environment – are not only crucial in the battle against the effects of climate change, they are crucial to the health outcomes of urban populations.
Therefore, there are two reasons why there is an inherent and urgent need to restore, protect and promote trees: human health and climate. This need has gained momentum and focus, whereby tree-planting is now considered a form of sustainable development (Martin et al, 2021) and consequently has received substantial support from the UN as part of the green recovery plan (Mita et al, 2020). This has opened the doors worldwide for urban forest plantings, a facilitated shift in perspective has encouraged the use of alternative sustainable methods, such as the Miyawaki method to replenish dwindling urban forest.
This is why the SSF project is one of great significance for Ireland. It is a grassroots movement of volunteers, led by a passionate environmentalist, with horticultural advice and support from TU Dublin and financed by corporate funding. Given time SSF, has the ability to significantly impact the landscape of Dublin.
The first Stepping Stones Forest, was planted in Sean Walsh Park in Tallaght in December 2021 with the support of South Dublin Co Council. Three forests were planted using the Miyawaki method, with local community volunteers planting 900 trees and shrubs. Despite Covid-19 restrictions, this was a wonderful example of local authority and community collaboration.
The SSF programme subsequently focused on schools as forest sites. Many schools in the Tallaght area have extensive grounds, not all of which are required for recreation or sport needs, offering secure sites and planting space.
The 2021–22 season ended with seven schools across Tallaght and Clondalkin successfully planted with native forests. To date, despite the challenges of sourcing native species tree stock, SSF managed to plant over 3,600 trees of 22 different native species, both coniferous and deciduous.
The children are fully invested in the process involved at every stage of the ground preparation and planting process, and engaging in hands-on learning. It is John's belief that the children will grow and develop in parallel with the young forests, creating a sense of ownership, protecting and championing trees.
In order to support the integration of the forests into teaching in each school, John secured support from AWS In Communities and with permission republished 'Wild Things at School' by Éanna ni lamhna. A copy is provided to each school. It helps primary school children to learn about key species of mammals, birds, amphibians, invertebrates and plants.
Additionally, signage designed to be deliberately eye-catching and attractive, also enables forest learning and may inspire more Stepping Stone Forests. It highlights forest species including trees, animals, birds etc. as is included in each school planting.
The 2022/23 season is underway with 30 planned forests at various stages of development, and more in the planning stages. The project ambition would be to see a Stepping Stone Forest in every Irish school. It has the potential to be a significant environmental and community movement which will significantly boost the stock of native Irish trees, not only in South Dublin but across Ireland.
This work is only possible with the support of participating Schools, South Dublin Co Council, TU Dublin, volunteers, supporters and particularly funders listed here www.steppingstoneforests.org.
These forests will be around for a long time so it would be a wonderful living legacy to leave behind; if you want to sponsor or volunteer to plant a forest, email John: info@steppingstoneforests.org. ✽
---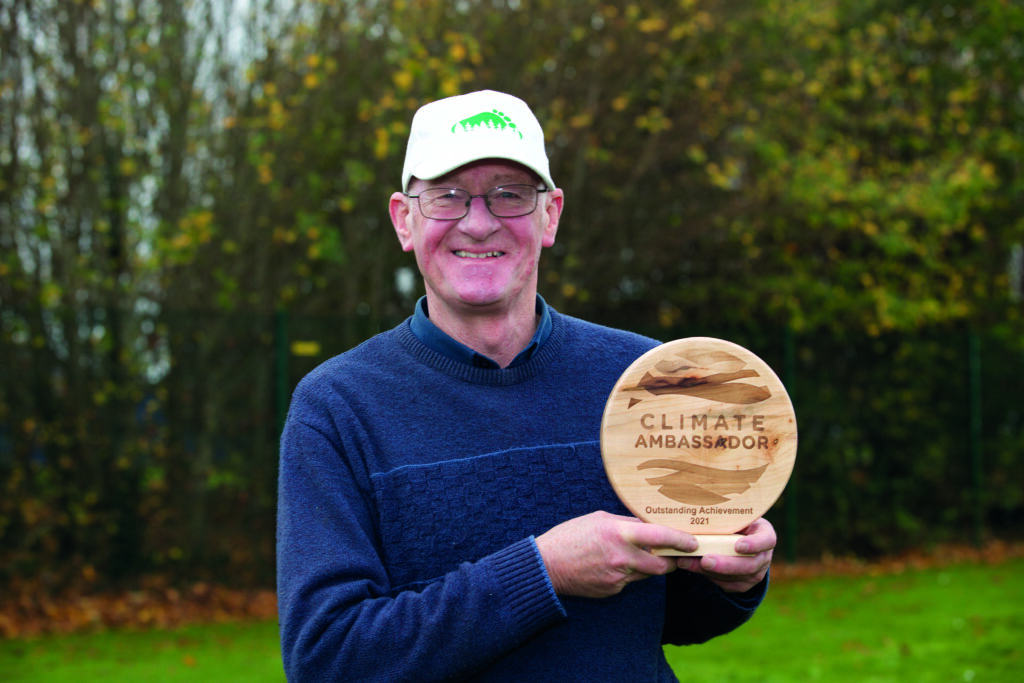 JOHN KIBERD
Retired banking executive John Kiberd spends most of his time these days attempting to make up for a life lived as something of an environmental thug. A gradual awakening to the dual existential crises that are climate change and biodiversity loss led him to create the Stepping Stone Forest (SSF) project. He draws his inspiration from the methods of the world-renowned botanist Akira Miyawaki and the LEAF Ireland school forests program.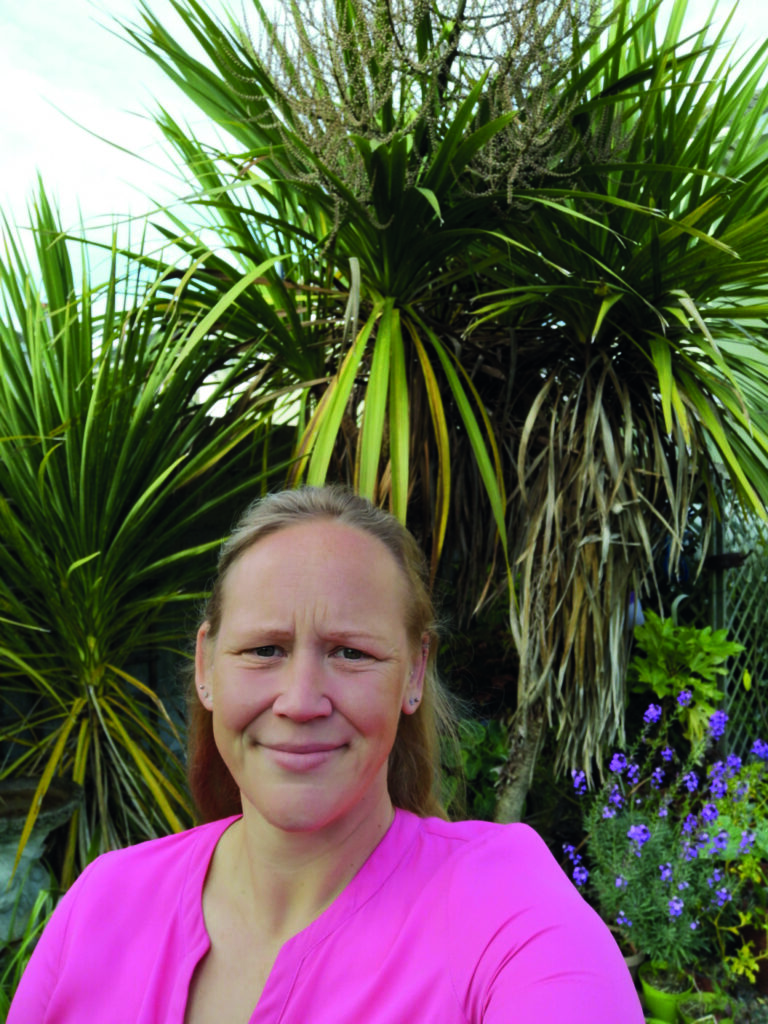 KERRY HARRIS
Kerry Harris is studying part-time, and in the 3rd year of the level 7 Bachelor of Science in Horticulture at TU Dublin and volunteer with SSF. Currently in full-time employment in the financial services sector. Upon completing the degree her intention is to undertake the honours degree whilst pursuing her interest and potential future career in the arboriculture sector.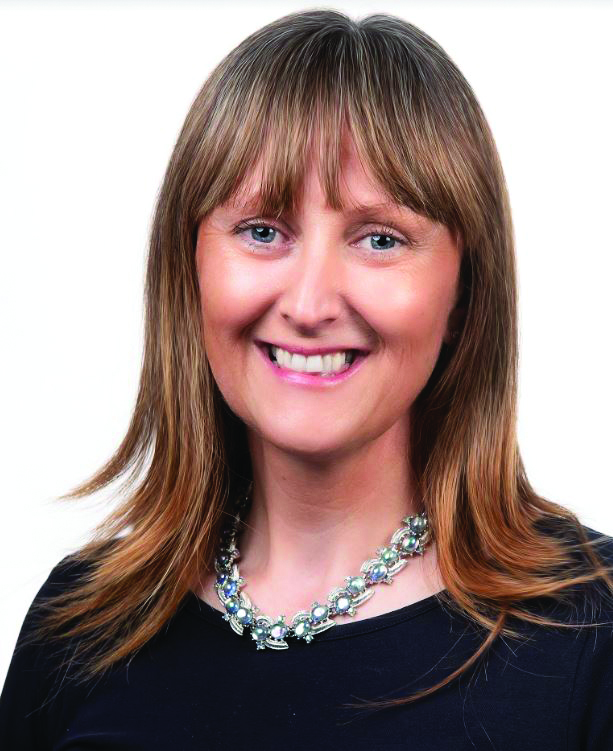 RACHEL FREEMAN
Lecturer in Horticulture at TU Dublin and Horticultural advisor to Stepping Stones Forest Project.