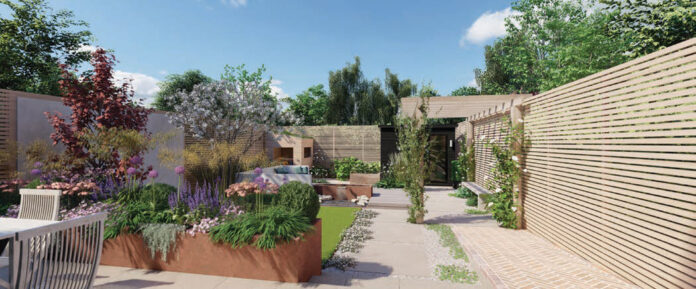 Bord Bia Bloom 2021 was celebrated at home for the second year, over the June bank
holiday weekend, and encouraged the public to embrace their gardens and outdoor spaces this summer. The public took part in #BloomAtHome via a series of virtual initiatives and events providing gardening advice and inspiration. New for 2021, Bord Bia shared seven easy to follow garden designs and planting plans to help people create a dream garden at home.
Tara McCarthy, CEO, Bord Bia said, "Bord Bia Bloom is our annual showcase for horticulture and gardening in Ireland, and while we cannot be physically together in the Phoenix Park, we are delighted to bring the joy of Bloom directly to people's homes. The garden has experienced a renewed sense of importance over the last year as a result of the restrictions we have all had to adhere to. Connecting with the outdoors and nature
has also been increasingly recognised for the role it plays in mental health and well-being. We are delighted to be able to offer Irish gardeners, from beginners to those with more established green spaces, with inspiration and guidance on how to create a garden
they can enjoy across all seasons as we celebrate the 15th annual Bord Bia Bloom."
EASY STEPS TO DREAM GARDENS
Designed by award-winning Bloom show garden designers, Bord Bia shared seven garden designs to be re-created either in full, or in part, at home, according to the time, space and budget available. From an easy-to-maintain family friendly garden to an outdoor space perfect for entertaining, the garden plans feature a range of Irish grown plants that are available to purchase in garden centres and retailers nationwide. Each of
the seven design packs in the series feature a detailed planting plan and planting list that can be downloaded from BordBiaBloom.com. (please see full length feature
Easy Steps to Dream Gardens on pg 34 for full details).
LIVE TALK SERIES & Q&A'S
Hosted by RTÉ's Miriam O'Callaghan, the live talk series provided inspiration and advice on how to design and maintain your outdoor space, as well as exploring the physical and mental benefits of gardening. The line-up included a host of names who have embraced gardening over the last year including Irish rugby star, Peter O'Mahony
and actress and wellness expert, Aoibhín Garrihy.
BLOOM BBQ IDEAS
As it would not be Bloom without the best of Irish food, some of Ireland's best loved chefs and foodies including Catherine Fulvio and Rory O'Connell offered tasty BBQ recipes, tips and tricks as part of a series of #QualityKitchenCookAlongs.
COMPETITION WITH RTÉ
Following the success of Bloom with RTÉ last year, Bord Bia was delighted to join forces with RTÉ once again for a new fun competition which invited the public to share their gardening efforts on social media over the June Bank Holiday weekend.
To view the live talk series, get tips on BBQ recipes and to access the garden designs and plant lists visit bordbiabloom.com.