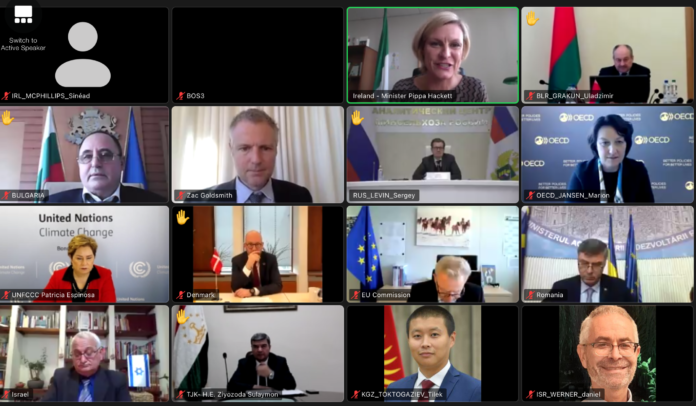 The Minister of State in the Department of Agriculture, Food and the Marine with responsibility for Land use and Biodiversity, Senator Pippa Hackett, today welcomed a Joint Communique agreed by Agriculture Ministers from across the globe.
Having participated in the Agriculture Ministers' Conference at the 13th Global Forum for Food and Agriculture (GFFA), which took place online for the first time, the Minister said of the meeting and the agreed statement, "It was an honour to represent Ireland at this global event and I very much welcome the agreed statement which calls for action to respond to the Covid-19 pandemic, prevent further pandemics and tackle climate action. "
"The communique highlights the need to assess the sustainability of food systems including hidden costs to societies; and it acknowledges the crucial role of smallholders and small family farms, as well as the importance of improving their access to market.  I also welcome the emphasis on the importance of local livestock breeds and local crop varieties managed by farmers. Of course, I also endorse the commitment to supporting actions which prevent further forest losses and eco system degradation, and to improving soil carbon and soil health."
The GFFA is an international conference held annually in Berlin during International Green Week (IGW).  This year the focus was on how to feed the world in times of pandemic and climate change.  The text of the Joint Communique was agreed at the meeting by 76   Agriculture Ministers.
During the conference Minister Hackett participated in a breakout session on climate change mitigation. She stated, "We know that countries internationally which are most vulnerable to the impacts of climate change include those which are already suffering from poverty and hunger. Therefore, we have a shared responsibility to act."
"Here in Ireland, Ag Climatise, our roadmap for the Agricultural sector, will enable us to begin our journey towards meeting our commitment to develop a climate neutral food system compatible with the Paris temperature goals, by 2050."
"It is our responsibility as policy makers to protect our environment, and it is right that the Communiqué refers to the need to explore options for policy measures to improve the sustainability of food systems.  It is up to everyone along the whole of the food production chain to play their part in helping mitigate climate change. So to be effective, we must support our farmers in taking steps to mitigate emissions as well as to improve their own resilience.  And we should also remember that environmental, social, and economic sustainability are not either/or.  Many of the practices that are proven to be impactful in terms of mitigating emissions of greenhouse gases can have co-benefits for farm productivity as well as biodiversity and indeed farmer wellbeing."