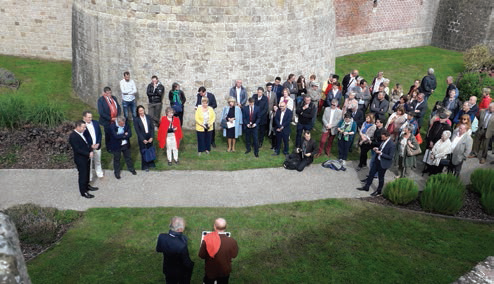 On Sunday 8th September 2019, the Irish WW1 Centenary Peace Garden, located in the Hauts de France Somme region of Northern France, was officially inaugurated. It was designed and realised by Irish garden designer Peter Donegan.
The opening of the garden was joined by hundreds of visitors including the Irish in France association, Bernard Musset (Sous Prefet de Peronne et de Montdidier) and Gilbert Fillinger of Art et Jardin HDF. The Jardins de la Paix (Gardens of Peace) are a series of permanent gardens on the site.
Donegan was one of 14 international designers selected by a French jury to represent Ireland to design the garden in the grounds of the 13th Century castle.
Donegan told HC, "To represent Ireland or your country at anything is without question very much an honour. But I don't believe anyone including I ever imagined it would be possible doing something that I have studied and have done all my life (horticulture), let alone in the design of a garden and certainly not for something at a level such as this, it's location and the reasoning behind. When one considers just what this means to a town, a country and a place that has suffered so greatly and then as I had hoped the garden would do, to see people smile there… It really is something quite special."
Donegan Garden Design and Landscaping has been established since 2001. More at www.doneganlandscaping.com ✽