John Bishop from Bray Golf Club started using Signature Xtra earlier this year in advance of an upcoming competition to guard against known infection risks and ensure the turf reached optimum condition.
"The first application of Signature Xtra went on in June and since then we've hardly had any cases of Anthracnose and patches that have occurred have been less aggressive than in previous seasons," says John.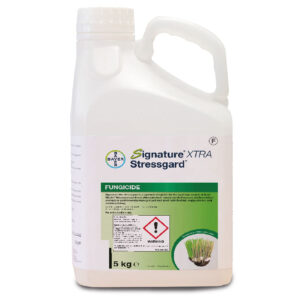 John says he has made a total of three applications of Signature Xtra, with the applications timed to coincide with periods of high summer stress such as drought, heat, and wind.
"The wet and mild weather conditions that we've experienced recently would historically cause Microdochium Patch to thrive in the autumn, but with Signature Xtra it's been a different story.
"To date, we've had no Microdochium Patch or persisting symptoms of summer stress," he adds.
Signature Xtra Stressgard is the first true systemic fungicide to offer shoot-to-root protection and is the most advanced formulation produced to date.
The Stressgard formulation technology in Signature Xtra is scientifically proven to improve plant health and prevent disease. As a result, golfer satisfaction and experience has increased as has the consistency of the playing surface.
John explains that he's made no other changes to his management programme, so the applications of Signature Xtra are solely responsible for the enhanced natural colour of the greens. He adds that the change has been to such a degree that golf club members have commented on the improved visual appearance of the playing surface.
"I have confidence in Signature Xtra and know the turf is less stressed and susceptible to disease. I'm really pleased with the results I have seen, and the greens are looking great going into autumn," concludes John. ✽