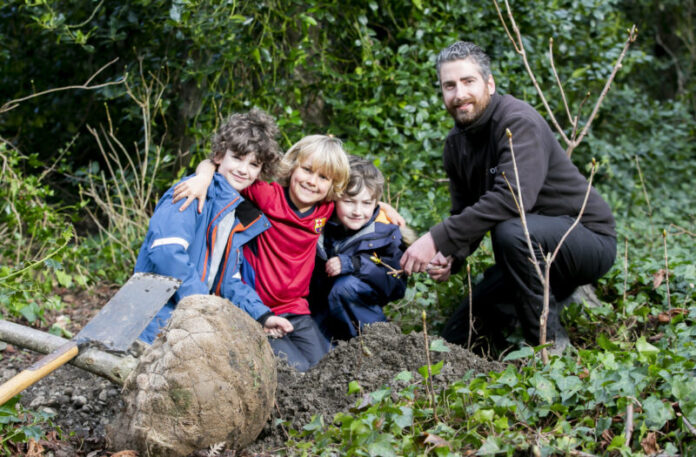 The Office of Public Works (OPW) today welcomed local school children to the Iveagh Gardens as part of Tree Week 2023, inviting them to gather in a woodland area where an outdoor classroom has been fashioned from felled tree trunks. The children are students of Ranelagh Multi-Denominational national school in Dublin 6.
Last month, following expert advice, two trees had their canopies reduced and a dead Horse Chestnut tree was felled. The standing partial trunk remains of the Horse Chestnut was left in place to promote a biodiverse habitat. All forms of standing deadwood create invaluable habitats.
The rest of the Horse Chestnut tree trunk was recycled on-site as seats/stools for school groups that wish to use the woodland area as an outdoor classroom.
Speaking in advance of Tree Week, Minister of State with responsibility for the Office of Public Works, Patrick O'Donovan, T.D said:
"This is a wonderful way to use the wood from the tree and it fosters a sense of respect and appreciation among the children for their natural environment. Last year we launched the OPW Biodiversity Action Strategy, as a means to support existing biodiversity-related projects and importantly, to set out an action plan to integrate biodiversity concerns into all areas of our work. This is a great example of that strategy being brought to life in the community".
Chief Park Superintendent for the OPW, Margaret Gormley said: "Trees are fundamental to our wellbeing and provide many important habitats for wildlife. As well as caring for the trees, we also have a duty of care to the public and we must balance the need for public safety with the conservation and amenity priorities of Gardens"
This week, four new trees were planted in the recently cleared space which is now without a high tree canopy, so the new trees can get adequate light and rainfall. The children helped as OPW staff carefully planted a Beech, a Hornbeam, a Lime and a Chestnut tree. The trees now take their place among the established and thriving urban woodland of the Iveagh Gardens.
Veteran trees provide a large variety of standing deadwood habitats. These include flaking bark and crevices utilised by bats, decaying heartwood/hollowing used by many species of invertebrates, and holes made by birds that are in turn exploited by other birds and small mammals.