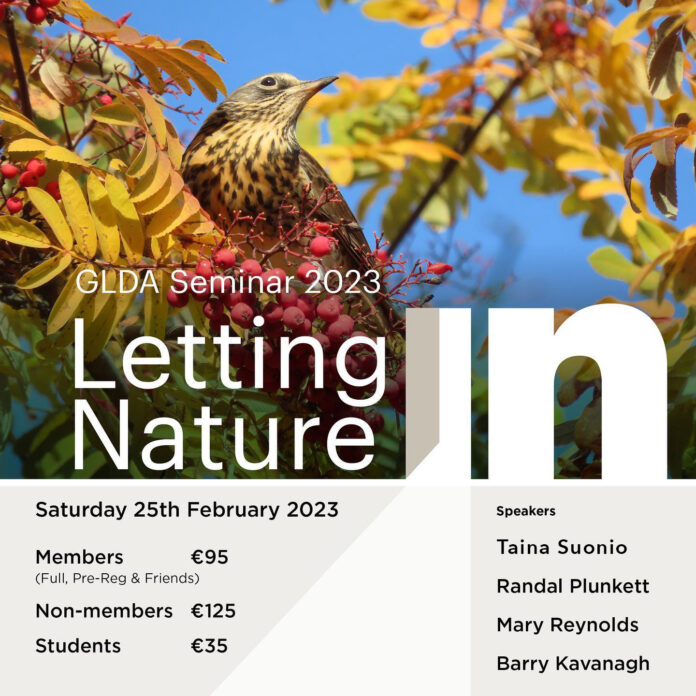 This year, we are focusing on how we should shift our attention to the essence of what makes our landscapes distinctive and how to preserve and capture the spirit and atmosphere of the garden. Design for the landscape should always be adapted for the context of where it is located. How a deeper understanding of the existing context influences our design choices and creates better planning to protect and enhance the richness of the existing ecosystem and biodiversity.
Date: Saturday, 25th February 2023
Venue: Crowne Plaza Dublin Airport Hotel Conference Centre (click for map) Northwood Park, Santry, Dublin D09 X9X2
Time: Registration opens 8 am. Seminar 9 am-5.30 pm.
Speaker Update: Due to unforeseen circumstances, we regret to inform you that the previously announced Topher Delaney cannot be present for our GLDA seminar this year. We are delighted to welcome Taina Suonio, renowned Finnish Landscape Designer, Horticulturist and Environmental Biologist, as our fourth speaker.
To book your tickets click here.
Speakers
Taina Suonio, a renowned Finnish Landscape Designer, Horticulturist and Environmental Biologist, has won multiple RHS Chelsea Flower Show awards. She is also a TV and radio presenter and a researcher in the Fifth Dimension – Vegetated Roofs in Urban Areas research group of the University of Helsinki. She lectures and writes articles on matters related to horticulture, landscaping and the environment. She is the co-initiator and landscape designer of the Greenest of the Green, an internationally awarded block of flats project in Helsinki, completed in 2017.
Randal Plunkett, 21st Baron of Dunsany, is a Film Director, writer, producer, and founder of Dunsany Nature Reserve from Dunsany Castle in Meath.  As an active environmentalist, Randal felt obliged to tackle the looming problem of loss of biodiversity by adopting a radical rewilding programme on a third of his estate (around 700 acres) in a bid to restore the natural heritage of the once forested lands.
Mary Reynolds is a reformed internationally acclaimed landscape designer, bestselling author, and founder of the global movement "We are the ARK" Mary believes that the time has come to re-imagine our work as gardeners and become leaders in the race to save the planet and to save ourselves.
Barry Kavanagh, a graduate of the National Botanic Gardens, is a multi-award-winning Natural Landscape Designer, teacher of horticulture and design and Bloom Gold Medalist. Barry is also founder of Nature's P.A.T.C.H. Network which promotes environmental awareness and nature-sensitive landscape design to community groups in Ireland's hidden heartlands region.