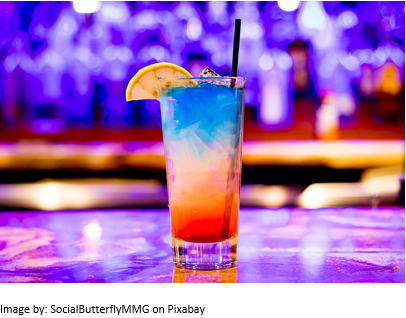 Gavin Costello, Global Graduate, Strategic Insight & Planning, Bord Bia – The Irish Food Board
This FoodAlert will discuss the Butterfly Pea Flower, explore the benefits of incorporating this into new product development, feature successful products/food service operators that have utilized this in their offerings and explore some implications for Irish suppliers.
The Butterfly Pea Flower or 'Clitoria ternatea' is a climbing plant originating in tropical Asia but later distributed widely to Africa, Australia and subtropical Asia (IOSR 2016). Historically, these flowers have long been used for making food in Asia, and in therapeutics in traditional Chinese medicine and Indian Ayurveda due to its rich composition of proteins and bioactive compounds. They have also been used as a food ingredient/colour in Malay, Peranakan and Thai cuisine, as an ingredient for cosmetics and medicine, and as a dye (GlobalData 2019). The flower's ability to imbue a distinct blue colour without creating any odour or adding flavour, to visually transform a product's colour depending on acidity levels, and it's claimed health benefits have attracted the attention and piqued the imagination of global food and beverage manufacturers and foodservice operators.
Brands are leveraging food colors to entice and engage digital consumers with 'Instagrammable' products becoming increasingly popular, in particular with younger consumers, who often post pictures of food and beverages online (GlobalData 2019). As such, both companies and operators in the foodservice industry are striving to make their products and offerings more attractive to such consumers. Those that manage to make it onto consumer's social media platforms can drive word of mouth publicity for their brand. Food colours magnify the visual appearance and subsequently help deliver a multisensory consumption experience and make products worthy of social media (GlobalData 2019). Starbucks, who are renowned for their innovations in tea, coffee and other beverages, have launched their Butterfly Pea Lemonade Cold Brew in Asia which leverages the blue hue of butterfly pea flower tea, layered with lemonade and Starbucks Cold Brew coffee (Mintel 2018)1. This drink is naturally blue but as the flower is rich in anthocyanin it turns purple when an acidic substance such as the citric acid in the lemonade is added (Mintel 2018)2. Blue Willow Cafe & Bistro, a restaurant in West Singapore, has drawn inspiration from the movie Avatar in the creation of its menu featuring a plethora of blue coloured dishes including pasta, burgers, desserts, and beverages all coloured but unflavoured by butterfly pea flower (Mintel 2018)1.
Butterfly Pea Flowers are riding the hype around 'superfoods' with globalization and the internet providing consumers with access to scientific studies and media content linking diet with health and beauty (GlobalData 2019). Consequently, consumers are becoming more selective about what goes into their diet with products that claim to provide health and beauty benefits readily embraced.
The Butterfly Pea Flower's potent anthocyanins, resulting in strong antioxidant activity, anti-inflammatory properties (IOSR 2016) coupled with its roots in Asian cosmetics and medicine appeals to health and wellness conscious consumers. Wild Hibiscus Company's Blue-Tee Butterfly Pea Flower Tea (UK) contains such anthocyanin antioxidants, is 100% natural and claims to improve memory, circulation and eyesight (Mintel 2018)1.
Consumers are transitioning to products with natural, simple, and clean-label ingredients and are putting pressure on brands to replace chemical dyes with natural, less processed, and non-allergenic food colors (GlobalData 2019). In Bord Bia's 'What does clean mean' study, consumers were given a variety of claims which influence purchase and 'is 100% natural' was the claim that came out on top. A growing body of manufacturers, retailers and foodservice operators have thereby committed to adopting natural and organic colours. In Europe, colouring foods are rising as natural alternatives to additive food colours. For example, the percentage of sugar and gum confectionery launches in Europe containing a type of colouring food has increased from 15% between May 2014 and April 2019 to 27% between May 2018 and April 2019 (Mintel 2019). Furthermore, new food safety regulations are prompting manufacturers to replace artificial food colours and offering new opportunities for their natural counterparts. For example, legislation changes in the Middle East in 2016 have affected the labelling of four artificial food colours (allura red, azorubine, tartrazine and sunset yellow), which now need to carry a warning on negative effects on activity and concentration in children (Mintel 2019). Plant-based colours such as the extract from the Butterfly Pea Flower help products and offerings align with clean labelling and consequently appeal to consumers. Cold Juice Company's Cold Blossom Juice Drink (Indonesia) comprises of butterfly pea flower, raw honey, lemon juice and water and is described as fresh, and contains no additives (Mintel 2018)1.
As outlined in the Bord Bia Consumer Lifestyle Trends, Health and Wellbeing and Engaging Experiences both play a pivotal role in the global food and drinks industry today. There are many opportunities for companies to develop successful businesses on a health and wellness connection or through platforms of unique and engaging experiences. Irish suppliers could capitalise on this to build and foster their businesses by exploring the commercial potential of the Butterfly Pea Flower, or similar natural ingredients, in future functional offerings for the health cognizant consumer or through leveraging its colour and colour changing properties in the creation of fresh and stimulating food and drink experience.
SOURCES:
International Organization of Scientific Research (IOSR) – Journal of Pharmacy – March 2016
GlobalData – Foresights: Butterfly Pea Flower – August 2019
Mintel – Butterfly pea flower rides the blue-hue food trend – March 2018
Mintel – Botanical ingredients for health and functionality – November 2018
Mintel – 'Food colours can thrive in the Eat With Your Eyes era' – July 2019
Bord Bia – 'What does clean mean?' – May 2019