Horticultural charity Plant Heritage is delighted to announce the winners of its first Threatened Plant of the Year 2020 competition, which was launched earlier this year.
The winning plant is Clematis montana var. rubens 'Veitch', grown by National Plant Collection Holder, Val Le May Neville-Parry in Wiltshire. Shropshire based National Plant Collection Holder, Melanie Lewis' Aeonium 'Bronze Teacup' wins the Public Vote, as chosen by visitors to Plant Heritage's website.
Launched in February, Plant Heritage called for any rare plants not consistently sold commercially to be entered into the competition. Several entrants later, 12 exceptional and unusual plants made the final shortlist*, and from these, the two winning cultivars were crowned.
As the award ceremony could not take place at the Royal Horticultural Society's (RHS) Hampton Court Palace Garden Festival in July as planned, the winners have instead been awarded their trophy, a winner's certificate and a special plant label at a virtual ceremony held by Plant Heritage on Thursday 17th September. The winning two plants will also be on display at RHS Hampton Court Palace Garden Festival next year, alongside the entries for 2021.
Vicki Cooke, Conservation Manager at Plant Heritage says: "This is our first Threatened Plant of the Year competition, and it's been a great success. A myriad of rare and beautiful cultivars were submitted, but only one can win. The Clematis 'Veitch' has a fantastic pedigree, being selected from a plant collected by one of the great plant hunters and is great for gardens because of its compact size. I'm also delighted that Aeonium 'Bronze Teacup' won the Public Vote, and hope both this and the Clematis 'Veitch' continue to flourish for many years to come."
WINNER: Threatened Plant of the Year 2020 – Clematis Montana var. rubens  'Veitch'
This stunning plant, with small, pink, wide-open flowers (6.5cm across), hails from seed collected in China in the early 20th century. It was given to National Plant Collection Holder of Clematis Montana Group, Val Le May Neville-Parry (north of the New Forest in Wiltshire) in 2006 as a rooted cutting from a very old specimen from a garden in Devizes.
It can be grown in a 50-litre deep tree pot in small gardens or courtyards if pruned above the second pair of leaves on a third of the stems, pruned about 1m from the crown on the other stems, and fed and watered immediately after flowering. It will need annual top dressing (keeping feed away from the stems), a weekly, weak high potash feed when in bud and re-potting every third year.
Yet, despite its fascinating history and beauty, Clematis 'Veitch' has only intermittently been available for sale in the UK. In fact, it's only been listed in the RHS Plant Finder in just 3 years between 1995 to 2018.
Val Le May Neville-Parry says: "I am honoured that my Clematis 'Veitch' has won the competition. I have worked hard over the last 30 years (since I planted my first Clematis montana in 1986) to conserve varieties of Clematis, and not only do I have the only National Plant Collection of Clematis Montana Group, that comprises over 100 different types, but I also care for the first-ever Threatened Plant of the Year winner – I couldn't be more thrilled."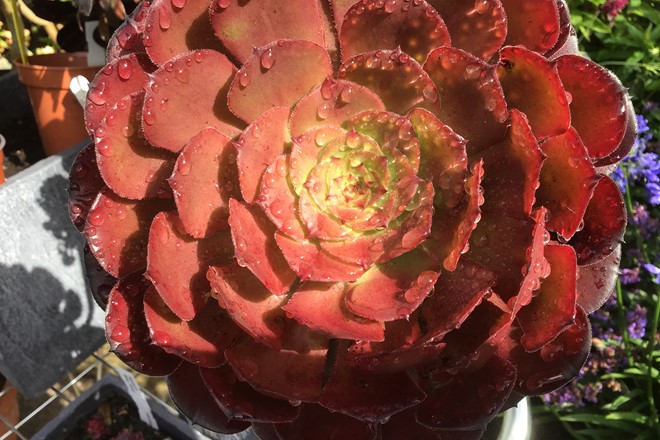 WINNER: Public Vote – Aeonium 'Bronze Teacup'
As the name indicates, the leaves of this stunning succulent change to a beautiful bronze colour when exposed to sunlight. Aeonium 'Bronze Teacup' arrived on the market approximately 20 years ago and as it is slower than most to produce plantlets propagation is more difficult. As a result, it is extremely rare and isn't currently available to purchase in the UK.
This uncommon yet gorgeous cultivar is cared for by National Plant Collection Holder, Melanie Lewis in Shropshire. In her garden, conservatory and greenhouse, Melanie cares for an impressive 97 cultivars of Aeonium.
Melanie Lewis says: "Aeonium 'Bronze Teacup' is endangered – very few experts in the Aeonium world have heard of this cultivar, so I'm worried it will be lost forever if I don't preserve it; this award win is its moment to shine."
—
Plant Heritage is the only national charity working to ensure that cultivated plants are cared for and nurtured, so that future generations can enjoy rare plants as much as we currently do. This is made possible via its National Plant Collection Scheme, Plant Guardians, local groups and members.
To find your nearest National Plant Collection (of which there are over 650 across the UK), visit www.plantheritage.org.uk. Using the interactive map, simply search via county, plant genus or common name to find out more. You can contact the Collection Holder for advice and find out if you can visit virtually or in person.
*The shortlisted 12 cultivars for the Threatened Plant of the Year 2020 competition were:
Aeonium 'Blush'
Aeonium 'Bronze Teacup' (winner, Public Vote)
Athyrium filix-femina 'Acrocladon'
Begonia 'Barclay Griffiths'
Begonia 'Verschaffeltii'
Brassica oleracea var. acephala 'Taunton Deane'
Clematis 'The Jewell'
Clematis montana var. rubens 'Veitch' (winner, Threatened Plant of the Year 2020)
Corynocarpus laevigatus 'Variegatus'
Lilium 'Odysseus'
Narcissus 'Wild Rose'
Rubus thyrsiflorus 'Flore Pleno'
To find out more about Plant Heritage, its National Plant Collections or for information about how to become a Collection Holder, Plant Guardian or member, visit  www.plantheritage.org.uk