Patricia Tyrell

makes a welcome return to Ireland's largest gardening festival…
---
It is so exciting to see that Bloom is back and normality has returned. It's been a strange and stressful few years for everyone, and even though garden designers have been unusually busy, the combination of being overly busy and coping with a pandemic has had its own stresses. A very necessary response to this has been learning how to say 'no', and this was in evidence, both at Chelsea and Bloom, when it came to the number of designers involved in the gardens.
Those designers who did get involved are to be admired for their courage in creating impressive show gardens and committing time and investment in a period of extreme uncertainty.
The pandemic has brought radical change in consumer attitudes to their gardens. The Irish consumer now values garden design in a way they didn't before. Being confined to your house and garden brings every detail into sharp focus and afforded many the time to look at social media, browsing the wonderful garden spaces that are possible.
So, with such a huge sea-change in our attitudes, what is it now that garden owners are looking for, and can a garden show like Bloom deliver? People continue to work from home. They want a garden they can enjoy throughout the day and to share in the evening with family and friends. They want to grow and cook more food outdoors. As houses get smaller and bicycles are more in use, storage becomes a priority. However, more than anything, they want a space where they can reconnect with, and be immersed in, nature – a sanctuary or contemplative space. Chelsea had a lovely category this year called the sanctuary gardens. Most were simple, peaceful gardens, with an emphasis on planting, natural materials and water. They were some of my favourite gardens at the show.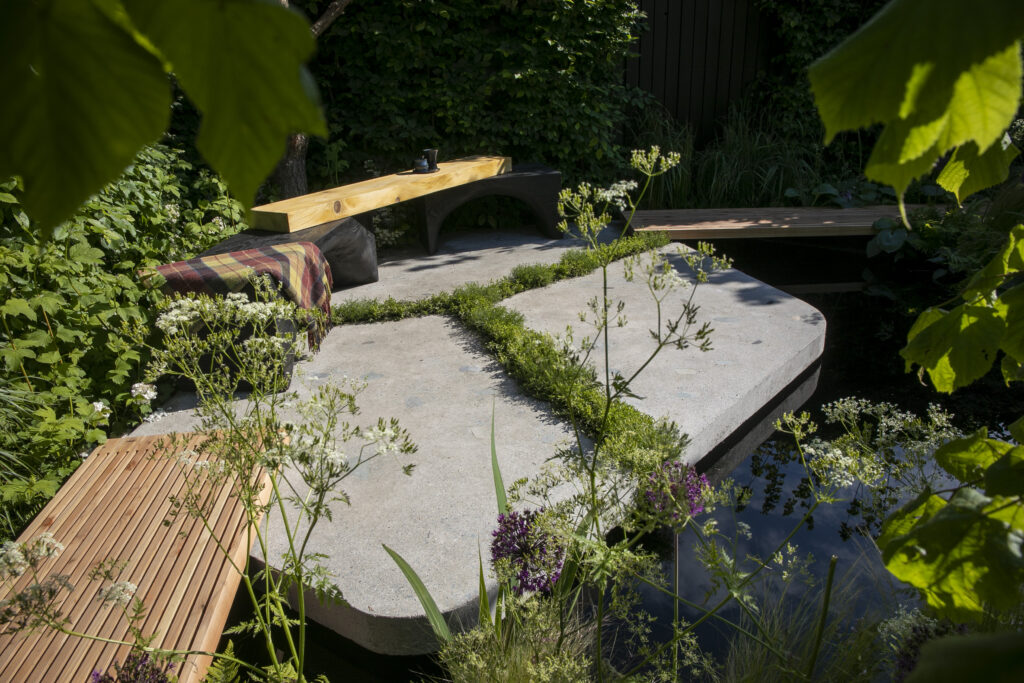 At Bloom, the Eureka Garden by Niall Deacon, described as a sanctuary garden, certainly had its finger on the pulse. A sustainable sanctuary of native stone and beautiful planting. It was a masterclass in how to create mystery and atmosphere in a small space. The sound of the Japanese sozu added to the feeling of meditation and serenity. Also in this vein was The Pathways to Home garden, by first time Bloom designers, Seán O'Malley and Oisín Griffin. Very much on point with its concept for The Peter McVerry Trust, it provided a sanctuary space surrounded by a simple palette of contrasting textures and calm greens. The pathways and the wooden furniture were made by Francie O'Toole from recycled timber.
Mark Hoeys supergarden Reflections was also designed as a calm space to retreat to. Green roofs and walls, and reflections created by long rills of water gave this sanctuary space a lot of depth.
Apart from a space in nature, what about the more practical things that people want in this post-pandemic period, such as growing-your-own, cooking and entertaining outdoors, play areas, and the all important storage?
Most visitors' gardens are compact and the addition of a balcony garden, nicely detailed by Kathryn Feeley, must be encouraging to the many people to whom this is their only outdoor space. 
The two Bord Bia sponsored 'Easy Steps to Dream Gardens' filled a very necessary niche. Gardens by Jane McCorkell The Nature Enthusiasts Garden and Nicola Haines Shared Spaces Family Garden, proved really important in conveying take-home ideas on how to fit the many requirements of a family into a garden space. Nicola's vegetable area was particularly sweet, with a bed of herbs and chives as ornamental as any planting, and a background of espalier fruit that also served to divide the garden. Jane's garden integrated the storage areas for bicycles and tools with bold colours and green roofs, and demonstrated that you can have both lawn and wildflower areas within a small space. 
In addition to gardens that fulfil our practical requirements, we also need to have some fun. I loved Benny Magennis' Minions Garden. It was vibrant, fun, and if kids could have a 'favourite garden' vote, they would have voted for this one. 
There is no doubt that people's interest in gardens is expanding. With that comes the need for new take home ideas that can be applied to their own garden. Some accessible ideas include the use of arts and crafts in a garden. There is no doubt that arts and crafts are closely intertwined. When the two come together they have a synergy. 
Daisy, the wire sculpture cow by Emma Jane Rushworth, demonstrated how sculpture can transform a space. The National Dairy Council Garden by Sean Russell harkened back to a time of subsistence farming, when two or three cows would have been the norm and each, like Daisy, had a name. The traditional crafts also add much interest to the garden: the stone walls, the forged gate and seat.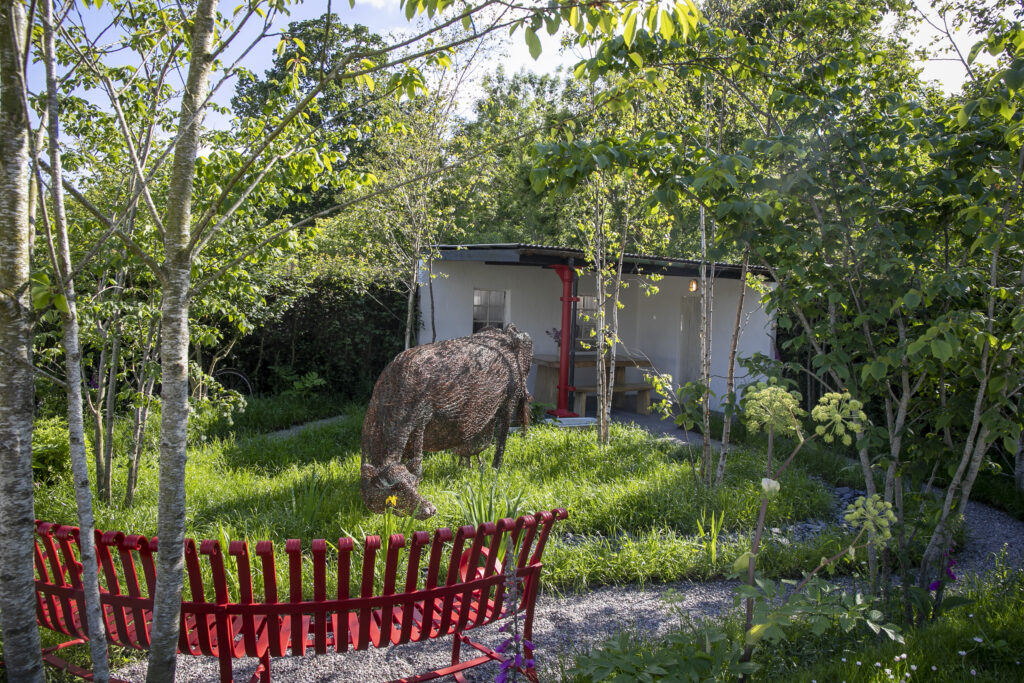 In the case of Alan Rudden's steel pergola in the Savills Garden, the crafts are given a modern feel. The 'Human Landscape' sculpture by Orla deBri is particularly striking, and very appropriate, juxtaposed with the clean steel in its setting at the end of a long rill. A great take-home idea that could be used in a garden of any size.
Sculpture was also a feature in Andrew Christopher Dunne's garden, Press Pause. Dainius Varnelis created copper sculptures that linked nicely with the other copper elements in the garden: copper lines through the paving, and the copper lined water spouts. Admirable attention to detail showed how a repeated material can unify a garden.
Planting is what Bloom is all about. No matter how bright and clear one's vision for future trends, they can lie in the dust if the plants you want are not available. Native trees such as hawthorn were scarce. There was a certain ubiquity to some plants, foxgloves particularly. As all good designers know, vertical elements catch the eye and foxgloves are nothing if not vertical. It was a difficult year and I'm sure many designers committed quite late to the process because of Covid uncertainty. Many visitors go to see the plants and flowers and to purchase. Some of the nurseries had lovely displays in their own right, but it does serve to underline a small disconnect here where more and earlier collaboration might benefit all.
Bloom has had a two-year hiatus and is just finding its feet again. Hopefully the sponsorship will be there for next year, and also, too, more designers. Though only a small part of the Bord Bia/Bloom experience, the gardens are central.
I am excited for next year. I think designers will have found a balance to this incredible interest in garden design that has blossomed during lockdown, and they will want to get out there and show off what they can do. ✽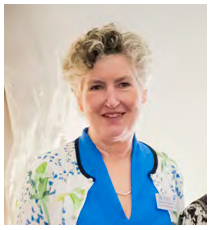 PATRICIA TYRELL is an award-winning garden designer with two gold medals and a Best in Category award from Bloom. She holds an honours degree in Landscape horticulture from UCD and also holds a Masters from the School of Landscape architecture at UCD.