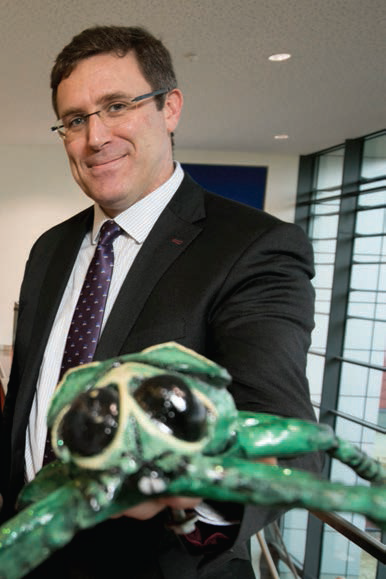 BARRY LUPTON

INTERVIEWS

BARRY DELANEY
A

s the International Year of Plant Health unfolds, Barry Lupton puts some tough questions to Ireland's Chief Plant Health Officer, Barry Delaney, about biosecurity, our national strategy and opportunity where others see fear
BARRY, WHY DID YOU INITIALLY BECOME INTERESTED IN HORTICULTURE?
I come from a farming background, but always had a preference for growing over husbandry and specialised in a Crop Protection Masters in UCD after my degree.
HOW DID YOU INITIALLY GO ABOUT PURSUING A CAREER IN THE SECTOR?
I worked with a seed potato company as an agronomist and then managed crops for an Agri merchant, before joining the Department of Agriculture.
CAN YOU PROVIDE A BRIEF INSIGHT INTO YOUR CAREER PATH, LEADING TO YOUR CURRENT ROLE?
I started as a regional Plant Health and Horticulture inspector, based at Kildalton College, learning from experts there like Jim Kelleher RIP. The work involved surveying for quarantine pests to maintain Ireland's plant health status, as well as facilitating exports of amenity trees, bulbs and flowers. I went on then to manage the national plant health programme for amenity, bulb and potato sectors, as well as being involved in the DAFM horticulture grant aid scheme. Following a spell as Agricultural Attaché in Brussels, I returned to replace the retiring Gabriel Roe as Chief Plant Health Officer.
YOUR CURRENT ROLE, CHIEF PLANT HEALTH OFFICER WITH THE DEPARTMENT OF AGRICULTURE, IS AN EXTREMELY DEMANDING POSITION. WHAT ARE YOUR PRIMARY RESPONSIBILITIES?
It is quite a wide-ranging role, as Chief Plant Health Officer, I am responsible for Ireland's National Plant Protection Organisation and in addition to that plant health role I have responsibilities in food safety and quality standards for fruit and vegetable production, horticulture development and implementation of grant aid supports such as the Commercial Horticulture Grant Aid Scheme, EU Producer Organisations scheme, as well as bees.
WHAT ARE THE MOST REWARDING, AND FOR THAT MATTER, CHALLENGING ASPECTS OF YOUR ROLE?
Horticultural is a very dynamic and diverse sector. It makes a significant contribution to agricultural farmgate output at €437m in 2018, which is the fourth highest sector in terms of output value, it is, therefore, a critical element of the agri-sector. In terms of current concerns, a priority is the impact of COVID-19, the realities of which have already been felt by those supplying the food services sector and floral markets.
We are doing what we can to ensure that the critical food supply chain remains open and to facilitate ongoing imports and exports of food. Ongoing access to labour will be critical to maintain the supply to retail of this perishable produce. Growers should consult with their local Department of Employment Affairs and Social Protection offices. In addition, the Department of Business, Enterprise and Innovation can offer certain government supports for COVID-19 impacted businesses. Further information is available at https://www2.hse.ie/coronavirus.
2020 IS THE INTERNATIONAL YEAR OF PLANT HEALTH. FOR THOSE WHO MAY NOT HAVE HEARD OF IT, CAN YOU PROVIDE A BRIEF INSIGHT INTO ITS GENESIS AND PURPOSE?
This is a global initiative fully supported and recognised by the UN, initiated by Finland, with Ireland and the United States being the first two nations to contribute to the action. Its objective is to spread global recognition around the importance of healthy plants to the continued existence of all life on earth with the tagline, "Protecting plants, Protecting life".
It really is about raising awareness on how protecting plant health can help food sustainability, protect the environment, and boost economic development, looking at some of the contributing factors to pest movement, spread and establishment, such as climate change, international travel and global trade of plants.
BIOSECURITY IS A RELATIVELY NEW ACTIVITY AND YET IS A SIGNIFICANT ASPECT OF YOUR WORK. CAN YOU EXPLAIN WHAT IT MEANS IN CONTEXT WITH YOUR POSITION?
Ireland is recognised as having a favourable plant health status, which means that many of the pests and diseases of plants that are present elsewhere are still absent from Ireland. However, a fully functional and efficient biosecurity system is a vital part of the future profitability, productivity and sustainability of forestry, horticulture and agriculture (including cereals and grassland). It is necessary to protect and preserve the wider environment.
WHAT ARE THE KEY PILLARS OF IRELAND'S BIOSECURITY STRATEGY?
The Plant Health and Biosecurity Strategy is Ireland's response to the increasing emerging threats mentioned above and sets out the importance of plant health biosecurity for Ireland, as well as ensuring that all relevant stakeholders involved are aware of the risks to plant health in Ireland, and of course, their own role to help reduce that risk. The strategy is underpinned by key strategic principles around Risk Anticipation, Surveillance & Management and Awareness and Communication. In reality, this means doing all we can to minimise the threat posed to plants by the potential introduction and establishment of plant pests and diseases.
HOW DOES IRELAND'S ISLAND GEOGRAPHY FACTOR INTO THE DEVELOPMENT OF OUR BIOSECURITY STRATEGY?
Yes indeed, our geographic location, climate and isolation as an island have conferred on us natural advantages in terms of the protection of our agriculture, horticulture and forestry sectors, as well as the wider environment and should provide an opportunity to take a risk-based approach to monitor the movement of risky material into the country.
BIOSECURITY CAN SEEM LIKE AN ABSTRACT CONCEPT: SOMETHING FOR GOVERNMENTS TO TAKE CARE OF AND NOT SOMETHING FOR THE AVERAGE HORTICULTURALIST TO BE INVOLVED WITH. IS THIS THE CASE? AND IF NOT, HOW SHOULD OUR READERS BE ENGAGING WITH IT?
This is not merely about what the government will do to improve plant biosecurity since such safeguards are not a matter for the government alone. Many plant importers, nurseries and landowners already play a significant role in minimising the spread of pests through practising good biosecurity, including sourcing clean stock and identifying outbreaks on their sites. This strategy sets out how this role can be enhanced, strengthened, and expanded to encompass all plant importers, nurseries and landowners with responsibility sitting with those best placed to manage the risks.
CAN YOU GIVE AN OVERVIEW OF THE REGULATIONS RELATING TO THE IMPORT AND EXPORT OF PLANTS IN AND OUT OF IRELAND?
Plants or seeds for plant or planting which move within the EU are now accompanied by a valid plant passport, which shows that the operator is registered with the Country's Plant Health Service and where required, tested free from certain harmful pests/diseases before being sold on. If coming from outside the EU, these plants, if permitted entry, must be accompanied by a Phytosanitary Certificate, which is issued by the Plant Health Authorities of the exporting country.
WHERE CAN READERS GO TO GET A MORE IN-DEPTH UNDERSTANDING?
Our website is an excellent resource on all Plant Health matters https://www.agriculture.gov.ie/farmingsectors/planthealthtrade including important detail on imports/ exports. Please also discuss with your local plant health inspector.
WHAT MORE DO YOU THINK COULD BE DONE TO PROTECT IRELAND'S HIGH HEALTH STATUS?
Whilst investing resources in facilities to inspect plants and plant products coming through our ports and airports is ongoing, it is clear that the most important element is still awareness raising and understanding the risks posed by certain plant selections and the potential impact not just on a nursery or farm, but on a neighbour or the wider environment. We all have our part to play in protecting our health status, DAFM has been at the front of awareness in this area with our "Don't Risk It" campaign.
MOST PEOPLE IN THE SECTOR UNDERSTAND BIOSECURITY FROM A THREAT PERSPECTIVE. SHOULD WE BE LOOKING AT IT MORE OPPORTUNISTICALLY AND IF SO, WHAT ARE THE OPPORTUNITIES?
Ireland has more protected zones than any other EU member state, and so this gives certain protections within the Irish market as to what plants can enter into the country. It should facilitate further focus on locally sourced, sustainably produced material, besides, it would appear there are previously largely untapped export market opportunities.
YOU'RE WELL REGARDED FOR YOUR INVOLVEMENT AND SUPPORT OF VARIOUS PROFESSIONAL ORGANISATIONS. WHAT ROLE DO YOU SEE THESE BODIES PERFORMING?
It is apparent that a clear understanding of the roles and responsibilities, as well as the critical issues for the agencies, institutions and representative organisations, allow for a more considered delivery for the sector. Working very closely together and by realising the possibilities and limitations of each and seeking the possible synergies has permitted several recent initiatives around labour, research and innovation get underway.
OUR SECTOR DOES NOT HAVE A GREAT TRACK RECORD OF WORKING COOPERATIVELY. IN YOUR EXPERIENCE, IS THIS CHANGING? AND IF SO, WHY?
It is clear that there is an opportunity to improve competitiveness and sustainable production through enhanced grower co-operation and collaboration. DAFM has been very proactive in encouraging the sector to look at the EU-funded Producer Organisations.
It supports measures that are aimed at improving competitiveness and market development, as well as helping producers meet future challenges in areas such as climate and environment and innovation. In what is a challenging and global marketplace, the opportunity for scale, through strong collaboration and harnessing such supports for development and growth within the sector needs to be strongly considered.
BREXIT HAS INTRODUCED A WHOLE NEW DIMENSION TO PLANT HEALTH AND THE IMPORT AND EXPORT OF HORTICULTURAL PRODUCTS. WHAT DO YOU THINK ARE THE KEY THREATS OF BREXIT FOR IRISH PRODUCERS?
Brexit poses potential threats to Irish producers, depending on current UK/EU negotiations. However, some that come to mind, which will cause difficulties, include the availability of seed potatoes, which predominantly are currently imported from Scotland. The EU ban on the importation of soil will change the way we import some young plants.
Increased controls and phytosanitary certification will change the manner of day-to-day trade with the UK as we know it today. Mixed consignments which are free to move from our ports today will be exposed to inspection depending on the products involved.
Timber pallets or wood-type packaging moving between EU and non-EU countries will have a requirement to be heat-treated with an approval stamp of ISPM 15.
CONVERSELY, AND SIMILARLY TO BIOSECURITY, THE SECTOR HAS TENDED TO VIEW BREXIT IN A NEGATIVE LIGHT. ARE WE MISSING A TRICK?
According to the CSO, in 2017, Ireland imported over 72,000 tonnes of potatoes, 47,000 tonnes of onions, 30,000 tonnes of carrots, 29,000 tonnes of tomatoes, 23,000 tonnes of cabbage, 15,000 tonnes of lettuce, most of which are grown in season here. Given emerging supply chain dynamics – while noting the current retail model – it would still appear that there are definite import substitution possibilities.
In the context of climate change, we also need to consider sustainable supply chains. Also, as mentioned earlier, the high health status of Ireland's amenity production points to a substantial export opportunity with our neighbour given their current intense focus on biosecurity.
YOU'VE COVERED SOME CRITICAL AREAS AND HIGHLIGHTED OPPORTUNITIES WHERE OTHERS SEE ONLY THREATS. WITH THAT IN MIND, WHAT ADVICE DO YOU HAVE FOR A YOUNG HORTICULTURALIST WISHING TO PURSUE PLANT HEALTH AS A CAREER?
There is an expanding range of career opportunities open to young horticulturalists. A need for plant health expertise is emerging at the production level, wholesale and retail level; as well as within the institutions and agencies supporting the sector.
With the level of imports within the sector and the opportunities that Brexit presents, there might never have been a better time for a young horticulturalist to pursue a career in this area. ✽