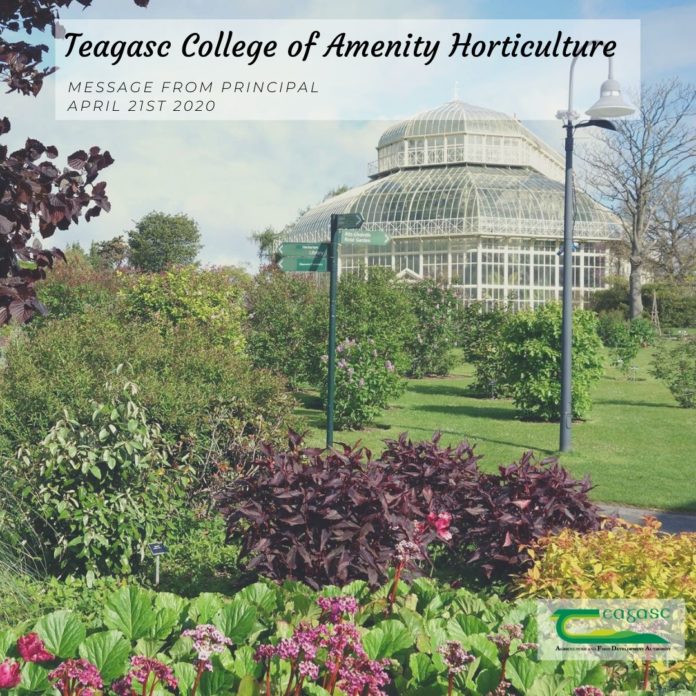 Today our Level 7 degree students should have been returning after their Easter break to College for their last week and a half of term. Our Level 5 students should have been returning to their final week of spring placement before returning to the college next week to finish off their last three weeks of term. Our Level 6 students should be starting their fifth week of placement. None of this is happening currently. Instead, Students and staff are at home following the rules that the HSE and the Government has asked us all to follow in this strangest of times. We are entering week four of lockdown where we are all observing the ultimate in social distancing where loved ones are temporarily isolated in an attempt to play our part and diffuse this pandemic.
Our staff has responded to the new environment strongly by putting together a detailed
online programme for our students using our online platform MOODLE which can host a variety of resources to aid learning in a remote setting. Overall our students have responded positively to this new learning environment. It will allow for the completion of programme work through a combination of online questions, MCQ's, written reports and exercises. Progression from Level 5 to the higher programmes will not be impeded as we aim to continue with our normal internal verification process in early June. All student results are updated continually online so self-tracking of progress is facilitated.
In the current environment, students are learning to adapt to increasing online awareness. These online skills that students are developing at this time are completely transferable into the labour market. Increasingly Horticultural businesses are having to look at the online space in an attempt to reach their market so it adds to students skillsets when they have to engage in online learning.
Recruitment to our programmes is ongoing and we continue to engage with new and
prospective students who want to pursue courses and careers in Horticulture. This summer the college is planning two modules in Plant Propagation and Garden Design. We will continue to roll out these modules and incorporate an online element to them also. On Friday the 24th April we will participate with our partner WIT in a virtual open day where we will make ourselves available online from 2-4pm to deal with queries in relation to our Level 7 degree course. Please feel free to call or e-mail the college at (01) 804 0201 or botanic.college@teagasc.ie for any info in relation to courses.