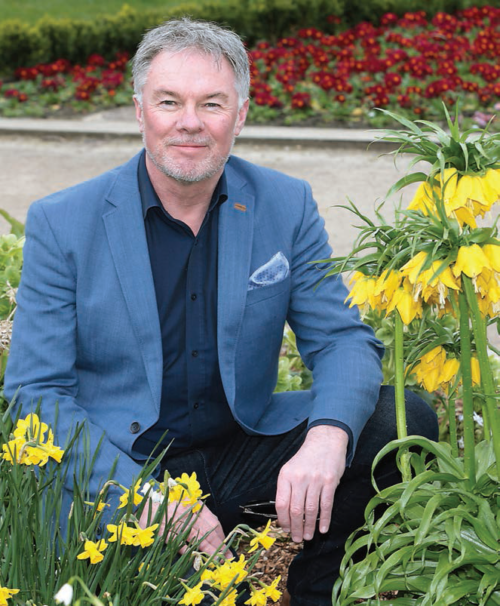 BARRY LUPTON INTERVIEWS GARY GRAHAM
It's hard to believe that Bloom in the Park has been running successfully for 13 years. Time has flown
---
The event sits deservedly at the centre of Ireland's horticultural calendar and has contributed greatly to the development of gardening, design and all things plants in Ireland. While its success is vital to the continued evolution of Irish horticulture, the show is not without its critics. With the completion of the Bloom strategy, I was keen to speak to the show's originator, Gary Graham about how the show got started, developed and what the plans are for the future. I was also keen to put some of the critic's questions to him too.
CAN YOU ARTICULATE HOW THE ORIGINAL IDEA FOR BLOOM DEVELOPED FROM OUTLINE CONCEPT TO THAT FIRST SHOW IN 2007?
During my time working in the IFA and Bord Glas, I was looking to the UK and further afield for ideas to adapt for Ireland, ideas that would increase consumer engagement and support the development of the Irish horticulture sector. Countries with bigger, more developed markets such as the UK have many great organisations like the RHS with well-resourced and well-tested initiatives. Bloom's origination was a simple case of not wanting to reinvent a working wheel. Our objective was to create a version of Chelsea/Hampton Court that was suitable for the smaller Irish horticulture industry and for Bord Bia which has a wide and important remit including food and drink.
After visits over many years to shows like the Chelsea Flower Show, Hampton Court Palace, Chaumont sur Loire and Westonbirt I had an opportunity to work with Irish event organisers on shows like Garden Heaven. It was clear that a properly-resourced show with a commitment to horticulture and long term growth rather than short term profit could succeed. From my time working in the landscaping sector in the 90s I was confident that we had the talent in Ireland to make world-class show gardens and it was clear that these gardens could be the centrepiece in a new show.
We included the idea for a garden show in the last Bord Glas five year development plan just before the organisation was amalgamated with Bord Bia in 2004. At the end of 2005, I presented a proposal to Bord Bia management for a new Bord Bia gardening show with a 2007 launch date. The original proposal entailed financial support for three to five years by which time we forecasted that the show would be self-financing. The original Bloom business model relied heavily upon large sponsors and significant income from ticket sales. It was before the demise of the Celtic Tiger and before we agreed to admit 20,000 children free of charge. The journey from concept to the first show required multiple disciplines and skillsets. Great ideas don't stay on the drawing board without people with passion and skills.
Thankfully, many individuals and organisations recognised the opportunity for the Irish horticulture sector to present a uniquely Irish show that could rival the highest international events. Industry representatives and champions like grower Kieran Dunne and retailer Rachel Doyle got behind Bloom and organisations like the GLDA, ALCI, IFA and the RHSI and many colleges and institutions came on board.
My colleague Carol Marks dedicated herself to Bloom's success, giving 100% of her energy during the planning of the first Bloom. RHS gold medal winner Orla Woods was responsible for creating the Floral Pavilion. The Phoenix Park is key to Bloom's success and the OPW parks team, led by John McCullen and then Margaret Gormley got behind us. Andrew Wilson was key to aligning the show garden judging standards with the RHS. Event management experts like Garret Buckley, Alan Murphy, John Hick and Louise McLoughlin brought their many years of knowledge to bear on the creation of the physical infrastructure and management of ticketing, sales of exhibition space and sponsorship management.
WHAT WERE THE KEY CHALLENGES YOU HAD TO OVERCOME IN THOSE EARLY YEARS?
Other than the weather which was particularly nasty in our first year, the economic recession has been our biggest challenge. The associated loss of sponsors and the pressure on ticket prices was overcome by increasing and extending the commitment to support Bloom from within Bord Bia. The funding shortage also encouraged garden designers, contractors and their suppliers to pool resources and find creative ways to fund gardens through product placement, borrowed materials and greater investment of sweat equity. Many contractors and suppliers across the show worked with us to keep Bloom as affordable as possible to visitors and as worthwhile as possible for exhibitors.
HOW DO THOSE EARLY CHALLENGES COMPARE TO THE ONES YOU NOW FACE?
Today's challenges are mostly centred on the management of high visitor numbers, keeping visitors safe and comfortable and well-fed. We also have to work harder to keep Bloom fresh and relevant, finding the balance between high-end horticulture and "festival" content that draws in non-gardeners and non-foodies. There are many more events around the country and as consumers, we are bombarded with information making it more difficult to maintain Bloom's profile. In this competitive communication environment TV coverage and social media activity is much more important. Creating the content for TV and digital media is another challenge and adds another layer of complexity for the show's management.
WHAT HAS BEEN YOUR MOST MEMORABLE MOMENTS FROM THE LAST 13 YEARS?
Memorable moments include the reaction from Andrew Wilson when he arrived at the first show in 2007 and said, "well Mr. Graham, it appears that you have a show". Others include my family meeting the President for the first time, the long exciting queues outside the gate and the sun shining after a few rainy days in the Park. Many of my best memories involve show gardens and designers, sharing in the relief and joy when medals are finally awarded. On occasion, designers are crushed and these memories stay with me too. It reminds me of the bravery required to compete at Bloom.
HOW SUCCESSFUL HAS THE SHOW BEEN IN TERMS OF MEETING THE ORIGINAL STRATEGY TARGETS?
Bloom does what it was designed to do i.e. make a lot of noise about gardens and plants and horticulture. It puts gardening on the front page and on the main evening news on TV. We have metrics that track how Bloom impacts on circa €100M of spend across the industry every year. Bloom put gardening back on TV and created an Irish platform for many great designers (too many to mention) and for great communicators like Fiann O'Nuallain.
WHAT PRIMARY TARGETS HAVE EMERGED FROM THE RECENT STRATEGY REVIEW?
The review clearly identified that we need to identify and nurture a younger more diverse audience and that we need to broaden the reach from enthusiastic gardeners to citizens who want to live a more sustainable nature-friendly lifestyle. This is how we will create the growers of the future but we need to recognise that they may be growing in different places indoors, at work, in communities, on balconies, etc. Bloom's role will be twofold, the show itself will become more sustainable and the content will incorporate more immersive learning opportunities linked to the pivotal role that plants will play as we tackle biodiversity loss and climate change in the decades ahead.
WHAT HAVE BEEN THE MOST POSITIVE IMPACTS THE EVENT HAS HAD ON THE WIDER HORTICULTURE SECTOR?
Bloom at its core is a communication vehicle, a highly immersive multi-sensory way of stimulating interest around plants and gardening. Putting gardening on the front page of newspapers and on the main evening news and the creation of dedicated TV programmes around Bloom combine to create a very powerful promotional campaign. Each year we measure how this drives sales of plants and increased gardening activity. On an annual basis, we can measure circa €100M of spend linked to Bloom. We are also raising awareness around the importance of garden design and providing a shop window for construction standards but most importantly we are exciting visitors and TV viewers and inspiring them to do more amateur gardening or spend more with professionals.
BLOOM VERY QUICKLY GREW FROM A GARDEN AND PLANT-FOCUSED EVENT TO A HORTICULTURE AND FOOD EVENT. WHY DID THIS HAPPEN AND WHAT DO YOU SAY TO CRITICS OF THIS MOVE?
Bloom is organised and underwritten by Bord Bia and I make no apology for the additional focus on food and drink at Bloom. Our remit is broader than horticulture and by using Bloom to celebrate food and drink it broadens Bloom's appeal to a wider audience. Our ambition is to entice more non-gardeners into gardening. The show gardens and plant displays are the main attraction and even the non-gardening visitors attending for a day out are inspired to do some more gardening or engage a garden designer. Other gardening shows treat food as "catering" whereas we celebrate food and make it part of the Bloom experience.
YOU'VE GOT TO WORK WITH ALMOST ALL OF IRELAND'S GARDEN DESIGNERS OVER THE LAST 13 YEARS, WHAT WOULD YOU SAY ARE THE CHARACTERISTICS OF TOP-CLASS SHOW GARDENS?
New ideas or more likely clever reinterpretation of great ideas, some level of immediate impact swiftly followed by layers of interest to hold the spell and complete a story. Quality materials, beautifully used and plants that ground the illusion of a show garden with nature. Most great gardens have an atmosphere or mood that speaks to you e.g. "welcome, come in and sit, you will feel safe and whole and connected".
CONVERSELY TO THE LAST QUESTION, WHY SOME DESIGNERS FAIL TO MAKE THE GRADE?
Thankfully, we have great garden designers in this country and more importantly, we have designers who understand the difference between a show garden and a real garden. Failures are usually a result of a mismatch between overly-ambitious schemes and a lack of experience, knowledge or resources. Novices often want to include "the kitchen sink" and occasionally a veteran can become complacent. When designers stray into poetry during the application process and then find that the poem does not translate to a readable garden they can come a cropper.
All that said, medals are important but they are not the only measurement of success at Bloom. A garden that does not perform well on medals may have a strong appeal to the public or it may bring a strong social or environmental message that is not in any way diminished or strengthened by the medal.
YOU HAVE USED THE SAME, EXPERIENCED PANEL OF PROFESSIONALS FOR JUDGING AND THE ADVISORY GROUP SINCE THE BEGINNING. WHILE THIS OBVIOUSLY CONFERS CONSISTENCY, THERE ARE ANNUAL CALLS FOR SOME CHANGING OF THE GUARD. ARE THEIR PLANS FOR CHANGE? IF NOT, WHY NOT?
There have been some changes and additions over the years but mostly on the floral and nursery panels rather than show gardens. We are open to suggestions on judging but there won't be a change for change's sake. The consistent application of the agreed criteria is what really counts and consistency is better achieved by a stable reliable panel. I have had the opportunity to work with and observe judging panels across the world from here to New Zealand and I have not found a better approach. I am also mindful that change is inevitable and we will lose judges over time. To this end, it would be great to hear suggestions on who could join the panel as a guest or shadow judge with a view to taking over as a full member of the panel in the future.
THE REALITY SHOW, SUPERGARDEN HAS BECOME A SIGNIFICANT PART OF BLOOM PROMOTION, BUT IT IS A SOURCE OF CONTINUED CRITICISM FROM THE DESIGN COMMUNITY. AMONG THE CRITICISMS ARE THAT IT UNDERMINES PROFESSIONALISM AND DESIGN EDUCATION, IS UNREALISTIC IN TERMS OF WHAT CAN BE ACHIEVED AND HOW MUCH GARDENS COST, AND PERHAPS MOST SIGNIFICANTLY FOR PROFESSIONAL DESIGNERS, IT TELLS THE WIDER PUBLIC THAT ANY AUL EEJIT CAN BE A DESIGNER. BEYOND RATINGS AND PROMOTION, WHY ARE YOU STILL INVOLVED WITH IT?
Yes, I understand why professionals have criticised SG in the past and I have always shared these criticisms with the TV show producers. Thankfully, the show has evolved and most participants in the show are well trained and many of them have experience of garden construction. It is also important to note that the budgets have also increased and with access to free products and proper planting budgets it has become much clearer that gardens cannot be created without skills and resources.
I am very happy to be involved as we need to make gardening and garden design accessible and SG draws nongardeners into a conversation about gardens. It also creates a powerful link with Bloom and when these TV viewers come to Bloom the conversation develops further.
THE PROFILE OF DESIGNERS EXHIBITING AT BLOOM HAS SHIFTED FROM PRIMARILY PROFESSIONAL, COMMERCIALLY FOCUSED DESIGNERS TO A MORE ECLECTIC MIX OF ORGANISATIONS, SEMI-STATE BODIES, STUDENTS AND HOBBYISTS. WHY IS THIS?
When we are constantly bombarded with messaging from traditional media and all the new social and digital media platforms it is hard to get and hold a person's attention. Organisations and individuals, both commercial and not-forprofit, are looking for immersive and emotionally engaging experiences like Bloom as a way of connecting with citizens at a deeper level. That said, every garden should be designed with a pivotal role for the designer in every scheme. The eclectic list of exhibitors should provide these designers with more diverse material for more diverse design briefs.
FOLLOWING FROM THE LAST QUESTION, IS THERE ANYTHING THAT CAN OR SHOULD BE DONE TO CHANGE THE PROFILE?
Bloom needs to be diverse, flexible and open to change. This will ensure that it stays relevant. So long as we keep plants and horticulture at the centre of the show there will always be a need for commercially-focused designers and contractors. This, in turn, maintains the need for growers and horticulturists and retailers and other service providers who are associated with gardens, landscapes and green infrastructure.
FOREIGN DESIGNERS ARE NOTABLE IN THEIR ABSENCE AT BLOOM. WHY IS THIS?
We have had some great "foreign" gardens over the years but it would be great to have more foreign designers and to have them every year. This is something that can be developed in the future now that we have clearly established that we have great designers in Ireland. Other new "international" shows took a different approach relying upon "foreign" designers to create shows designed to attract tourists. Our focus on home-grown talent has done more to promote gardening and garden design to Irish homeowners in order to boost the horticulture sector.
GARDENS ARE A GREAT WAY TO COMMUNICATE MESSAGES WITH THE PUBLIC, BUT FOR ME PERSONALLY, I FEEL TOO MANY GARDENS ARE BEING COMPROMISED TO SATISFY SPONSOR NEEDS. I RECALL A SOLUS GARDEN WITH A HUGE LIGHT BULB IN THE CENTRE. WHAT ARE YOUR VIEWS ON THIS?
Over the years, some gardens strayed over the line into trade stands but interestingly, many of them were well received by the judges and many were massive hits with children e.g. the Mr Tayto Garden of 2014. Like most good things in life, balance is required and in the context of 330 gardens over 13 years the balance is very much on the side of non-commercial gardens.
HOW DO YOU THINK THE WIDER HORTICULTURE COMMUNITY CAN BETTER EXPLOIT THE COMMERCIAL POTENTIAL OF BLOOM?
Bloom is designed to create a lot of positive noise around gardens and gardening but currently, that noise is condensed into a couple of weeks around the June Bank Holiday weekend and the six weeks that Super Garden is aired. There is an opportunity to stretch Bloom's impact across the year by piggybacking on it and running initiatives and promotions that start and/or culminate at Bloom. It is one of the very few well-recognised consumer brands within horticulture and it could be better used. The industry could leverage this brand to reach a wider audience. Nurseries and retailers could make great use of Bloom to raise awareness around new plants and new promotions both during Bloom and post-event.
IF YOU COULD WAVE A MAGIC WAND AND CHANGE THREE THINGS ABOUT BLOOM TOMORROW, WHAT WOULD THEY BE?
If I had a magic wand I would conjure up a magic glass roof, guaranteed sponsorship for show gardens with two years lead time and access to the sort of green infrastructure and facilities that ensures Bloom's long term financial and environmental sustainability. ✽