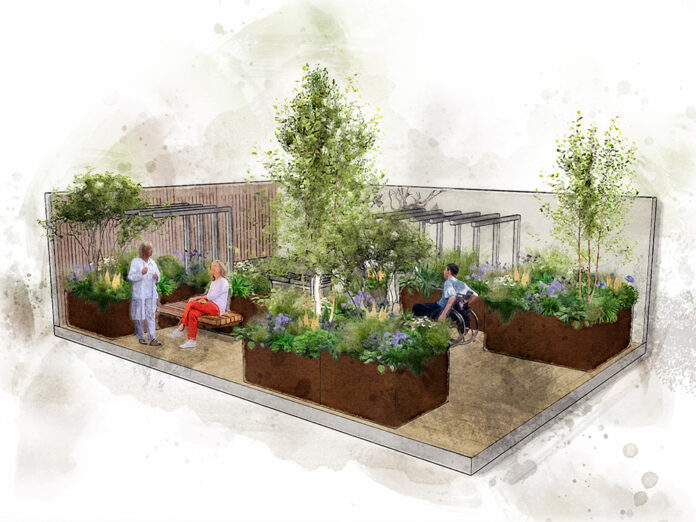 The Royal Horticultural Society's largest flower show returns to the historic grounds of Hampton Court Palace from 4 July with a line-up of thought-provoking gardens highlighting the healing power of gardening – from the Ukraine war to mental and physical wellbeing.
Moved by the conflict in their home country, Ukranian designers Victoria and Oleksiy Manoylo in partnership with Carrie Preston, have designed 'What Does Not Burn', a Global Impact garden that expresses Ukrainian culture and strength as well as hope for the future. The remains of a burnt-out cottage adorned with rushnyks, a traditional embroidered cloth used in Ukrainian rituals, will be surrounded by planting native to the country including barley, hollyhocks, field weeds and wild fruit trees. The designers have created the garden to raise awareness for the Ukraine people and to support fundraising to rebuild the country's public green spaces that have been devastated by the war.
Further designs tackle the issues of grief and loneliness and visualise healing through their gardens. Katherine Holland's 'A Journey' tells of the experience of grief through the garden's planting palette, showing the transition from disbelief to acceptance by utilising contrasting colours and textures. Similarly, Zavier Kwek's 'The Joy Club Garden' raises awareness of loneliness in later life by demonstrating the journey from isolation to connection. The garden features a sociable area for people to meet and come together.
In the Show Garden category, 'The John King Brain Tumour Foundation Garden' by Rhi Williams creates a space immersed in nature to aid the recovery of patients. Imagined as a rooftop garden, it highlights the Foundation's charitable work to create hidden sanctuaries for hospital staff and patients to aid their rest and recuperation.
Rebecca Welti, RHS Hampton Court Palace Garden Festival Manager, said:
"Gardens have a tremendous power to heal through providing areas for reflection and immersion in green spaces. Whether raising awareness and support for destroyed communities, or helping people experiencing loneliness to reconnect, the gardens at this year's RHS Hampton Court highlight the importance of outdoor areas as accessible sanctuaries for everyone to benefit from."
Tickets to RHS Hampton Court Palace Garden Festival are currently available and can be purchased online at www.rhs.org.uk/hampton