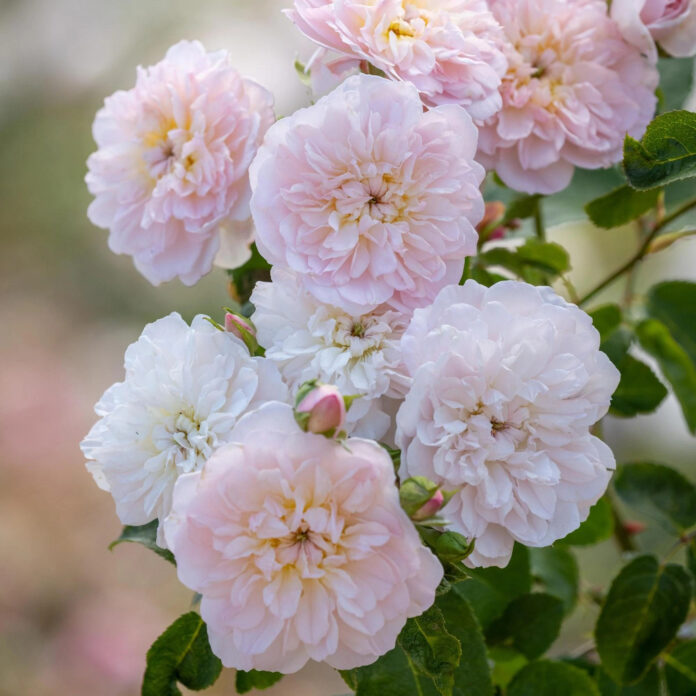 Twenty new plants have been shortlisted for the RHS Chelsea Flower Show Plant of the Year competition. The annual award celebrates the work of breeders and nurseries in developing and growing new plant varieties.
Shortlisted entries this year include 
Rosa 
ELIZABETH 'Ausmajesty' by David Austin Roses and 
Geranium 
×
 cantabrigiense
 'Intense' by first-time RHS Chelsea exhibitors Moore and Moore Plants.
The winning entry is selected by a panel of over 100 plant experts with the 2022 award  announced on the afternoon of Monday 23rd May. Cercis canadensis 'ETERNAL FLAME' ('Nc2016-2') exhibited by Stonebarn Landscapes was the winner in 2021.
All 20 shortlisted plants will go on display in the Great Pavilion (stand GP224) at RHS Chelsea from 24 to 28 May. Limited tickets are available fromwww.rhs.org.uk/chelsea
RHS Chelsea Plant of the Year 2022 shortlist:
Iris Fran's Gold ('Jf1) – Burncoose Nurseries
Rosa Bring Me Sunshine ('Ausernie') – David Austin Roses Ltd.
Rosa Elizabeth ('Ausmajesty') – David Austin Roses Ltd.
Salvia Pink Amistad ('Arggr17-011') – Middleton Nurseries Ltd.
Salvia × sylvestris ('A Little Bit') – Middleton Nurseries Ltd.
Aeonium 'Jubilee' – Ottershaw Cacti
Alstroemeria 'June Ferelyth' (Little Miss Series) – Alstroemeria Select
Rosa Loyal Companion ('Beaqueen') – Peter Beales Roses
Forsythia × intermedia 'Discovery' (syn. John Mitchell) – Sparsholt College
Geranium pratense 'Storm Cloud' – Sparsholt College
Dianthus (Allwoodii Group) Electric Dreams ('Wp22 Elecdr') – London Fire Brigade
Armeria pseudarmeria 'Dreamland' (Dreameria Series) – Stonebarn Landscapes
Echinacea Evolution Colorific ('Balevoeen') – Stonebarn Landscapes
Buddleja davidii Little Ruby ('Botex 006') (Butterfly Candy Series) – Stonebarn Landscapes
× Semponium 'Diamond' – Surreal Succulents
× Semponium 'Destiny' – Surreal Succulents
Geranium × cantabrigiense 'Intense' – Moore and Moore Plants
Rhododendron Starstyle Pink ('Azaare01') – Hare Spring Cottage Plants
Weigela Magic Carpet ('Tmwg18-06') (Prism Series) – Binny Plants
Brassica oleracea (Italica Group) 'Purpleicious' – Stonebarn Landscapes