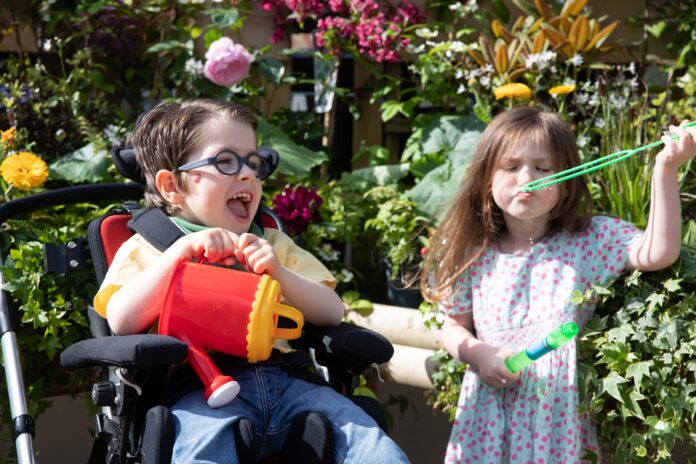 Disability Charity Highlights Vital Respite Services in Show Garden at Bloom
Enable Ireland is entering a show garden at Bord Bia Bloom inspired by its mission to maximise independence, choice and inclusion for the 13,000 children and adults with disabilities using their services across Ireland.  Respite is one of the essential service that Enable Ireland provides to children and adults with disabilities. Respite can provide a lifeline to families caring for a child with complex physical, sensory and medical needs 24 hours a day. It gives families a much needed planned respite break whether that is for a weekend or a few hours. For children with disabilities, respite breaks are often their first taste of independence. For adults, they are a chance to try out new activities and socialise with friends.
"Our Respite Garden at Bloom will highlight the importance of respite services to children and young people with disabilities. Our garden reflects what respite means to the children and young people benefiting from respite at Enable Ireland. It captures the excitement of taking your first steps towards independence and reflects our values of independence, inclusion and child/person centredness," commented Frankie Barrett, Enable Ireland Director of Services Dublin and Wicklow.
Enable Ireland has respite facilities for children in Clare, Wicklow, Cork, Carlow and Tipperary. For adults, they have respite services in Wicklow and Cork. They also provide direct in-home respite services and community respite around the country.
The Enable Ireland Respite Garden is designed by Wicklow based designer, Robert Moore. This is Robert's second show garden at Bord Bia Bloom. He was awarded a silver-gilt medal and won the People's Choice Award for his Memories Are Made of This – Dementia: Understand Together Garden at Bloom 2019.
Robert said, "I'm delighted to be working with Enable Ireland on the design for the Respite Garden. The garden highlights the incalculable value of 'Respite' as it enables people to interact with their peers in an imaginative and creative environment. It is fun, colourful and interactive. I'm looking forward to welcoming visitors to the garden at Bloom and sharing with you the important role that respite plays on the journey into adulthood and independence for people living with a disability."
Planting in the garden is inspired by the rural setting of Rathmore House, Enable Ireland's respite service for young people and adults in Wicklow. After Bloom, the Respite Garden will be donated to Rathmore House, where Enable Ireland provides overnight respite breaks to adults and young people.
"Over the past two years, the Applegreen charitable fund has supported vital projects within Enable Ireland children's services and respite houses. As part of this, we are delighted to support Enable Ireland's Respite services with this very special garden at Bloom. We are looking forward to continuing to raise more funds through our partnership to provide more respite opportunities to children and young people with disabilities." Commented Rosie Begley, Corporate Social Responsibility Manager at Applegreen
Enable Ireland has Garden Centre & Gift Shop in Sandymount, Dublin 4 and Limerick, where they offer a range of gardening products, gifts and advice. They also have an online shop with a nationwide delivery service, where you'll find a great selection of gardening products gift ideas, ornaments and homeware. Visit www.enableireland.ie/gardencentre for more details.
The Garden Centre and Gift Store in Sandymount is temporarily closed to facilitate the installation of a new Garden Centre shop. They look forward to welcoming all their customers back in a few weeks' time.
Bord Bia Bloom 2022 will take place from June 2nd to June 6th in the Phoenix Park.