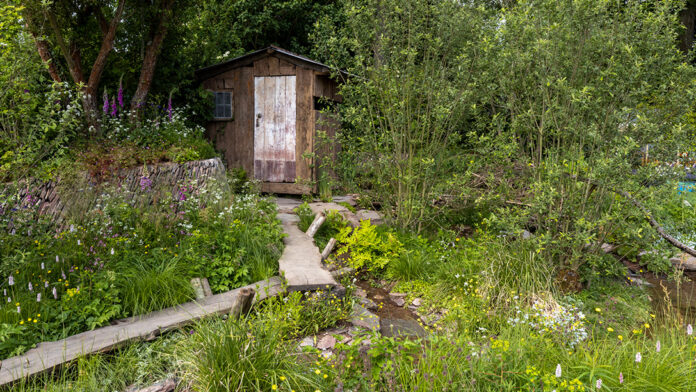 The garden shows a rewilding landscape in South West England, after the reintroduction of a native, keystone species – the beaver. The team who built the garden featured Cork gardener, Valerie Keating Bond.
The garden reflects the amazingly rich landscape that evolves when nature's eco-engineers, such as beavers, are able to flourish. A brook flows beneath a glade of hawthorn, hazel and field maple and through a winding old West Country stone wall.
Below is a pool dammed by beavers and the beaver's lodge, built around a large crack willow. Evidence of their food and dam supplies – wood-sticks, woodchip and tree debris – are scattered around. Rivulets of water trickle through the dam and spread out across a riparian meadow through rejuvenating alder trees.
An old timber walkway, inspired by the Neolithic Sweet Track from the Somerset Levels, leads across the wetland meadow to a viewing hide at the side of the pool. Native wildflowers mingle with grasses in the varied planting zones, while marginal plants throng the edges of the pool and stream.
Rewilding Britain's Chief Executive, Rebecca Wrigley said of the win: "I'm delighted that the Rewilding Britain Landscape has inspired so many and shown that beavers really are rewilding superstars, allowing nature to recover and flourish."
A statement from Rewilding Britain, a country-wide organisation in Britain focusing on rewilding and the benefits it can bring for people, nature and climate, reads:
"We're delighted that RHS Chelsea Flower show is celebrating how beavers help create incredibly wildlife-rich landscapes. The Rewilding Britain Landscape garden is one of the very few gardens at the show using only native plants, celebrating nature and natural processes, as well as sustainable design.
Rewilding brings hope – it's a crucial tool for nature recovery, and we are so grateful to have been given this opportunity to show rewilding in action to visitors at Chelsea and beyond."