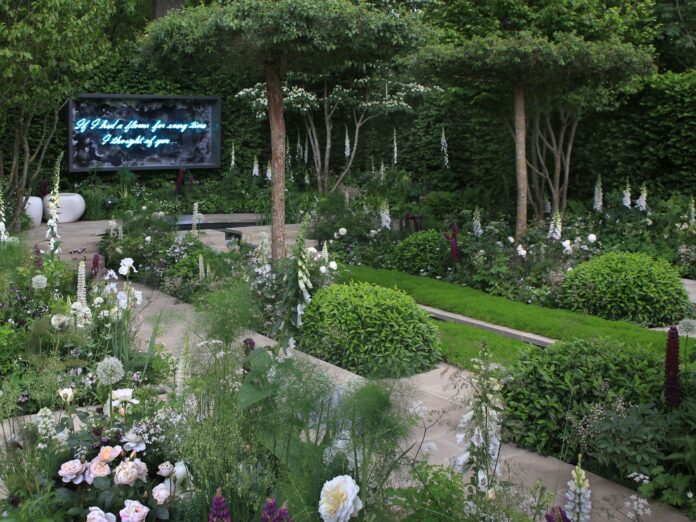 Volunteers from across the horticultural industry welcome thousands of visitors to The Perennial Garden 'With Love' by Richard Miers at RHS Chelsea Flower Show.
Nearly 50 volunteers from across England are welcoming visitors to The Perennial Garden 'With Love' by Richard Miers at the world's most famous flower show this week.
They include owners of gardening businesses, head gardeners and members of the Young People in Horticulture Association, representing a fraction of the skilled jobs in the industry.
Carrying a 'With Love' message, the garden's main avenue appearance is a first for both the charity and London-based designer Richard Miers. Both hope it will raise awareness of, and support for, the free information, advice and help that Perennial provides to people in horticulture and their families.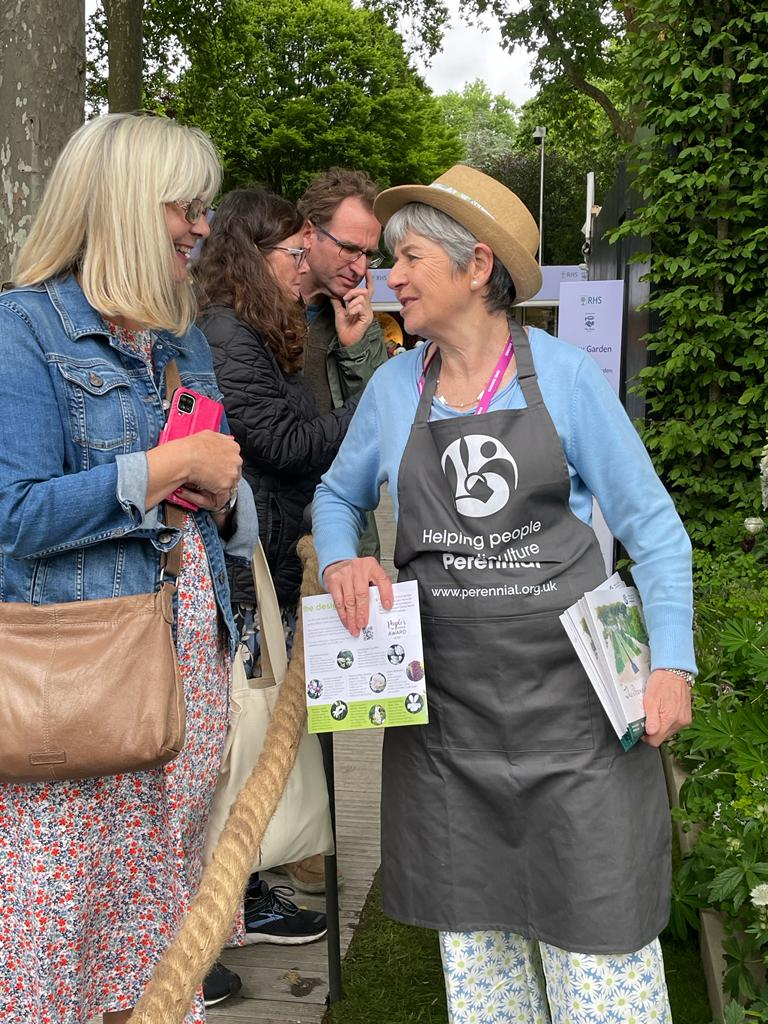 For volunteers like self-employed garden designer Helen Parsons, it's a sociable day out with like-minded people. "It's my chance to give something back to a charity that's there for me should I need it, and for my colleagues," she says.
Another volunteer says she wants to help Perennial because it's a safety net for those entering horticulture, a sentiment shared by the designer Richard Miers who says:
"It's a hugely rewarding industry to be in but it can also be a precarious career. Perennial has supported people in horticulture and their families for over 180 years. It's a privilege to be part of an organisation that gives something back to our horticultural family.
Packed into the allocated 22 metre by 10 metre space are all the hallmarks of a Richard Miers' garden. Structured, elegant, and classically contemporary, with a green palette of soft white and plum undertones. Trees and shrubs include flat-topped hawthorns, multi-stemmed Persian ironwood, yew topiary and Portuguese laurel, with hornbeam hedging.
Sculptures are by Tom Stogden and Jack Eagan, benches are from Hylton Hugo of Torc Pots and the quote is by sign makers Goodwin & Goodwin. A central rill is by Water Artisans and All Green provided the paving. The contractor is Stewart Landscapes, plants are from Form Plants and Rachel Sampson heads up the planting team. Volunteers and trainees were on hand to help with planting too.
Peter Newman, Perennial's chief executive says, "Volunteers are at the heart of our work. In our gardens, our offices and at shows and events. They bring their time, talents, energy and personality – we simply couldn't operate without them.
"Richard Miers' beautiful garden represents the very best of horticulture and we are excited about how powerfully it will reach those who need our help. Our volunteers are essential to our efforts to explain it to the many thousands of people who are visiting us during the show. We couldn't have better ambassadors for all that we do to support people in horticulture," added Peter.
A virtual walk around the garden can be found here:
https://perennial.org.uk/home/gardens/the-perennial-garden-rhs-chelsea-2022/