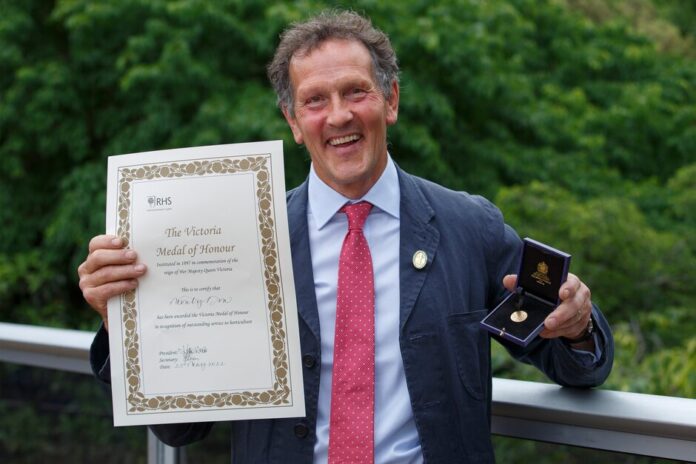 Monty Don, one of the UK's best-known and most-respected gardeners, has been awarded the highest honour in horticulture.
On Monday 23 May 2022, at RHS Chelsea Flower Show, Monty Don was awarded the RHS Victoria Medal of Honour (VMH).
The VMH enables the RHS Council to confer conspicuous honour on those British horticulturists whom it considers deserving of special honour, such as contributing and furthering the positive impact of gardening and growing plants and for reaching large audiences to make a difference through gardening.
In recognition of the duration of Queen Victoria's reign, only 63 VMH medals may be held at any one time.
Keith Weed, RHS President, said:  "The RHS is delighted to award Monty the highest honour in horticulture, the VMH, in recognition of his passion and hard work to bring gardening to the wider British public, sharing his skills and advice, and getting millions of people gardening and growing plants.
"During lockdown Monty brought the joy of gardens and gardening, in the bleakest of times, into the homes of millions of people across the UK.  Gardeners' World became a lifeline for the nation, with show ratings soaring by more than one and a half million to their highest in a decade.
"Monty's immense contribution in communicating to and engaging the UK public about gardens and gardening is inspiring.
"On top of this he has been the strongest advocate for the therapeutic benefits of gardening, talking about gardening for health and wellbeing and happiness long before anyone else and championing gardening as the force for good that it is."