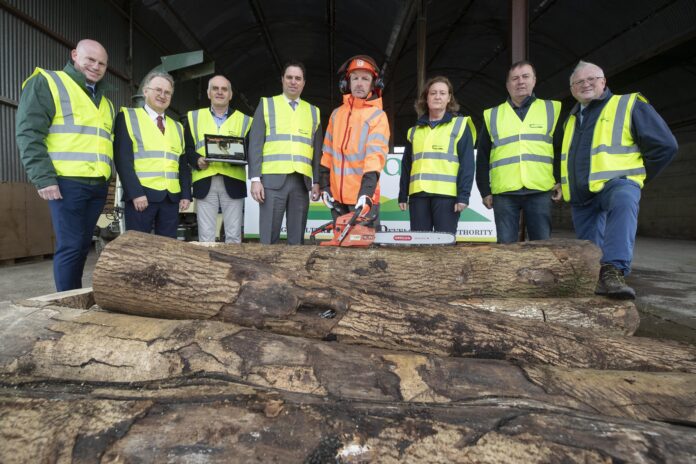 A new chainsaw safety video officially launched today, Wednesday 18 October, by Minister of State at the Department of Agriculture, Food and the Marine with special responsibility for Farm Safety, Mr Martin Heydon TD has been designed to educate users with the knowledge and skills necessary to operate chainsaws effectively and safely.
Speaking at the launch, Minister Heydon said; "This video provides practical information for farmers on chain saw use and associated timber work. Chainsaws are common tools found across many farms, but when used incorrectly they can prove deadly. The video highlights the necessary safety measures needed when undertaking this hazardous work activity. I urge every farmer who uses a chainsaw to view this video to review the safety standards of their chainsaw, its maintenance, and the use of personal protective equipment (PPE) for chain-sawing before any timber-related task is undertaken.  Most importantly consider your skill and competence with timber work and seek training if necessary."
Teagasc Director, Professor Frank O'Mara, speaking at the launch, said; "We are committed to safety and education and this video is a significant step in that direction. This Chainsaw Safety video not only educates but empowers chainsaw users to tackle their tasks with confidence, knowing they have the knowledge and skills to operate their chainsaws safely."  He particularly thanked FBD Insurance and the Farm Safety Partnership advisory committee to the Health and Safety Authority for support with production of the video.
Up to 80,000 chainsaws are used on Irish farms and these machines vary in age and safety standards associated with their age and state of repair.   Up to 4% of farm workplace deaths and an estimated 6.5% of injuries are associated with chainsaw and timber related work.
The video is presented by Mr Arthur Kierans, Machinery Training Technician at Teagasc Ballyhaise Agricultural College, County Cavan who stated that safe chain sawing and timber work is a combination of having adequate knowledge and skill, having a modern chainsaw with up-to-date safety devices, wearing chainsaw PPE and using safe techniques.
Teagasc Health and Safety Specialist, Dr John McNamara stated that the Chainsaw Safety video shows approaches and techniques for small-scale timber work. He advised that a specialist contractor be used for large-scale chain sawing and timber work. Further guidance on approaches to adopt is available on the Health and Safety Authority website.
The Chainsaw Safety video can be viewed below

Watch more videos from the Managing Farm Safety and Health Video Series here