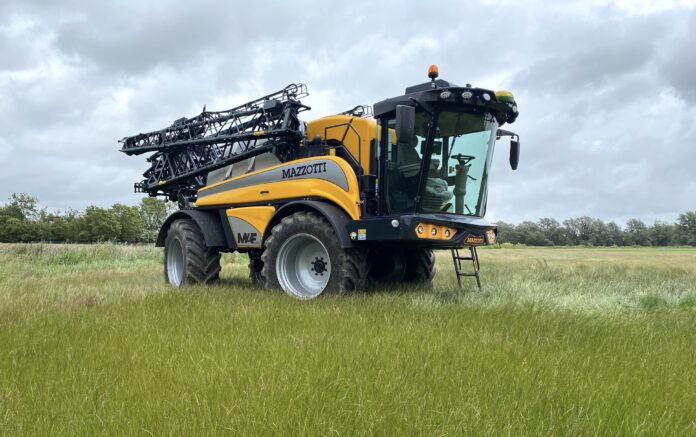 Mazzotti, a John Deere company, has announced the appointment of Templetuohy Farm Machinery Ltd (TFM) as its sole importer for the Republic of Ireland and Northern Ireland. 
From its headquarters near Thurles in County Tipperary, TFM will provide sales and customer support for the full range of Mazzotti self-propelled sprayers. 
Vincenzo Gasperi, Export Manager for Mazzotti said: "TFM has the knowledge and resources to help establish and build the Mazzotti brand in this important new market. We are very happy to have TFM representing us and look forward to working with them to fulfil the needs of Irish farmers and contractors." 
TFM's sales effort will be headed up by Sprayer Specialist Pat Egan. He said: "TFM is absolutely delighted to be associated with Mazzotti and we are looking forward to the challenge of being sole importer for Ireland. 
"We've been very successful with the John Deere range of trailed machines, but Irish conditions impose some specific demands on self-propelled sprayers. We think the Mazzotti range, with John Deere technology built-in, very much meets those demands. 
"We already have demo machines on order and they will be delivered with John Deere precision farming features fitted as standard, in addition to the unique John Deere Power Spray solution system. We can't wait to showcase the features and benefits these sprayers offer." 
Operating from its base in Ravenna, Italy, Mazzotti is focused on building self-propelled sprayers that offer high customer value. Following the full acquisition by John Deere in 2017, Mazzotti has steadily integrated John Deere technology, processes and components into its products and, with the help of the extensive dealer network, has steadily grown sales in Europe, the US, China and Australia.
Established in 1982 by Jimmy and Joe Butler, Templetuohy Farm Machinery is now a leading supplier of John Deere machinery in Ireland. 
This family-owned business employs approximately 130 staff at its six sales and service outlets in Thurles and Clonmel in Co. Tipperary, Portlaoise in Co. Laois, Enniscorthy in Co. Wexford, Ballycallan in Co. Kilkenny, and Tuam in Co. Galway.