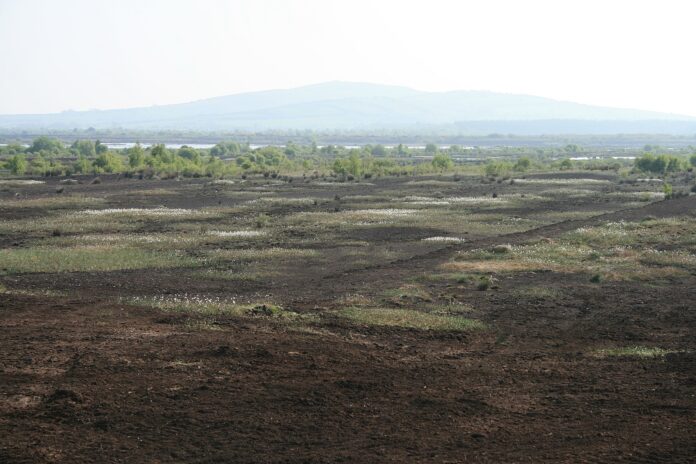 After an absence of two years, the Irish Peatland Conservation Council have announced a full list of events for this year's Féile an Dúlra (Festival of Nature). The events will be both virtual and in-person, suitable for all members of the public with an interest in environment, peatlands, biodiversity and climate.
National Biodiversity Week is celebrated from the 13-22 May 2022 and IPCC are hosting a range of events for visitors to join. Biodiversity Week will begin with a 'Day of Action on Lullymore West' on 14 May 2022 from 11-3pm. IPCC invites you to join them at the Bog of Allen Nature Centre in Co. Kildare for a walk and talk to Lullymore West, a local butterfly nature reserve to explore the butterflies and bumblebees that call it home. Learn how management is key to their survival. Attendees will have the opportunity to take action by removing small invasive saplings on the grassland and/or installing a temporary electric fence in preparation for local conservation donkeys. The Bog of Allen Nature Centre will be open from 11-3pm for tours of the museum, wildlife gardens and pond dipping will be available to explore some of the mini-beasties that live within freshwater habitats for the younger ones. You can register for this event here.
On 15 May 2022, from 2-5pm, IPCC will hold an event called 'The Conservation and Restoration of Girley Bog'. Visitors will meet at Causey Farm in Co. Meath and walk with IPCC to Girley Bog where they will gain a better understanding of peat formation, and all the restoration works completed to date by IPCC and the National Parks and Wildlife Service that benefit the habitat, biodiversity, people, and Ireland's climate change goals.  Register for this free family friendly event here.
On the 21 May from 11-1pm, IPCC will be at Fenor Bog in Co. Waterford for an event called 'Peatlands, a home for wildlife and the heart of Fenor village community'. Visitors can learn all about peatlands, biodiversity and the ecosystem services they provide. You can register for this event here.
For members of the public that cannot join the events in-person for Biodiversity Week, IPCC will be uploading a series of three 2-minute videos of the flora of fens, blanket and raised bog habitats. These videos will be shared on IPCC's social media accounts including Facebook, Instagram and Twitter so be sure to follow us.
World Environment Day will be celebrated on 5 June 2022 and the theme this year is #OnlyOneEarth. IPCC will engage virtually by uploading a social media post to Facebook, Instagram and Twitter accounts.
International Bog Day will be celebrated on the 24 July from 1-4pm. IPCC will be hosting a very special event at the Bog of Allen Nature Centre in Co. Kildare to celebrate their 40th Anniversary protecting and conserving peatlands in Ireland. The centre will be open for guided tours of the museum and wildlife gardens. There will also be a number of activities for both adults and children alike, such as exploring the mini-beasties that live in freshwater habitats, a frog search and special guests. No booking required.
Heritage Week will be celebrated in August, followed by Culture Night in September, and throughout the year IPCC will be hosting a number of citizen science skill-sharing days including water level monitoring, the Large Heath butterfly survey, the Marsh Fritillary habitat assessment and larval web survey, scrub clearance and butterfly and bumblebee surveys. Email bogs@ipcc.ie to express an interest and be added to a contacts list.
IPCC's Conservation and Education Officer says:
"It is great to be able to host in-person events once again to explore the wonderful world of peatlands with members of the public. I am really looking forward to meeting new people and sharing with them the biodiversity that call peatlands home.   I encourage people of all ages and skill-sets to join us at an event or skill-sharing day this year and recommend to dress for the weather including sun hats, rain coats and strong footwear."
For more information on upcoming events visit IPCC's website http://www.ipcc.ie/events/.