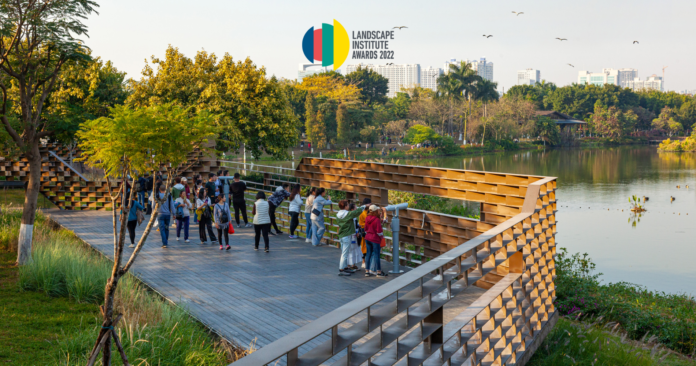 Landscape projects that address climate change, habitat restoration and biodiversity loss and those that promote health and wellbeing can now enter the renowned Landscape Institute (LI) awards.
Submissions for UK and international projects for five open, 15 professional, two student and one special category, launches today on Friday 29th April
Entries close on Thursday 7th July with finalists announced in September 2022
Open categories celebrate excellence in landscaping and includes the Landscape and Parks Management category
The competition opened at 9am on Friday 29th April via the Landscape Institute Awards website.
15 Professional categories, open to a chartered, fellow or academic member of the Landscape Institute or an office, department or section headed by a chartered member of the Institute include: Excellence in Biodiversity Conservations and Enhancement, Excellence in Tackling Climate Change, Excellence in Public Health and Wellbeing, and more.
Submissions from any individual, organisation, employer, government or university or combination of groups across the globe can enter five open categories:
Landscape and Parks Management Award: celebrates excellence in the management of a place or landscape.
Innovation and Research Award: celebrates an innovative product, service, publication, or a piece of research or guidance which has influenced or has the potential to positively transform landscape practice.
The Dame Sylvia Crowe Award: rewards landscape excellence around the world.
Landscape Legacy Award: celebrates a person, organisation or group which leaves a lasting landscape legacy to the world.
Partnership and Collaboration Award: celebrates excellence in partnership and cross-discipline collaboration.
Building on the success of the last two year's virtual events, which attracted over 1,600 attendees combined, this year's awards will be held both virtually and physically at the Troxy, London, on Thursday 24th November 2022. The hybrid format will allow attendees to join from all over the world, promoting discussions and showcasing projects which combat climate change, support health and wellbeing, promote biodiversity and "level up" local spaces at a global scale.
"The 2021 Landscape Institute awards were a great success – we received over 200 submissions. These were whittled down to 73 finalists by our esteemed judges from organisations such as Historic England, National Lottery Heritage Fund and Public Health England," said Jane Findlay CMLI, President of the Landscape Institute.
"In the UK, the government published its long-awaited Levelling Up White Paper, outlining its mission to 'level up' the country. The paper reflects the fact that placemaking, green spaces and the built environment will be instrumental to this agenda. We know that landscape professionals across the globe are already implementing this holistic vision and the awards will celebrate their exceptional contributions."
Discussing the importance of the Landscape Institute awards, winner of the LI's 2021 Excellence in Public Health and Wellbeing award and landscape architect at Southern Green, Edward Green, said: "Winning awards is always special, but The Landscape Institute Awards represent the pinnacle of achievement in our profession. Especially for projects that benefit the physical, mental and environmental wellbeing of our communities.
"Inclusion within these awards highlights the returns green spaces and parks can make to improve communities' health and mental wellbeing and help drive the agenda of extra funding for a sector that has been underfunded for years."
A host of sponsors will once again support the Landscape Institute awards this year, including headline sponsor Hardscape.
In addition to category sponsors: Vestre, Furnitubes, Building with Nature, Maylim, Civic Engineers, GrrenBlue Urban, AG, Green-tech, Ground Control, McParland Finn, Selux, Wildflower Turf and supporter – Tilhill.