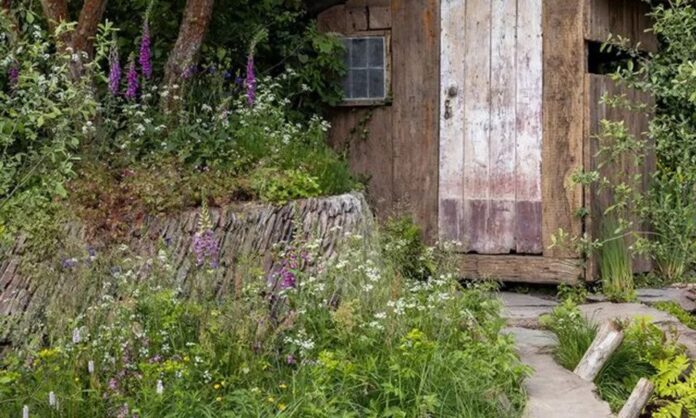 The RHS Chelsea Flower Show has returned in full force this week, with members of the Horticultural Trades Association (HTA) and Association of Professional Landscapers (APL) scooping up several coveted awards.
The show takes place this week (Tuesday 24 – Sunday 28 May), with gardens promoting a range of important issues relevant to the entire industry, including sustainability and peat-free.
This year saw APL members hauling an impressive range of medals, including eight gold, five silver-gilt, seven silver, and one bronze, as well as three five-star rated trade stands.
Landscape Associates won Best in Show, Landform Consultants won Best Construction and Big Fish won Best Balcony/Container Garden.
Boyd Douglas-Davies, President, Horticultural Trades Association, said:
"My congratulations go out to all the winners at what is promising to be a very successful RHS Chelsea Flower Show 2022. This is going to be a great week for our HTA and APL members with so many of them getting the recognition they deserve. The displays have been phenomenal."
The awards are as follows:
Show Gardens
BEST IN SHOW – A Rewilding Britain Landscape
Built by Landscape Associates, exhibited by Urquhart & Hunt Landscape Design
GOLD – A Rewilding Britain Landscape
Built by Lanscape Associates, exhibited by Urquhart & Hunt Landscape Design
GOLD – The Morris & Co. Garden
Built by Garden Builders, exhibited by Ruth Willmott Associates
GOLD – MEDITE SMARTPLY Building the Future
Built by Landform, exhibited by Sarah Eberle
SILVER – Brewin Dolphin Garden
Built by BIG Fish Landscapes, exhibited by Paul Hervey-Brookes Associates
SILVER – The Perennial Garden 'With Love'
Built by Stewart Landscape, exhibited by Richard Miers Garden Design
Sanctuary Gardens
GOLD – The Place2Be Securing Tomorrow Garden
Built by Jamie Butterworth and Form, exhibited by Sarasin and Partners / Jamie Butterworth
GOLD – A Garden Sanctuary by Hamptons
Built by Garden Club London, exhibited by Garden Club London
SILVER GILT – The Plantman's Ice Garden
Built by Keyscape (Ruper Keys), exhibited by The PlantMan & Co
SILVER – The SSAFA Garden
Built by Arun Landscapes, exhibited by Catfoot Garden Designs and sponsored by CCLA
Balcony/Container and All About Plants Gardens
BEST BALCONY AND CONTAINER GARDEN – The Still Garden
Built by Big Fish Landscapes, exhibited by Jane Porter Gardens
GOLD – The Still Garden
Built by Big Fish Landscapes, exhibited by Jane Porter Gardens
GOLD – The Core Arts Front Garden Revolution
Built by Conquest Creative Spaces, exhibited by Smith-Williams Garden Design
SILVER GILT – The Potting Balcony Garden
Built by Big Fish Landscapes, exhibited by It Will Grow, sponsored by Biking
SILVER GILT – The Cirrus Garden
Built by Big Fish Landscapes, exhibited by Cloud Gardener UK
SILVER GILT – Wild Kitchen Garden
Built by Big Fish Landscapes, exhibited by Ann Treneman
SILVER GILT – The Enchanted Rain Garden
Built by Big Fish Landscapes, exhibited by Beatrice Tann
SILVER – The Blue Garden
Built by Big Fish Landscapes, exhibited by Tom Wilkes-Rios
SILVER – MANDALA, MEDITATION AND MINDFULNESS GARDEN
Built by Big Fish Landscapes, exhibited by Border in a Box
SILVER – A Mediterranean Reflection
Built by Landform, exhibited by Mallorca Garden Design
SILVER – The Mothers for Mothers Garden
Built by This Too Shall Pass Landscraft, exhibited by Pollyanna Wilkinson Garden Design
BRONZE – JAY DAY
Built by Big Fish Landscapes, exhibited by Alison Malouf
Floral Awards in The Great Pavilion Awards
GOLD – A display of ericaceous trees and shrubs
Burncoose Nurseries
GOLD – A display of fragrant English Roses
David Austin Roses Ltd
GOLD – Old fashioned and contemporary roses set in a garden scene
Peter Beales Roses
GOLD – A display of daffodil flowers
Taylor Bulbs
SILVER – The Enchanting Peony
Primrose Hall Peonies
RHS Chelsea Sustainable Garden Product of the Year 2022
Dobbies range of peat-free John Innes 1,2 & 3 composts
For more information on the RHS Chelsea Flower Show visit https://www.rhs.org.uk/shows-events/rhs-chelsea-flower-show