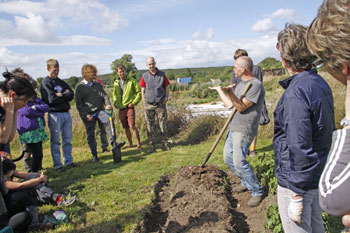 Learn how we can live more sustainably using ecological design
Practical skills for horticulture, farming, enterprise, green building, perma-facture, collaboration, social innovation and community resilience.
13-22 July 2018 | Cloughjordan Ecovillage, Co Tipperary, Ireland
This 10-day Permaculture Design Certificate Course is organised by Cultivate and hosted in association with Cloughjordan Community Farm and the Ecovillage Education Group and is accredited by the Permaculture Association
Each year we invite special guest tutors to share their expertise, along with our resident specialists. Guest tutors for 2018 to be announced, watch this space…
The setting for this immersive course is Cloughjordan Ecovillage, one of Ireland's leading examples of an ecosystem of innovation. it includes over 50 eco-homes, community woodlands, renewable energy production, a wood-fired bakery, research gardens and a community farm.
This PDC is organized by Cultivate in association with Cloughjordan Community Farm and Village Education Research and Training (VERT) at The Cloughjordan Ecovillage. The venue for indoor sessions is WeCreate Workspace and Fab Lab an innovation hub within the Ecovillage. See photos of previous courses here.
This course is full-time (and "full-on") from Friday evening (starting with dinner around 6 pm) until the following Sunday afternoon (around 4 pm) | Find presentations, links and other resources on Our Permaculture Resource Site.
Contact Us | Early Bird Discount €495 (pay in full before April 15th) Usual Fees €550 / €495 Members | some concessions are available, €100 deposit secures your place (how to apply – PDF).