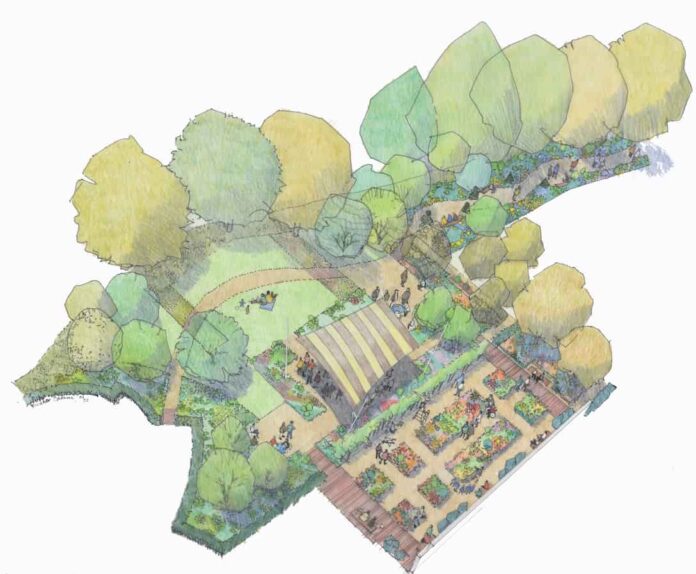 New garden at University Hospital Lewisham is the first in a series of regional Healing Gardens created by the RHS and will be a space for staff, patients and the community to join together and connect with nature 
The Royal Horticultural Society (RHS) has teamed up with the Lewisham and Greenwich NHS trust at University Hospital Lewisham (UHL) to create a green space where staff and patients can reflect and recharge.
Following a request to the gardening charity's nationwide Healing Gardens programme in 2020 from Maria Leong, an anaesthetist registrar at the hospital, work is now underway following consultations with all those that will benefit from the space.
Designed by award-winning landscape designer Adam Frost, the garden makes use of existing but under-utilised outdoor space and will feature a wellbeing walk along Ravensbourne River, vibrant wildflower banks and a working garden where people can get involved and grow their gardening skills.
The path through the garden follows the flowing shape of the river, leading to a small woodland, and there will be plenty of outdoor seating as well as sheltered areas to enjoy the calm of the garden in all weather. Plants have been chosen for their ability to delight the senses, such as soft ferns, scented Mediterranean favourites and bright additions such as wild daffodils (Narcissus pseudonarcissus), spindle (Euonymus europaeus) and roses that will provide seasonal colour throughout the year.
Community groups and NHS staff put in the first plants in June, with the finishing touches being put into sections of the garden this autumn.
As part of the project, the RHS has worked with the local community and NHS staff to engage and train more than 200 local volunteers, so they can improve their skills and ensure the garden is well cared for in the future. The Lewisham Healing Garden will provide the blueprint for further gardens built as part of the Healing Gardens programme at hospitals around the UK.
Maria Leong, the UHL anaesthetist registrar who initiated the garden, said: "We are all really looking forward to the welcome boost the Healing Garden will provide staff, patients and the local community when it opens later this year. We're delighted that our previously overlooked green space will be able to provide a range of benefits that will become part and parcel of our offering to patients and their visitors."
Adam Frost, designer of the Healing Garden, added: "I was so pleased to be able to design the Healing Garden in Lewisham as a way to show support for the tireless work of our NHS staff. The garden is an inclusive space that will provide that all-important connection to plants and gardens and support the mental, physical and social health of the local community."
For more information about the Lewisham Healing Garden and benefits of gardening for health and wellbeing visit:  www.rhs.org.uk