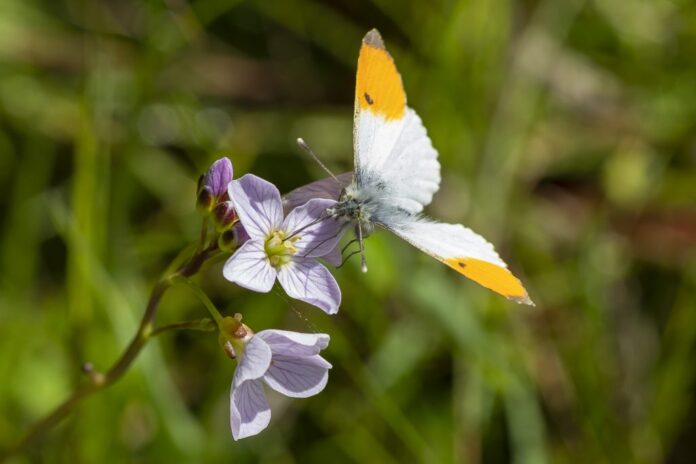 This is according to a new survey on attitudes and awareness of biodiversity in Ireland as the Office of Public Works launches a new Biodiversity Action Strategy.
A new survey carried out by the Office of Public Works (OPW) has found that over half of the population (56%) are unsure of how to help improve biodiversity, despite the overwhelming majority (90%) wanting to play their part in improving Irish biodiversity. The findings come as the OPW launches its Biodiversity Action Strategy to improve biodiversity across its entire operations.
Recognising the importance of addressing declining biodiversity head-on, the OPW's Biodiversity Action Strategy sets out how it will work towards promoting and protecting biodiversity over the next five years. The impact of the OPW's new Biodiversity Action Strategy will be felt across its over 100 offices, 780 heritage sites, 5,700 acres of gardens and parkland, 11,500km of drainage channels, and 142 flood relief schemes, and many projects on a range of public and private land. The scope of its work gives the OPW great opportunities to increase the scale of biodiversity conservation achievable as part of the services it delivers.
The OPW is one of a number of government bodies working to support the delivery of the National Biodiversity Strategy. In its Biodiversity Action Strategy the OPW has identified 48 specific actions across five themes that it will undertake to embed biodiversity into all areas of its working brief. Among these actions is an innovative proposal to develop a 'Homes for Wildlife' programme where it will take a leadership role in designing and adapting lands, buildings and waterway structures to provide homes for wildlife wherever possible including safe roosting sites for bats, and nesting sites for pollinators and birds.
The OPW's Biodiversity Action Strategy coincides with increased public awareness and concern about biodiversity, particularly amongst younger people with up to 70% of young people 'occasionally' or 'frequently' discussing the topic with their parents, grandparents, or guardians. Despite this, a significant gap in knowledge exists as the research reveals that one in four people are unaware of any endangered species in Ireland. This highlights the need for ongoing public engagement and outreach and the OPW is keen to continue to build on this work at a number of its sites. It will capitalise on the high level of expertise among OPW staff by identifying 'Biodiversity Champions' to promote awareness of significant species and habitats and deliver a programme of training and providing interpretation at all relevant visitor sites.
Launching the Biodiversity Action Strategy, Minister for the OPW Patrick O'Donovan T.D. stated:
"We are learning more about nature and our dependency on nature, all of the time. Although the research shows us that 87% of Irish people understand the benefits of engagement with nature for their health and well-being, more than half the adult population don't know or aren't sure how to help support biodiversity. We need to do more. As an organisation, the OPW is committed to doing more to protect and enhance Ireland's biodiversity. The publication of our new Biodiversity Action Strategy is a vital step which will guide our work as we meet this challenge, whether designing or adapting lands, buildings or waterway structures to provide homes for wildlife wherever possible. We also encourage the public to help us as we work across all OPW sites to secure the future for biodiversity in our country."
To bring the Biodiversity Action Strategy home to the Irish public, the OPW is also launching a new online campaign #InOurNature to encourage and demonstrate to people how to promote biodiversity in their own homes. The campaign will be launched ahead of Biodiversity Week (May 15th-23rd), where the OPW will be hosting events at many of its sites across the country to engage the public in the biodiversity on their doorstep.
Some of the events taking place at OPW go from dawn to dusk with a Dawn Chorus walks for the early risers at Castletown House & Parkland to Dusk Bat walks at Kilkenny Castle for the night owls. From free tours to see endangered plants in rural Kerry at Daniel O'Connell's home, Derrynane House to the opportunity to learn about the animals that make the Phoenix Park in urban Dublin City their home, the OPW has events across the country designed to appeal to every age and interest. The OPW's programme of events for Biodiversity week and its new Biodiversity Action Strategy are designed to show that the commitment to meeting the biodiversity challenge is #InOurNature.
The full list of Biodiversity Week events being hosted across the country at OPW sites can be found at OPWHeritageIreland