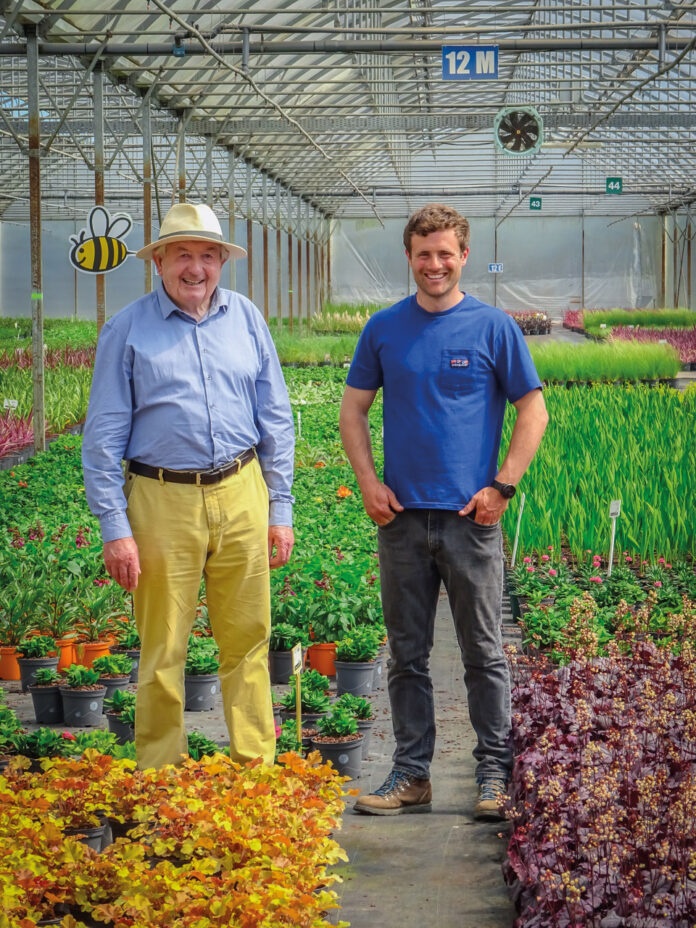 Home Grown, the new seven-part series on RTE One, celebrates the Irish horticulture industry and is presented by two of the most dedicated advocates, Kitty Scully and Colm O'Driscoll. Kitty and Colm travel all over Ireland in search of stories that celebrate Irish horticulture and growing in all its variety, from sports turf for the hallowed ground of Croke Park, to potatoes, carrots, trees and shrubs. As well as stories about the different growers and producers, and recognising the surge in interest in gardening, there are visits to inspirational gardens which are open to the public, as well as insights into the many uses of plants.
You'll be surprised at how diverse, fascinating and surprising horticulture is. The series began broadcasting on Monday 7th November and runs for seven weeks – but you can catch up on the RTE Player. Here are the highlights of each episode.
EPISODE 1 – MONDAY 7TH NOVEMBER
The series begins at Croke Park – the only stadium in the world to have its own farm where turf is grown for the famous pitch. Colm visits the farm in North County Dublin to see how the turf grass is grown and harvested. Meanwhile, Kitty meets a cut foliage producer whose branches and leaves are used by top florists in the UK and other parts of Europe. Later, Colm meets a carrot producer who grows both conventional and organic crops, and the programme ends with a visit to the National Botanic Gardens, in Kilmacurragh in County Wicklow, a stunning garden known for its amazing collection of rhododendrons.
Stories: (1) Croke Park – Sportsturf (2) James Costello – Irish Green Guys – Cut Foliage (3) Leo Dunne Ltd. – Carrots (4) Inspirational Garden: National Botanic Gardens Kilmacurragh
EPISODE 2 – MONDAY 14TH NOVEMBER
Colm visits a third-generation tomato grower to see the latest growing technology in action, while Kitty heads to County Clare and the Irish Seed Savers Association to see how they preserve our heirloom and indigenous seeds. Meanwhile, we also get to visit Annaveigh Plants, in Tipperary, a tree nursery where young trees are planted and looked after for between five and 20 years before they are ready for sale. The inspirational garden this week is Ardán Gardens in Howth, County Dublin, created from a scrubby hillside patch and now one of the country's most admired gardens. Finally with mushrooms one of Ireland's most important horticultural exports, Kitty travels to Monaghan to discover the science and innovation behind this success.
Stories: (1) Flynn Tomatoes, (2) Irish Seed Savers, (3) Annaveigh Plants (4) Inspirational Garden: Ardán Gardens, Howth (5) Monaghan (Mushrooms)
EPISODE 3 – MONDAY 21ST NOVEMBER
Kitty visits Enrich.ie, in County Meath, to see how valuable compost is made from green waste products. Colm meets apple grower David Llewellyn, who also grows grapes on his farm in Lusk, North County Dublin, from which he produces wine. Just down the road, in Rush, Kitty sees how technology is changing the way lettuce is grown by the McCann family, at Morning Fresh Farm. Finally, growing turf for lawns has become a big business and Colm travels to Summerhill Lawns in County Meath, one of the country's largest turfgrass growers, to see how they grow – and mow – acres and acres of lawn.
Stories: (1) Enrich (2) Luska Wine (3) Morning Fresh Farms – Lettuce Grower (4) Summerhill Lawns
EPISODE 4 – MONDAY 28TH NOVEMBER
Colm visits David Loughran who grows seed potatoes for potato farmers, while both presenters visit the World Potato Congress, which took place this year at the RDS, Dublin. Here, they meet some of the world experts in potatoes. Meanwhile, what can you do with misshapen potatoes that are rejected by the supermarkets? A potato farmer in County Wexford decided to find a way to utilise them and has created his own spirit, Jackford's Gin. Also in this episode, chip potatoes have traditionally come from the UK but this is changing as a group of Irish producers, packers and distributors collaborate in a project to supply homegrown potatoes to Irish chip shops. Finally, Colm heads to Muckross Traditional Farm, in Killarney National Park, to see how potatoes were grown in times past, and hears about another potato by-product – poteen.
Stories: (1) Seed Potatoes, David Loughran (2) World Potato Congress (3) Jackford's Gin (4) O'Shea Farms – Chipping Potatoes (5) Lazy Beds: growing potatoes the traditional way
EPISODE 5 – MONDAY 5TH DECEMBER
The Strawberry-growing season in Ireland now extends to nine months of the year and Colm visits grower Jimmy Kearns to hear more. Meanwhile, each year the Rare and Special Plant Fair is held in a different location and in 2022, it took place in Fota House and Gardens, County Cork, where Kitty went to meet some of the nurserymen and women who grow these unusual plants. Colm studied at the Amenity College at the National Botanic Gardens and he revisits the college to see how horticulture is being taught to today's students. Kitty meets apple grower Con Trass in Tipperary and is amazed to learn that more than 90% of the apples we eat in Ireland are imported. Finally, Tully Nurseries is one of the nurseries which supplies the country's garden centres and other retailers with plants, and Colm meets two generations of the family at the glasshouses where the plants are grown.
Stories: (1) Jimmy Kearns – Strawberry grower (2) The Rare & Special Plant Fair at Fota (3) Teagasc College of Amenity Horticulture, Botanic Gardens Glasnevin (4) The Apple Farm, Con Trass – Apple Orchards (5) Tully Nurseries
EPISODE 6 – MONDAY 12TH DECEMBER
Colm meets Broadcaster Darragh McCullough – who is well-known to viewers as a co-presenter of Ear to the Ground – but he's also one of the country's largest daffodil growers. Kitty visits Bord Bia Bloom, the largest food, drink and horticulture festival in Ireland, to see what's on offer to the newest generation of garden enthusiasts. Also in this episode, Colm heads west to Galway, to meet an organic farmer whose ambition 20 years ago was to make Ireland fully organic. Finally, Kitty used to be the Head Gardener at the Airfield Estate (a job also held until recently by Colm) and she returns there to tell us about the legacy left by the Overend Sisters: Airfield is a charitable trust dedicated to education, and is Dublin city's only working farm open to visitors.
Stories: (1) ElmGrove Farm, Daffodils – Darragh McCullough (2) Bord Bia Bloom – featuring Mike Neary, Carol Marks, Fiann O'Nuailann & more. (3) Beechlawn Organic Farm (4) Airfield Estate & Gardens
EPISODE 7 – MONDAY 19TH DECEMBER
For the final programme in the series, Kitty travels to Clonakilty, Cork, to meet Réidín Beattie, who grows and dries her own plants and uses them to make skincare products. Colm heads to Wexford and Kilkenny to meet Pat Fitzgerald from Beotanics, who has managed to grow wasabi in Ireland – a real achievement as it's one of the hardest plants to grow. And as it's Christmas time on Home Grown, follow Kitty to Wicklow to visit Kavanagh Christmas tree farm, while Colm chats to one of Ireland's largest growers of Poinsettias. The inspirational garden in this episode is the extraordinary and dramatic Kells Bay Gardens in County Kerry, well-known for its sub-tropical tree ferns.
Stories: (1) Réidín Beattie – skin care from plants (2) Beotanics – Pat Fitzgerald (3) Kavanagh Christmas Trees
(4) Uniplumo – Poinsettias (5) Kells Bay Gardens, Billy Alexander – Inspirational Garden ✽
All Episodes are Available on the RTE player.