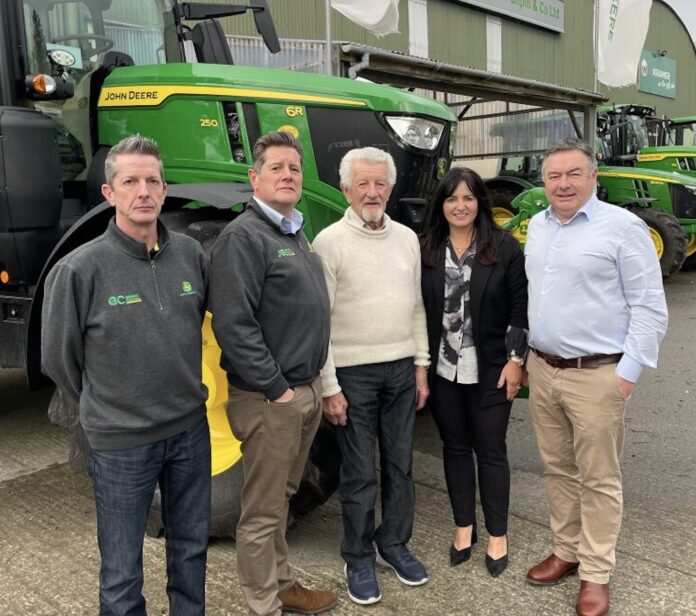 John Deere's agricultural and sports turf machinery will be available through a single, larger
dealer in the counties of Antrim, Derry/Londonderry, Armagh and Down after Stephen W
Moore LTD announced that it is acquiring its neighbouring franchise, Johnston Gilpin & Co LTD.
Both Coleraine and Lisburn branches will continue trading from the current locations, and customers will experience a simplification of all aspects of parts and services in the region as a result of the move, which is in line with Deere's Dealer of Tomorrow strategy.
All Johnston Gilpin & Co employees will be transferred to Stephen W Moore, and the company's branch in Lisburn will continue to trade under the name Johnston Gilpin. The expanded dealership will offer the full range of John Deere agricultural machinery as well as domestic and professional turf care products, supplying farms, homes, sports venues and golf courses with the same quality equipment and aftersales service they have received under the previous structure.
Dealer Principal Stephen Moore said: "This is an exciting time as we prepare to nearly double the size of our business with the next stage of our evolution. "We have known the McConnell family and the Johnston Gilpin group for many years and the whole team has done a fantastic job serving agricultural and turf care customers in the territory. It is clear we share the same core values around delivering unrivalled customer service so I am looking forward to integrating the two businesses under the Stephen W Moore banner.
"The transition will be smooth and steady, ensuring that it's business as usual for our customers while we are learning from each other behind the scenes." Stephen W Moore has been a John Deere dealer since 2008 in Coleraine. It is known for its strength in supporting farmers and contractors in the region, offering the full range of forage harvesters, combines, small, medium and large-frame tractors, sprayers, mowers and balers.
"As well as covering a larger area and the benefits that scale brings to a business like ours, we will now be able to offer the full range of professional turf care machines, parts, service and technical knowledge," Mr Moore added. "As one franchise with access to more machines, parts and know-how, the training and advice we can offer to customers and staff will continue to improve."
John Deere's Division Sales Manager, Brian D'Arcy, said: "The acquisition is a great fit for our dealer network and the new, larger business – backed up by the support from John Deere – is an extremely strong proposition for our customers in Northern Ireland.
"Both companies are well established with knowledgeable staff and connected support.
Looking ahead, the business will go from strength to strength and be in a position to make
the future investments required in facilities, logistics and advanced precision technologies.
"Our special thanks go to Donn, Randal, Neale and all the McConnell family for their valuable and longstanding contribution to the industry after serving as a dealer in the area for John Deere for the past 54 years."