Terry O'Regan takes a knife to a tree choking issue
---
Lest you are wondering if Horticulture Connected has morphed into a tabloid newspaper let me reassure you that this article is not about the painful history of Northern Ireland. But it is about torture, throttling, crippling and slow death. We live in a world of reminders – texts from dentists, doctors, blood banks, garages and more queue up for our attention on our phones and computers. But the reminder that caught my attention last week was from a less sophisticated time. I was on a site where a walnut tree had been felled following recent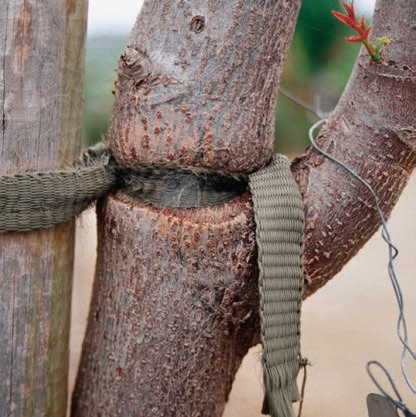 storm damage. My client wanted to plant a replacement tree for future generations. As I began to note the nearby trees to decide the location for the replacement and glanced at a birch we had planted three or four years ago, I heard a voice on the breeze say, "Did you bring your stake knife?" I focussed on the birch and was dismayed to see the tie and stake installed carefully three or four years ago were cutting into the stem. It got worse – we had planted a grove of four trees and I didn't have my stake knife with me.
I made a note on my site sketch of the need for the stakes and ties to be removed when we planted the replacement walnut. As I did so, I recalled another site I'd visited two years ago where the stakes we had installed 20 or more years ago were still in situ, admittedly leaning out at an angle from the trees that had survived.
Driving back from the site I pondered the issue of tree aftercare. There is little point in our taking great pains in handling, planting and securing our trees if they are to be slowly choked or crippled within a few years. There is a solution of course, but it takes time and systems. There is also the question of payment. We have all baulked at the invitation to pay to extend the guarantee on white goods. Yet we will bring our pets to the vet for injections and willingly pay the fee.
The birch only spoke to me because she knew I would understand her desperate predicament. Others might have thought they had just heard an out of season rustle of leaves. (Note: for me all birches are female, oaks are male of course.)
If we make our living from the production and the planting of nursery stock, we owe it to the trees to take up their cause. We must first educate professionals and clients alike to the benefits and necessity of allocating resources for appropriate aftercare.
I suggest a modest advertising campaign across the sector would be useful. It could illuminate the long term issues, but more importantly, could simply encourage people to check their trees and employ a tree surgeon to attend to their needs.
In these days of technology and constant reminders, surely there is room for a tree reminder; a gentle ding to get the stake knife out. ✽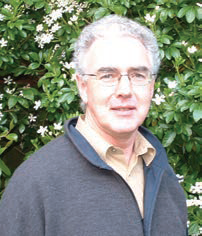 TERRY O'REGAN, B Agr Sc Hort(Hons), FILI, MIoH, founder of Landscape Alliance Ireland, has served the landscape industry in Ireland for some 45 years and advanced the intent and aims of the European Landscape Convention for some 20 years.
He now divides his time between providing landscape consultancy services in Munster and working as a Council of Europe international landscape and heritage expert in Kosovo. He continues to promote and refine his 'jargon free' landscape circle methodology and is currently leading a pilot study on its use at local and regional administrative levels in Kosovo.
The LAI website will shortly be relaunched as www.lai-ireland.com. Contact Terry at terryjoregan@gmail.com or 021 487 1460.