Verney Naylor MGLDA

cuts back the overgrowth to reveal how the New Perennial Movement is evolving in Ireland and how next year's GLDA seminar may just define how we will be using plants in the next decade
---
Fashions in plants and garden design change from year to year and over the centuries. And yet many formal gardens today are still divided into segments with rills and pools as they were in ancient Persia. A few years ago dahlias were dreadfully unfashionable but now you can hardly pick up a magazine without a picture of the latest variety.
The New Perennial Movement and Naturalistic Design are the latest trends influencing garden designers today. First pioneered in Germany, it moved to Holland where this new style was further developed by Henk Gerritsen and Piet Oudolf and became known as 'The Dutch Wave'. It later spread to the USA, where it is often called 'prairie planting', and was championed by James van Sweden. Typically, this style, now called the New Perennial Movement, is epitomised by swathes of grasses and massed planting of colourful perennials. There are generally very few trees and shrubs unless they are around the edges, and these might be clipped or pleached.
But what makes all this 'New'? What makes it different from the old-fashioned herbaceous border? Is it the restricted range of plants (but including grasses), the way they are arranged, or simply the scale of it all? After all, William Robinson was advocating wilder planting in 1870 and Gertrude Jekyll, a little later, was espousing the use of many perennials and the natural planting of woodlands. And where do wildflower meadows meet prairie planting? Is it a matter of scale again or just the introduction of non-native species?
"And where do wildflower meadows meet prairie planting? Is it a matter of scale again or just the introduction of nonnative species?"
The big question is, how does this new style of planting design fit into an Irish context? Are we already embracing it either deliberately or unknowingly? Will it last, or will we get bored with it? Or will it gradually change into yet another 'style'? There are several interpretations of this modern style in Ireland. In Co Wicklow, June Blake's huge rectangular beds are full of interesting, mostly tall, perennials. Nearby, Jimi Blake's garden is similar, but with several large curved beds. Both gardens include many kinds of grass and have long seasons of interest from hellebores and spring bulbs to late autumn flowers and conspicuous seed heads. In West Cork, Piet Oudolf designed an extensive late summer meadow for a private client which has some lovely colour combinations arranged in large beds divided by wide curved grass paths. Again there is liberal use of many different kinds of grass.

Some of us wonder whether swathes of perennials, as in this new style, really suit Ireland. We don't experience the extreme continental type climate that the rest of Europe (or America) does. Because of our more temperate conditions, plants hardly stop growing in the winter and, of course, it is far wetter. Consequently, we are fortunate that we can grow a wide range of plants including many exotic and tender trees and shrubs. So it seems a pity to restrict ourselves to the prairie types. I imagine that the maintenance of these massed plantings is quite labour intensive what with weeding, watering and slugs. And what happens after a few years? Does the whole planting need radical intervention or do these sorts of plants look after themselves?
In 1997 the Garden & Landscape Designer's Association was officially launched by Sir David Puttnam (now Lord Puttnam). This was followed by the very first design seminar at which James van Sweden was one of the speakers. Every year since, the GLDA has been organising ground-breaking seminars, inviting speakers from across the globe. These have included such luminaries as: Anthony Paul, Topher Delaney, Charles Jencks, Piet Oudolf, Dan Pearson, Andrew Wilson, Christopher Bradley-Hole, Jill Billington, John Brookes, Nori Pope, Ulf Nordfjell, Andy Sturgeon, Cleve West, Luciano Guibbilei, Nigel Dunnett, Tom Stuart-Smith, Rick Darke, James AlexanderSinclair and Tim Richardson.

It is easy for gardeners and designers here in Ireland to become insular and parochial in our outlook. We occasionally need to be shaken out of our cosy comfort zone and look at what the rest of the world is doing so that we might adapt the excitement of the 'new' to Irish conditions.
On Saturday, February 7th, 2015 the GLDA is once again bringing a line-up of interesting speakers to jolt us out of our complacency with their innovative ideas. The theme of the next Seminar will be: 'Contemporary Naturalistic Design – the New Perennial Movement. Adaptable Style or transient trend?'
Thomas Rainer will be coming from Washington, DC (USA). "A landscape gardener by profession and a gardener by obsession." He has worked on many prestigious projects and thinks we "should use more natives, plant more daringly, and loosen up that landscape, for crying out loud". He writes entertainingly and his blog, Grounded Design, is widely followed.
Keith Wiley gardens in Devon (UK), where for 25 years he was head gardener at The Garden House. He has now created his own spectacular garden, flamboyantly rich in perennials from all over the world. He is widely travelled and has gone to great pains to provide the right cultural conditions to match the many habitats from which his plants have come. The methods and design are truly naturalistic.
Sylvie and Patrick Quibel will be coming from Normandy (France) where their garden – Le Jardin Plume – is full of exuberant planting within a strong framework of clipped hedges. It includes a large orchard laid out on a grid with squares of native grasses dissected by wide mown grass paths. Their creation is considered to be one of the best modern gardens in France.
My own contribution will be to try to reflect an Irish opinion on the theme of the day and to describe my own way of bringing the landscape, and a love of wild places, into the gardens I have been designing for clients for many years. I also hope to evoke responses to the many questions I, and others, have regarding this new design style.
Whatever the answers, I'm sure the day will be both provocative and challenging, but above all, totally fascinating and definitely an experience not to be missed. ✽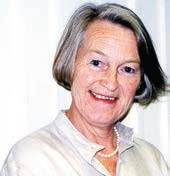 VERNEY NAYLOR has many years' experience of designing gardens and is a founder member of the GLDA. Since 1977 she has created hundreds of exciting gardens all over Ireland ranging from balconies, courtyards, small town gardens and suburban plots to large estates and country gardens. Verney's style is mainly informal and naturalistic. She enjoys working with rocks as well as other natural materials. Having a wide knowledge of plants, she specialises in the planting of interesting, all-season and low-maintenance gardens. Tel: 027 61031, email verneyn@eircom.net