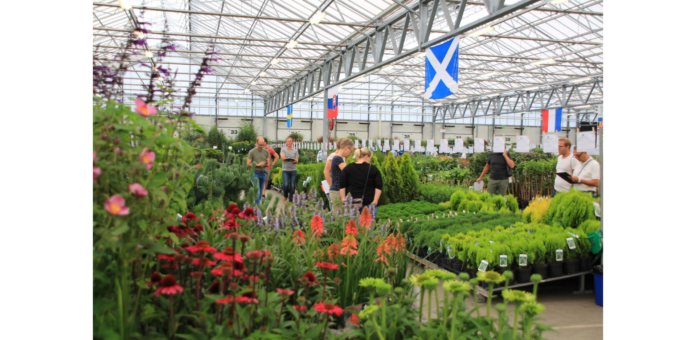 Visitors can now register for their visit to the new PLANTARIUM|GROEN Direkt garden plant fair. Garden-centre representatives, retailers and other people with a professional  interest in outdoor greenery can visit the fair in the Dutch town of Boskoop on 24 and 25 Augustus.
More  than two hundred plant suppliers will then be presenting their ware at their stands in a total area of 22,000  square metres while at least 5000 GROEN-Direkt sample batches will be available for immediate ordering. Pre-registration is possible via www.plantariumgroendirekt.nl.
The fair organisers urge visitors to pre-register as early as possible as it is already becoming apparent that the  fair is going to be extremely busy. The pre-registrations will enable the fair organisers to ensure sufficient  parking areas and catering, which will both be available to the pre-registered visitors free of cost. 
Pre-registered visitors will be granted direct access to the fair on presentation of their proof of registration. You  can of course also register at the fair itself, but that may take some time if there are long queues. The fair will be  exclusively accessible to professional visitors after registration. 
Stand area almost sold out 
Almost all the floor area available for stands at the PLANTARIUM|GROEN-Direkt fair has been sold out. The list  of participants shows around 180 companies from within and outside the Netherlands. "The enthusiasm of all the early registrations is the perfect answer to the question what the fair team aims to achieve, and that's to  jointly organise the largest professional garden plant event in Europe!," says managing director Linda  Hoogendoorn-Veelenturf.  
Any companies who would also like to participate can still be registered as exhibitors subject to the availability  of the last square metres. To register, simply go to the website.  
About PLANTARIUM|GROEN-Direkt  
PLANTARIUM|GROEN-Direkt will take place on the 24th and 25th of August 2022 and is open from 7 a.m. to 5  p.m. The fair will be held in and around the GROEN-Direkt hall at the International Trade Centre in  Hazerswoude/Boskoop, the Netherlands. More information can be found on the website  plantariumgroendirekt.nl/.