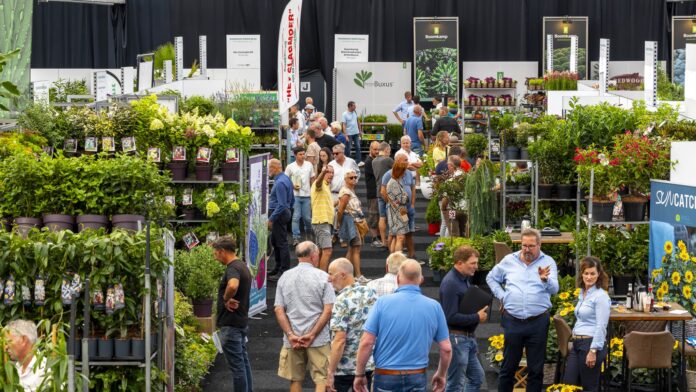 The past two days, PLANTARIUM|GROEN-Direkt was the place-to-be for suppliers and everyone else involved in the green sector to meet one another, and also the number-one fair at which all garden-plant novelties were introduced. Thousands of visitors from within and far outside Europe were treated to a green total experience featuring 223 exhibitors, 68 entries for the Green Retail Awards, 5000 sample batches, a concepts plaza and Christmas trees.
At the end of the very first day, exhibitors were already expressing their enthusiasm about this second successful autumn edition. They were very impressed by the quality of the visitors from all parts of the world and praised the clear, effectively arranged layout with the sample layers on one side and the stands on the other, the large numbers of visitors and the positive atmosphere. Many exhibitors said they'd very much like to participate in next year's event too.
Fair manager Marjolein Wieckardt is also very enthusiastic about this autumn edition: "The presentation of the novelties submitted for the Green Retail Awards was a great success. They were real hotspots at the fair, ensuring lots of attention for all the entries," says Marjolein. "We succeeded in creating an attractive, well-organised fair – everyone we interviewed totally agreed!".
Green Retail Awards
A fair that revolves entirely around garden plants will of course also pay a lot of attention to novelties. The Green Retail Award winners in the Best Novelty and Best Market Introduction categories were announced on the first fair day. Those Awards were presented to Diervilla splendens 'G2X88544VAR' (KODIAK® MIXX), submitted by Valkplant B.V., and Precious Earth (mosses), developed by Vof de Leeuw den Engelsen, respectively.
The visitors were invited to vote for the Visitors' Favourite Award via the green balls ballot system. And by the end of the fair there was no doubt about the winner in this category: Hydrangea paniculata LIVING LITTLE ROSY®, developed by Hinrichs Pflanzen.
About PLANTARIUM|GROEN-Direkt
The combination of PLANTARIUM|GROEN-Direkt, the Green Retail Fair, with GROEN-Direkt's Autumn and Spring Fairs makes for the number-one meeting event for suppliers and everyone else involved in the green sector. The next editions will take place on 6 and 7 February 2024 and 21 and 22 August 2024, again coinciding with GROEN-Direkt's sample fairs. The fairs take place in and around GROEN-Direkt's hall at the International Trade Centre in Hazerswoude/Boskoop (the Netherlands), from 7 a.m. until 5 p.m. (4 p.m. on the 2nd fair day). More information can be obtained at the website https://plantariumgroendirekt.nl/. The fair is exclusively accessible to professional visitors after prior registration via the website.