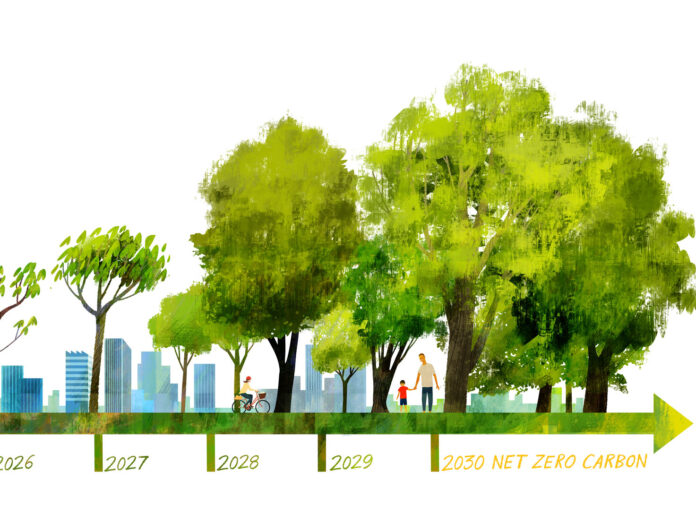 IPUT is financing the planting and maintenance of 40.64 hectares of woodland in Co. Cork that will sequester approximately 6,117 tons of CO2 over 40 years.
Working in partnership with Forest Carbon, SWS Forestry and the landowner Thomas O'Flynn, the initiative is underway, with the planting of 106,000 native species of trees near Mitchelstown, Co. Cork completed earlier this year. Only native species were planted including Alder, Birch, Hawthorn, Hazel, Holly, Oak, Scots Pine, Rowan, Wild Cherry. The project will begin capturing measurable amounts of carbon dioxide by the end of the decade and it is estimated that the project will sequester a total of 6,117 tons of CO2 over the next 40 years. In addition, 15% of the land area has been allocated for biodiversity enhancement.
The programme is a collaboration between IPUT and Thomas O'Flynn who is converting farmland to woodland under a new afforestation licence. The landowner will retain full ownership of the land, the planting of which would not have occurred without the investment from IPUT Real Estate. The project is being co-funded by the Afforestation Grant and Premium Scheme provided by the Forestry Division, Department of Agriculture, Food and the Marine (DAFM).
The project is intended to also raise demand for and contribute to the development of an Irish woodland carbon standard; and will contribute to the Irish Forestry Programme's plan to increase Ireland's forest cover area from its current level of 10.7% to 18% by 2046.
Niall Gaffney, IPUT Real Estate Chief Executive, commented:
"Our 2021 Responsibility Report sets out the range of sustainability initiatives we have in place, including our efforts to make a positive contribution to climate action. While our primary objective is to reduce carbon emissions, the creation of new native woodlands in Cork, in partnership with a local landowner, will enable us to offset our residual emissions while contributing to Ireland's forestry targets.
Sustainability is central to IPUT's investment strategy, and we have committed to achieving net zero carbon by 2030. We aim to build long term resilience into our portfolio and ensure we are at the forefront of building an environmentally responsible portfolio in the real estate sector."
George Hepburne Scott, Business Development Director at Forest Carbon, said:
"We were founded in the UK in 2006; we've been working to help co-fund new woodland creation projects in Ireland since 2017. We're delighted to be supporting the creation of this new woodland, and to be able to use our 11 years of experience with the UK Woodland Carbon Code to make it happen. We hope, together with IPUT, we can continue the momentum towards an independent Irish domestic carbon standard, which, in turn, would release significant private sector funding for nature."
Henry Duggan, Forestry Sustainability Solutions at SWS Forestry Limited, said:
"We are delighted to be working in partnership with IPUT and Forest Carbon on developing an independent Irish domestic carbon standard, which we believe will create the impetus for a substantial increase in the national afforestation rates in Ireland from the current low rates which they are at. This project would not have been planted without the support of IPUT and without SWS working in partnership with Forest Carbon to unlock this site."
Thomas O'Flynn, the landowner, said:
"I can see huge benefits into the future. First of all, as it develops, it will take huge amounts of unwanted carbon from the atmosphere each year thereby making a major positive environmental impact. Being mainly deciduous forest, it will be a haven for wild life thereby greatly increasing bio-diversity."