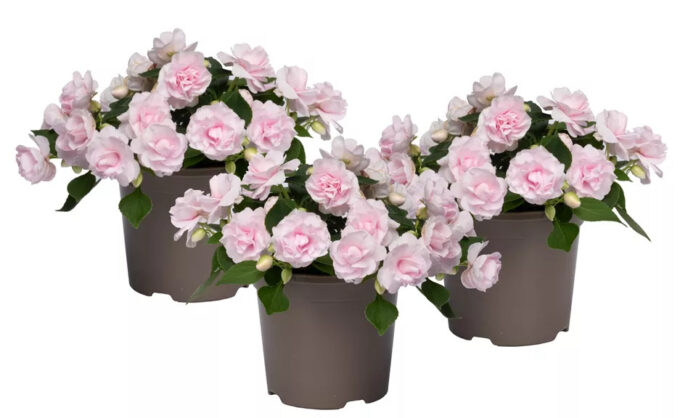 Impatiens Walleriana 'Glimmer™ Appleblossom' has been recognised has Best in Show at the New Plant Awards at this year's HTA National Plant Show.
The show takes place today and tomorrow (21 and 22 June) at Stoneleigh Park, Coventry.
This plant, which also won the Annuals category, is recognised by its stunning colour, and features large, iridescent rose-like booms. The well-branched, mounded, and trailing plants are covered with double flowers and are suitable for 10-30cm pots and hanging baskets. The impatiens also features high resistance to Plasmospara destructor, the cause of Impatiens DownyMildew.
Pippa Greenwood, HTA Judge said, "This year there were more entries than ever before, with 137 covering all five categories. The standard of entries too was brilliant, making our team of judges work even harder than usual.
"The houseplant category was particularly popular, with the emphasis being on phenomenal foliage. This year's Houseplants winner, Alocasia 'Silver Dragon', boasts sturdy, well-shaped foliage with an almost metallic sheen.
"Malus 'Halloween' (Frank P Matthews) offers distinctly ribbed crab apple fruits and won the 'Trees and Conifers' category.  For herbaceous perennials the judges chose Geranium x Kelly Anne, a delightful addition to any border.
"The striking almost glowing orange, red and gold foliage of Physocarpus opulifolius 'Magic Ball' won first place in Shrubs & Climbers for Wyevale Nurseries.
"All these plants illustrated the exceedingly high quality of this year's entries, but it was Impatiens 'Glimmer Appleblossom' (Ball) which stole the show, winning best in the Annuals category and Best in Show – not only for its good looks, but also its resistance to downy mildew."
"The New Plant Awards are the beating heart of the show and create an area bursting with inspiration for our visitors. This year there has once again been over 100 entries – meaning that over the history of the show over 1,000 new plants have been showcased."
Other winners included:
Trees & Conifers category: Frank P Matthews- Malus Halloween. Recognised by its white spring flowers, these are followed in the autumn by yellow-orange crab apples that are ribbed in appearance looking like mini pumpkin in time for Halloween.
Houseplants category: Javado- Alocasia Silver Dragon. A cultivar from the baginda line, this Alocasia is characterized by the compactness of the plant in combination with the hardness of the leaf. This also ensures a long shelf life
Herbaceous Perennials category: Newey- Geranium x hybrida Kelly Anne. This plant is neat and compact plant and is resistant to diseases, heat, and moisture. It boasts bright pink flowers with a darker pink vein and the flowering period is very long: from late spring to the first frost
Shrubs & Climbers Wyevale category: Physocarpus opulifolius 'Magic Ball'. This shrub changes leaf colours four times, starting in spring as bright yellow, this deepens to orange gold before entering the summer months to its final colours of red then purple