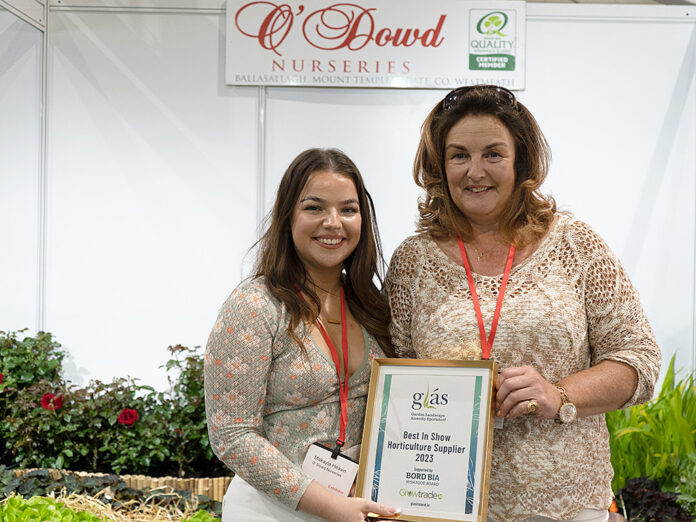 The Garden Landscape and Amenity Sportsturf (GLAS) awards have recently been declared, and we are delighted to share the results. Held at the National Basketball Arena in Dublin, this one-day trade show, generously supported by Bord Bia, showcased over 80 top-notch industry suppliers, featuring indoor exhibits as well as a newly expanded outdoor area.
The GLAS New Product New Plant Award winners, who deserve our thanks along with our judges Anna Kavanagh, an independent horticulture consultant, and James Spillane of Westland Horticulture, are as follows:
New Plant Award: Ball Colegrave for their outstanding Begonia Hula.
New Product Award: Wildflowers.ie for their innovative "Raised Bog Restoration Seed Mix."
Moreover, we are thrilled to reveal the recipients of the GLAS Best in Show Awards, decided by the GLAS show director and Carol Marks from Bord Bia:
Best in Show Horticulture Stand Award for GLAS 2023: O'Dowd Nurseries.
Best in Show Trade Supplier Award for GLAS 2023: Evergreen.
The most-awaited GLAS Supplier of the Year Award for 2023, determined by the votes of GLAS visitors and Growtrade.ie subscribers, has also been announced. This year's voting saw double the participation compared to the previous year, and we extend our hearty congratulations to the winner: Moasure.
A big congratulations to the entire team at Moasure, and indeed, all our esteemed winners. The GLAS event was a tremendous success, thanks to the support of Bord Bia and the participation of top industry suppliers.