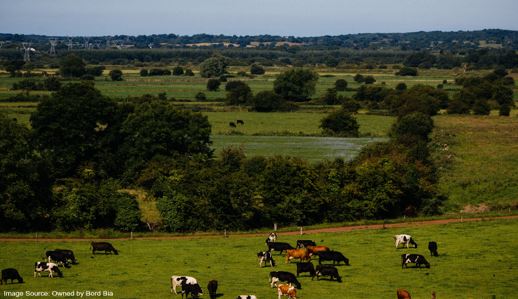 Since the UK voted to leave the EU four years ago, Bord Bia has been monitoring the situation, measuring clients' preparedness through the Brexit Barometer and the Readiness Radar and assisting them in developing their Brexit Action Plans. This FoodAlert article will share some of the latest results of Bord Bia's Brexit Consumer Pulse and conclude with implications and supports for Irish suppliers.
As part of this response, Bord Bia tracked consumer sentiment in the UK throughout 2019 and 2020. The objective of this tracking was to gain an in-depth understanding and to develop insights as to how the Brexit process has affected both perceptions of and attitudes towards the Republic of Ireland and Ireland's main food and drinks categories. This research was conducted online and reached a nationally representative sample of 1,000 grocery shoppers in the UK. There have been eight waves of this research to date, the most recent of which was in October 2020.
Throughout 2019 and 2020 Brexit developments have brought many different twists and turns, but one constant has been a lack of confidence among UK grocery shoppers. The majority of UK grocery shoppers are not feeling confident about the future of the UK's economy, with this reaching a high of 7 in 10 in May and October 2020. It is important to note that these escalations were likely influenced by the Covid-19 crisis and associated restrictions. Although confidence in the future of the UK economy is quite low, UK grocery shoppers are feeling more confident in other areas – such as the continued availability of the food and drink that they enjoy and the cost of buying food and drink in the UK. For example, in September 2019 almost 5 in 10 UK grocery shoppers were not confident about the continued availability of the food and drink that they enjoy, but this reduced to over 3 in 10 in October 2020.
Despite the uncertainty caused by Brexit, UK grocery shoppers still have a strong affinity with the Republic of Ireland. In October 2020, over 85% of UK grocery shoppers said they would be open to choosing food and drink from the Republic of Ireland, while 65% considered the Republic of Ireland a 'Friend' of the UK. This figure has consistently stayed above 60% throughout 2019 and 2020, ranging from a low of 63% in March 2019, to the high of 73% in August 2020.
This affinity with the Republic of Ireland extended to a variety of products, with a high proportion of shoppers claiming that they would miss Irish variants of products if prices were to increase or if availability was to become limited. Irish Dairy and Irish Beef products in particular would be missed – with 2 in 3 saying they would miss Cheddar Cheese and Butter and almost half saying they would miss Yogurt and Beef if they were not available.
As is well known, the UK is Ireland's biggest export market – accounting for approximately 34% of Irish exports in 2019. While exports to other markets are growing and market diversification is something that Bord Bia assists Irish suppliers with, it is clear that the UK market is still a priority. The recent results from the consumer sentiment tracking proves that there are reasons for Irish suppliers to remain positive and optimistic when thinking of the UK market, as even though there is uncertainty around Brexit, consumer perceptions around Irish food and drink remain strong.
Implications for Irish suppliers:
To best manage the uncertainty around Brexit and leverage strong UK consumer perceptions around Irish food and drink, Irish suppliers should lean into all of the many Bord Bia Brexit supports available.
Visit the Bord Bia Brexit Hub for practical information that you can utilise in order to prepare for increased complexity in future trade with the UK. Click here
Review the Brexit Consumer Pulse to further enhance your understanding of the impact of Brexit and its ensuing economic effects on UK consumers and their perceptions and attitudes to Ireland and Irish produce. Click here